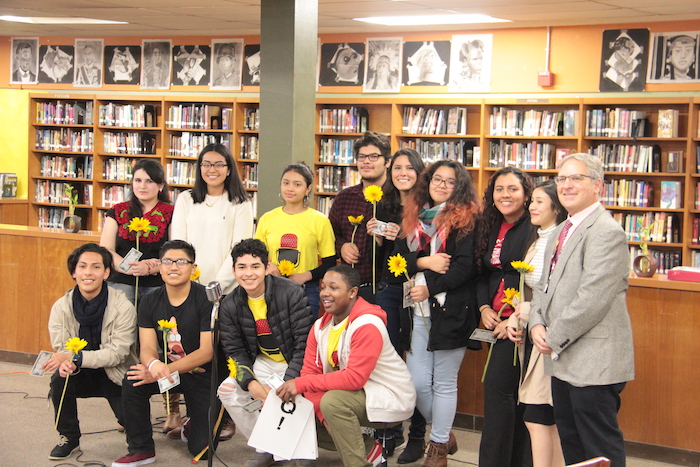 09 Mar

Local Students Get Loud With Poetry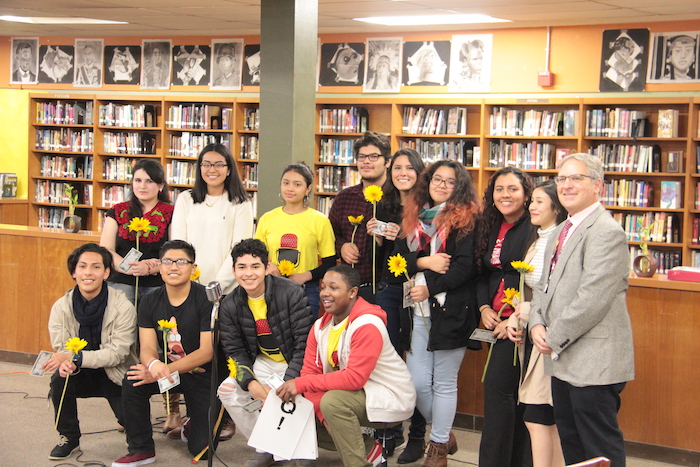 By Mitzi Perez
During his junior year at Kennedy High School, Anderson Esteban learned about Poetry Out Loud, but since only seniors can present, he helped out and waited.
This year, his senior year, Esteban read "The Last Laugh" by Wilfred Owen, a poem about young men dying on the battlefield. "I like history a lot and it was interesting to me," he said.
In front of fellow students, parents, teachers, peers, and administrators in the library at Kennedy High School on Jan. 26, Esteban was deemed the winner of the site competition.
An initiative of the National Endowment for the Arts, Poetry Out Loud encourages students to learn about poetry through memorization, performance, and competition, helping them master public speaking skills and build self-confidence.
Poetry Out Loud is a site, regional, state and national competition where students are able to recite poetry in front of judges. The Kennedy site competition was arranged by AP English literature teacher Ian Bader and his students.
Bader said that he wanted to give students an interactive assignment that they would enjoy. Bader said Poetry Out Loud can give his students public speaking skills and bring the community together to see it.
Kennedy had 11 students compete at the site level to go on to the county competition. The students rehearsed, performed, and actively expressed their favorite poems and the audience responded with thunderous applause.
"Poetry Out Loud inspired me to go out and do more pieces of poetry and be able to go to an open mic," Ursula Cabriales, a senior and one of the final candidates at Kennedy, said.
While Esteban took first place at the site competition, a scheduling conflict prevented him from taking part in the countywide competition. Though he would have liked to compete further and represent his school, he also has plans to join the Marines Corps and is mandated to go to training.
"I feel good [that we were represented at county] because it shows that Kennedy is not just a ghetto school," Esteban said. "We are doing something."
Instead, the runner-up, Luis Arzate, a fellow senior at Kennedy, took his place at county competition. Bader joined Arzate on an early Saturday morning to compete with nine other students around the county.
"Going into high school, I didn't like poetry at all until he showed me William Blake, who's now my favorite poet," Arzate said. "I think just that introduction into it really opens your eyes. The county one is more real. I had a lot of fun."
In the end, students from other counties took home top prizes at the regional competition. The Poetry Out Loud state finals were held March 18-19 in Sacramento, where an Orange County student took first place and is scheduled to represent California at the national finals in Washington, D.C in April.