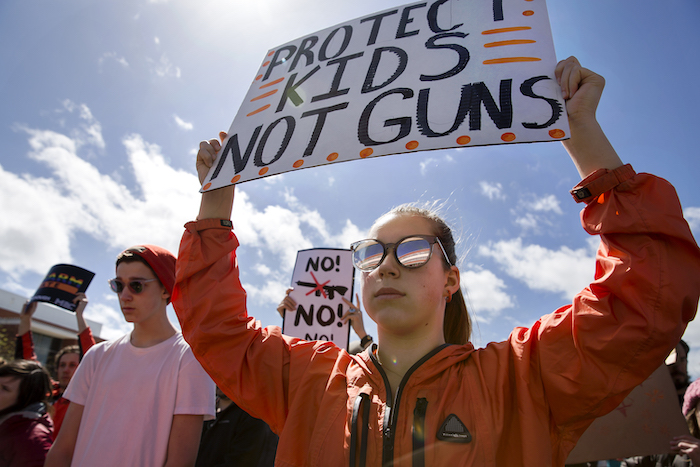 27 Mar

Richmond Marches for Our Lives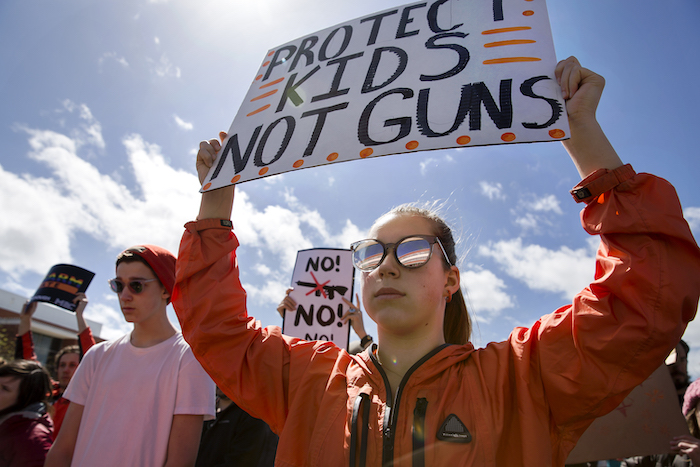 Above: Ellie Bloom, 17, a junior at Tamalpais High School in Mill Valley, holds u pa sign reading "Protect kids, not guns" during the March for Our Lives rally in Richmond, CA on Saturday March 24, 2018.
Story and Photos, Brittany Hosea-Small
"Ain't no power like the power of the youth, 'cause the power of the youth don't stop!"
"La gente unida, jamás será vencida!"
Nearly a thousand people marched towards Richmond City Hall chanting these and other slogans the morning of Saturday, March 24. Calling for an end to gun violence and demanding action on gun control, Richmond's march, along with hundreds in other cities, was held in in solidarity with the March for Our Lives rally in Washington, D.C.
Starting at Nevin Plaza, the march spanned a mile down Barrett Avenue concluding with a rally on the steps of City Hall at the Civic Center Plaza. This path — from a federal building to the center of local politics — was chosen to signify the different levels of government that are needed to make meaningful change.
"They're two ends of government representation in Richmond," Mayor Tom Butt said.
Beginning around 11:30 a.m., students, parents, teachers and seniors alike filled Nevin Plaza as they prepared to march. Leading the way through the streets of Richmond were students from Richmond, De Anza and Leadership High Schools.
Mariana Barsotti, a 15-year-old sophomore at De Anza, carried the lead banner with classmates and friends.
"As youth, we sometimes feel powerless," Barsotti said, "but being part of a bigger cause, especially when it's directly affecting us and our education, feels great. It feels really great!"
Asked if there was one thing they wanted the public to know about the #NeverAgain movement and March for Our Lives rallies, fellow De Anza High School sophomore Asjanei Jenkins replied, "It's for a reason. It's for our own safety and it's not really something to joke around about. We should be taking this stuff seriously."
With a police escort and another squad car driving alongside, crowds filled the eastbound lanes of Barrett Avenue on their way to the rally. Hand-drawn signs ranged from serious to humorous. A group of local senior citizens carried signs reading "Youth will lead the way!" and "Silver foxes support 4 sensible gun control!"
Among the marchers was Marisol Rodriquez, a visiting scholar at UC Berkeley from Spain. Despite having only been in the country for a week, she chose to be part of the March for Our Lives rally with her grandson, six-year-old Ibu Rodriquez.
"I think arms are a big problem in this country," the elder Rodriquez said. "I come from a country where we are not allowed to have guns, and I think that is a much better policy."
Following the march, protestors held a rally on the steps of City Hall as attendees filled the plaza. Speakers included student leaders, elected officials and local business owners. Between speakers, RYSE member Mikaela Wilburn read off the names of those killed by gun violence in Richmond, the list taking up nearly four pages.
"Gun violence in urban communities like Richmond is the same issue that is being seen nationwide," said Alex Knox, chief of staff for the mayor's office. "We have our own piece to tell."
While the city hasn't experienced the mass school shootings that others have, gun violence has been an epidemic for decades often involving youth as both perpetrators and victims. Richmond saw record-high homicide rates of over 40 victims per year in the 1990s and 2000s, but those numbers have dropped drastically thanks to a variety of city initiatives and street-level outreach programs.
According to data from the mayor's office, homicides in Richmond have been decreasing since 2012, including a historic low of only 11 in 2014. As of the day of the rally, there had been zero homicides in the city this year.
Butt hopes that, in Richmond, this movement can change the culture for the small group of people who accept gun violence as a way of life. That includes changing laws from California to Washington, D.C.
"I think at the end of the day, this is something that has to happen at both the state level and the federal level," he said.
After a day of chanting slogans demanding change, Richmond's March for Our Lives, like the rest of the day's demonstrations, closed on a moment of silence. It was for those who lost their lives to gun violence — in Richmond and throughout the nation — along with a hope for a better future for the youth of the nation.
As the sun shone down from an unexpectedly clear sky, the crowd that filled Civic Center Plaza on this particular Saturday afternoon bowed their heads and took solace from each other and their community.
[ngg_images source="galleries" container_ids="53″ display_type="photocrati-nextgen_basic_thumbnails" override_thumbnail_settings="0″ thumbnail_width="120″ thumbnail_height="90″ thumbnail_crop="1″ images_per_page="20″ number_of_columns="0″ ajax_pagination="0″ show_all_in_lightbox="0″ use_imagebrowser_effect="0″ show_slideshow_link="1″ slideshow_link_text="[Show slideshow]" order_by="sortorder" order_direction="ASC" returns="included" maximum_entity_count="500″]