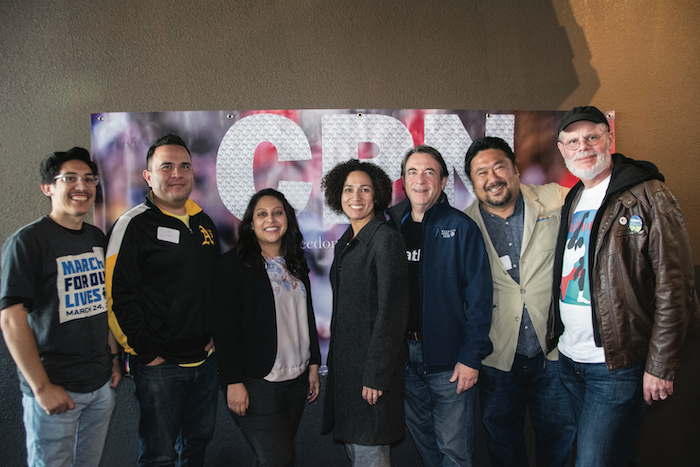 02 Apr

'Richmond Vota!' Implores, Empowers Youth to Vote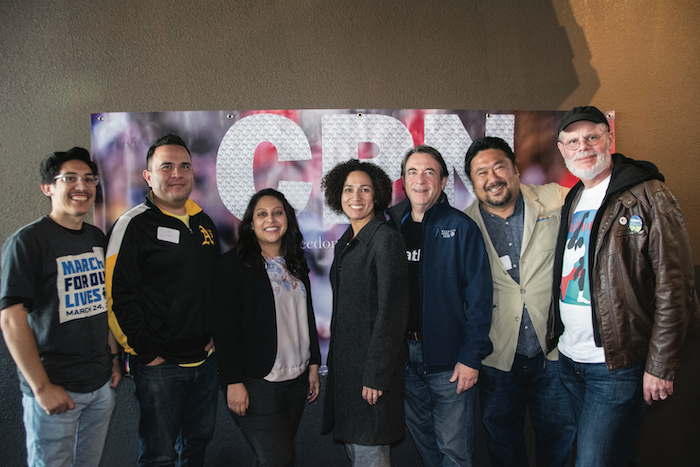 By Ronvel Sharper
It was during the 2008 election that Anthony Caro started paying attention.
"Growing up, I was always aware of current events, of things on the ballot, but my fellow peers were not," Caro said. "People in my grade level, in high school, weren't interested in these things."
That's why he founded the non-profit Citizens Power Network (CPN), an organization dedicated to motivating and education students to be civically engaged in their communities.
CPN held an event on March 24 to give Richmond residents — high school students in particular — a more in-depth look into local politics. Following the March for Our Lives rally, CPN hosted the "Richmond Vota!" registration event, which Caro said was to register local students to vote. In California, residents can register to vote as young as 16.
The event, held at Your Way Pizza, was also a chance for students to meet elected officials and candidates running for office, while learning about other things that will be on the ballot.
Jessica Rossoni, 27, and DJ Sellarole, 29, both attended the event and believe that in future elections, people should look for how a politician addresses "real problems."
"Such as mass incarceration, drug reform on a massive level," Sellarole said, "and less talk about distracting topics like abortion, or a politician's religious choices, as truth be told, you can't tell what religion someone is unless you know them personally."
Rossini said she's excited and hopeful for a higher voter turnout of youth voters in the midterm election.
"As a former teacher, I think politicians don't invest enough time and funds into supporting K-12 public schools. I hope that with increased youth engagement in politics, we'll see politicians being forced to give public education the focus and energy it deserves."
Among those in attendance at Richmond Vota! were elected officials and city council candidates, including Richmond City Councilmembers Ben Choi and Jael Myrick, County Supervisor John Gioia, and candidates David Schoenthal, Cesar Zepeda and Diego Garcia. Besides Caro, the event was organized by Richmond City Councilmember Ada Recinos and resident Oscar Garcia.
"I want to put on events like this to really engage students into these things because these things matter. Voting matters. Who's your government official matters," Caro said.
That soon may include Caro himself. He is also running for the West Contra Costa Unified School District Board of Education as a 'community organizer," he said. Caro has plans to organize a town hall meeting between students, parents and community members around issues of neighborhood safety, to hear more input on solutions from the community.
"I'm going to reach out to officials, churches, police, teachers… everyone who would like a say in the matter," Caro said. "What I want to do is make sure that every decision I make comes from the people."
Caro's interest in government started in ninth grade when he was elected to the student council.
"From there, I started paying attention to city council, thinking about the role the mayor, city governments and school districts play in education and local issues," he said.
Though the number of teens pre-registering to vote has been increasing in California, many high school students in Richmond and all over the country aren't very interested in politics in general. Many view politicians merely as old white men in suits who only serve themselves and other wealthy people. Many young people believe that their single vote wouldn't make a difference.
"That's a dangerous way to think about voting," Anthony Gojilde, of San Pablo, said. "It definitely shouldn't even be a thought if you live in a modern democracy. The point of a democracy is that the people have the power to decide what happens and there isn't a point to it if people don't want to vote."
Asked if he believes his vote makes a difference, Gojilde said it's something he's though about a lot.
"Can anyone's vote make a change? It depends on how close the votes are, if it's fifty-fifty then, yes, any one vote can make a difference," he said. "But not if it's an overwhelming turn out. Either way, everyone should vote."
Nationally, only about half of eligible voters between 18 and 29 years old voted in the 2016 presidential election, according to exit polls. With the energy generated from the from March from Our Lives rally, Caro believes he can help inspire these disaffected students into action.
"When students see me, they see something pretty close to their age," he said. "When I talk about these things, they pay attention."
In speaking with local students about education and school climate issues, Caro implores them to look at the role that government plays in their lives, from their local school district up to the top echelons of the federal government.
"I tell them, now we need to vote because that's how we fix these things," he said.