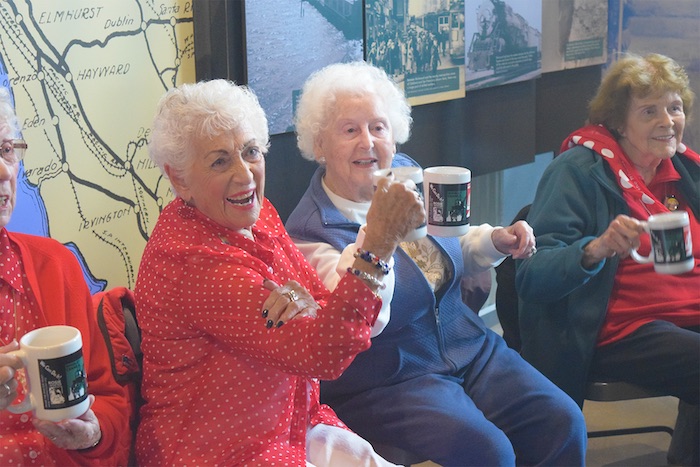 06 Apr

Real Life 'Rosies' Recognized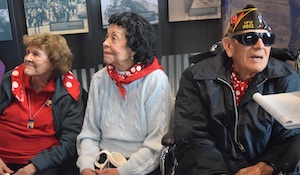 By Abené Clayton
Seated among WWII-era photos and statues, eight "Rosies" and a WWII veteran sat side by side at the waterfront WWII Homefront National Park in Richmond, basking in attention from a sea of reporters and warm smiles from uniformed park rangers.
Most of the women wore scarves or blouses with the iconic red polka dot pattern as a nod to the mythology surrounding women like them, who worked non-traditional jobs during WWII.
They were there to take part in the second Rosie the Riveter Day celebration, held on March 21. Speakers at the event, including the director of the Rosie the Riveter Trust, stood and implored the audience to give the ladies their just due.
"We owe these women a debt of gratitude, so thank them," said Marsha Mather-Shift, executive director of the Rosie the Riveter Trust, a nonprofit that supports the museum through fundraising and events that encourage people to visit the park.
With a rolled-up sleeve, a flexed bicep, and a "We can do it" attitude, "Rosie the Riveter" became the face of the female workforce during WWII. The image based on a photo of Naomi Parker Fraley, a worker at the Naval Air Station in Alameda, continues to serve as an emblem of female empowerment.
Thanks to a 2017 congressional resolution women nationwide who welded and riveted their way into history are now recognized annually for their service.
After several speeches, each woman shared her memories of life at shipyards and oil refineries during the 1940s.
Connie Gomez, 94, reminisced about special appearances from celebrities like Francis Langford and the Andrews sisters, who visited the shipyard where Gomez worked from 1943 to 1944.
Gomez said that the shipyard was a sort of refuge from the racial tension and violence that many Black Americans were experiencing – and still living with today.
"It was all kind of nationalities at the shipyards," Gomez said. "It was all mixed up, and we all worked for the same purpose. Everybody helped each other."
To Gomez' right sat her husband of 70 years, Raymond. He was deployed overseas with the Army while she worked at one of the assembly lines that helped Richmond launch a ship filled with supplies. They lost contact for almost five months during the war, but Gomez says she doesn't see her story as remarkable. She says she, and thousands of other women, were simply doing a job.
"I don't think we deserve this, because everybody else did something," Gomez said, referring to the revelry around the now 90-something-year-old women. "Why doesn't everyone else get credit too?"
Still, she isn't completely put off by the attention.
"It's nice, I won't deny it," Gomez said.
Park Ranger Elizabeth Turner beamed as the Rosies were showered with praise from attendees. She has worked at the visitor center since 2003, and in that time, Turner says she's been inspired by the examples set by the "foremother[s] in the feminist movement and women's rights struggle."
Turner is proud that Richmond is home to a national park that explores the city's role in WWII history.
"I think the city itself is recovering this history and taking a huge amount of pride in Richmond," Turner said. "I feel proud to be a small part of that effort."
Kelli English, director of interpretation at the Homefront museum, encouraged the public to meet and soak up the knowledge from local Rosies while they are still able to tell their own stories.
"Our Rosies are all in their 90s. They're not getting any younger," she said. "We won't have them here to tell [their stories] at some point. But we're committed to making sure that those stories live on."
To learn more about the Rosies, and Richmond's role in WWII effort, visit the Rosie the Riveter Museum at 1414 Harbour Way South. The museum is open to the public from 10 a.m. to 5 p.m. seven days a week. Admission is free.