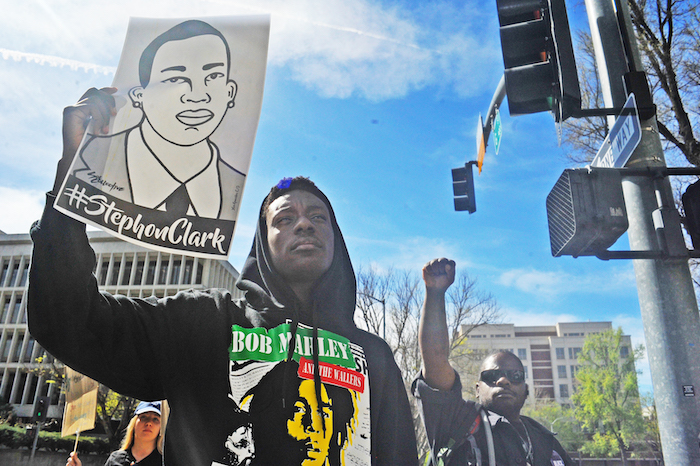 08 Apr

Stephon Clark 'can be anyone's brother and anyone's son'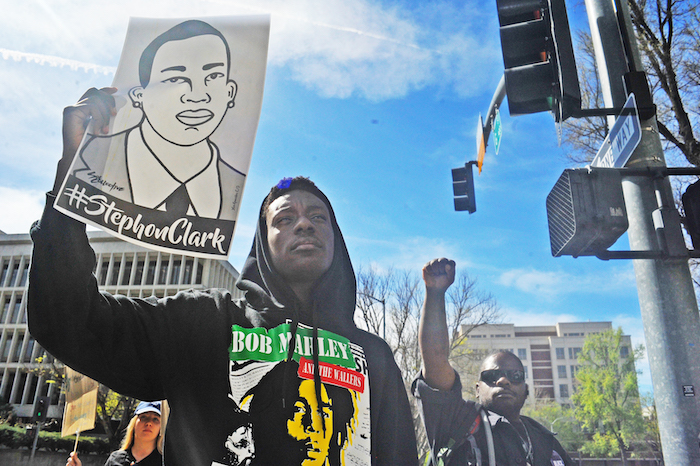 By Denis Perez-Bravo
SACRAMENTO — The murder of 22-year-old Stephon Clark by Sacramento police has put another spotlight on the reality Black youth can face when encountering local law enforcement.
"Yes, it was murder," Sacramento resident Aisha Davis said. "It was obvious Clark was no threat to them. He was killed by people that should have protected him."
Holding a sign that read, "We keep getting lynched," Davis was one of around 300 people who participated in a Black Lives Matter-organized protest at Sacramento City Hall March 30.
Davis says she's "tired of crying" over police killing young Black men, and the last thing she would want to do is cry over the death of her 15-year-old son. He's a young Black man in Sacramento. He goes to school, and he hangs out with his friends, just like any normal teen.
"My son is not a criminal or in a gang," she said.
But she fears that something might happen, just like it did to Clark. Her son's life is worthy of being kept peaceful, so she protests because she needs something to change to save her son.
"As a mother, I worry there is no reassurance that any confrontation between my son and the police will not end up with him dead," she said. "I am not good with words, but I am good with action."
Davis and others took to the streets, disrupting normal daily life in downtown Sacramento because, she says, what happens in her community isn't normal and everyone should be aware of that.
Clark was killed in his grandmother's backyard last month. The Sacramento Sheriff's Department's aerial footage of the incident shows that two officers approached Clark with their guns drawn. As they yelled out, "Hey," Clark began to run toward the backyard through a side corridor and around the corner.
At no time did the two officers — whose names have not yet been released — identify themselves as law enforcement before firing 20 rounds at Clark. An independent autopsy found Clark was shot eight times, seven of which were in his back as he was falling down.
Clark's death sparked immediate reaction. Protesters gathered outside City Hall and later shut down Interstate 5 in both directions near downtown. The protests continued, receiving national news attention, and still have not stopped. Sacramento residents continue to organize and demonstrate, prompting action from state legislators.
California democratic leaders like San Diego Assemblywoman Shirley Webber have proposed the Police Accountability and Community Protection Act to reduce police shooting deaths. During a press conference on Wednesday, Webber said the bill wouldn't ban law enforcement from using lethal force, only making it a last resort and mandating that non-lethal options be used first.
Clark's funeral was held last week. Among its attendees was 17-year-old young black man Tre Sellers. Raised in Canada and attending Citrus College in Glendora, he said being there was important to him because grew up with police officers who were taught to use non-lethal options.
"It was different there," Sellers said.
Sellers knew before coming to the United States that interacting with police here could be more confrontational, but he didn't realize it was so common for police to murder black people in the U.S.
According to numbers kept by The Guardian, Canada has about 25 police shooting deaths per year. California, by itself, had 72 in 2015. As of April 5, nationwide, The Washington Post has tallied 289 police shooting deaths so far this year. In 2017, it was 987. In 2016, it was 953.
During the daily White House press briefing, press secretary Sarah Huckabee Sanders said Clark's death was a "local matter" that should be left up to Sacramento officials to work out.
Stephon Clark's cousin Steven Ash disagrees. Also a young father like his cousin, Ash says that many people knew and loved Clark and his death is a reminder of the injustice Black youth suffer.
"Clark could be anyone's cousin. He can be anyone's brother and anyone's son," he said. "Although that is not what the mainstream media would tell you."
Ash said that the police and a right wing-controlled media treat Black youth as "animals and criminals," keeping them under constant attack.
As for his cousin, Ash said Clark would push him to be his best, while personally working hard to do his own best, namely by treating people right.
"That is why he was loved," Ash said. "That wasn't his goal though. All he wanted to do was be a great father."