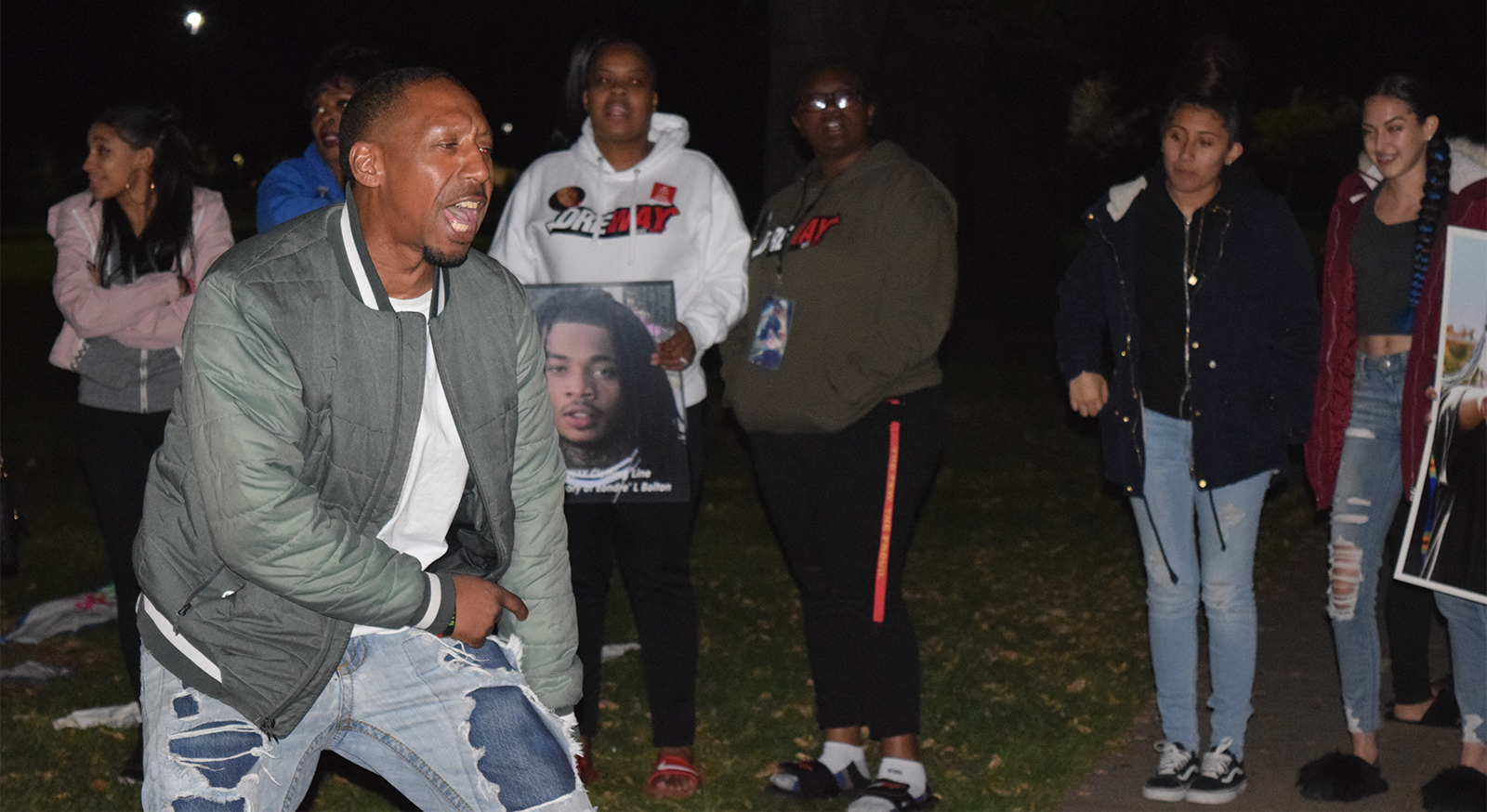 24 Apr

Following Spate of Shootings, National Survivor's Speak Movement Reaches Richmond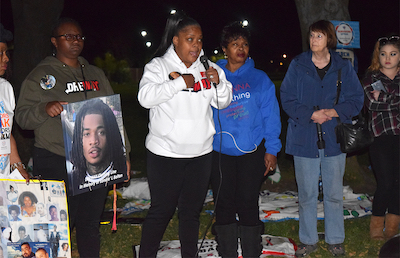 By Abené Clayton
The soft sound of sniffles echoed throughout John F. Kennedy park on the night of April 14, punctuating accounts from women and men who've lost loved ones to violent crimes. One by one, they held a microphone and recounted feelings of pain and hope. The park was decorated with tea lights for the occasion spelling out, "Survivor's Speak" on the pitch-black concrete. On the grass, handmade tapestries and posters displayed pictures of the dead.
"I want my baby," said Narkeithia Griffin, whose son Eondre Bolton was shot and killed last December in Emeryville. "That's all I see when I close my eyes. That's all I see. My baby. And that's all I want, my son."
Griffin addressed the circle of about 20 community members, united by the pain that comes with losing children, siblings and friends. The vigil was held just blocks away from the Monterey Pines Apartments, the site of one of the recent shootings that have shocked and saddened Richmond citizens. Since April 7, four young men have been shot and killed in Richmond according to Richmond police spokesman Lt. Felix Tan. The most recent fatal incident occurred on April 19 outside of a convenience store across the street from Monterey Pines.
"The first two homicides might be tied to gangs," Tan said. As of now no arrests have been made and police investigations in three of the four shooting are ongoing.
Tan also said Richmond police have issued an arrest warrant in connection with the shooting death of Mark Johnson Jr., 35, who was gunned down on April 12 in the 200 block of South 15th St. in Richmond.
At the vigil, family and friends came together to "remember all victims of violence, and advocate for new safety solutions," said vigil organizer Charlene Harris. While the vigil was planned before the recent onslaught of shootings as a part of the national Survivors Speak movement, the recent killings were at the forefront of many of the speeches. Though the timing of the event was coincidental, organizers say that this type of gathering can help anyone who has lost someone to violence – no matter how much time has passed.
 "We are here to advocate for trauma recovery centers, and policies that give victim/survivors greater access to comprehensive healing and recovery services," Harris said.
Just days before the Richmond vigil, on April 9 and 10, Harris, crime survivors and other victims' services activists took their movement to the state capitol for a national day of action. And while not all vigil attendees are members of the organization that created Survivor's Speak, Crime Survivors and Safety Justice (CSSJ), each of their stories reflected on issues the group seeks to address.
"[Our movement is about] what it takes to restore every piece of yourself that you lose when an incident of violence happens, when a loved one is lost," said Tinisch Hollins, CSSJ's Bay Area coordinator. Hollins, who is from the Bayview Hunter's-Point neighborhood in San Francisco, says that two of her brothers died from gun violence.
"We are working to build a notional movement around your healing," she told the crowd.
Healing was the word of the night at the event, and the timing of the vigil allowed people who've been dealing with painful losses for years to connect with those whose wounds are new.
"We have to heal through action," said Monifa Akosua whose brother Marczari Martin is in critical condition after being shot inside Monterey Pines Apartments on April 8. Akosua said the two grew up in the complex and she still lives there, but Martin was living with his mother in a nearby neighborhood when he was shot.
"I'm blessed, and my brother is alive," Akosua said. "My brother is a survivor, my brother is making it."
Akosua also vented her frustrations with local news reports, like this one from KTVU, which congratulated Richmond residents and the police department on five months without a homicide in the city. Her skepticism of the timing and purpose of the media attention was met with nods and murmurs of agreement from vigil attendees.
"I'm not really feeling that post," Akosua said. "We're from the community. We know what's up. We know it's been cool. Who you telling this to?"
"Soon as niggas see that they're like, 'y'all think it's good?'" Akosua continued. "Oh, no it's not good."
Akosua's comments about the media reports on the drop in violence have been echoed in community Facebook groups like "The RealRich" and "Everybody's Richmond." On those sites, some say that the stories were a jinx and that they may have even sparked the recent shootings.
Akosua also said that although she is hurting deeply she, like others who spoke from community organizations, are translating that pain into action and healing.
"Build community, lift the youth up because that's where it starts," Akosua said. "The future is the kids. Richmond, we gotta come together."
Upcoming Community Events to Promote Healing:
April 28th- Healing Circle for Mothers 4:30-7:30: Monterey Pines Community Center
April 29th Park Prescription- Healthy Food Giveaway (time TBD): John F. Kennedy Park
May 3rd: Free Book Giveaway (time TBD): Monterey Pines Community Center