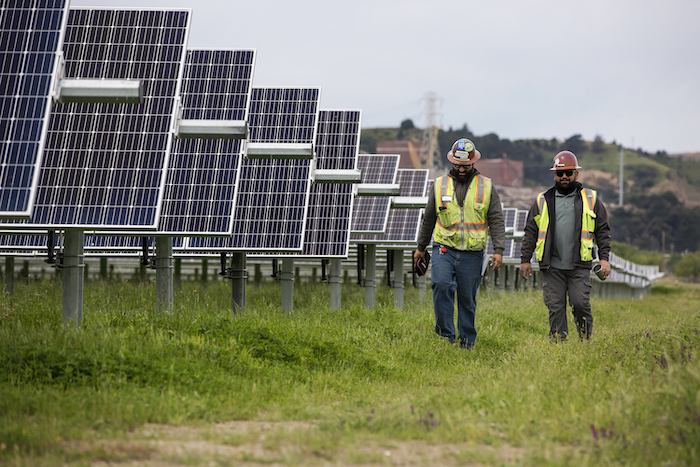 03 May

Richmond Powers Up the Bay's Largest Solar Farm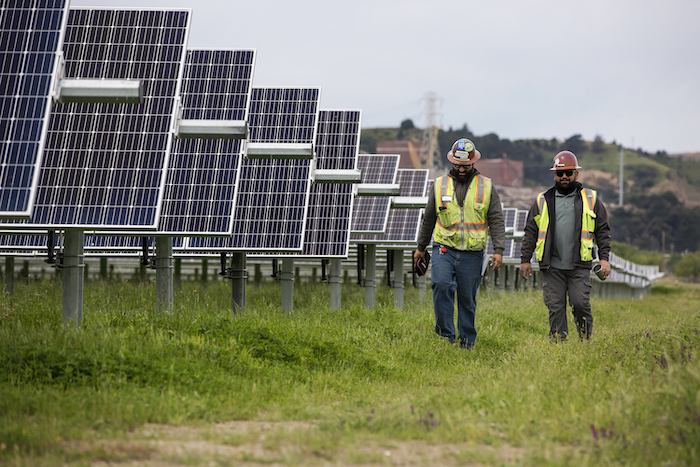 Above: Ray Espino, left, and Croll Envieh, construction workers with Cenergy Power, walk past rows of solar panels during the MCE Solar One ribbon cutting at the 60-acre solar farm in Richmond, Calif. on Wednesday, April, 18, 2018.
Photo Essay, Brittany Hosea-Small
In Los Angeles, while working on environmental justice issues, Dawn Weisz had seen too many projects that promised local jobs but fell short because no one was qualified to work them. She was determined to not let that happen in Richmond.
Three years before construction of a 60-acre solar farm began, Weisz, now CEO of energy service provider MCE, formed a relationship with Richmond Build, putting money towards training students for jobs that didn't exist yet.
Then on April 18, with a flip of a man-sized switch, MCE Solar One began producing power, thanks in part to many local hands.
"It was really a collaborative effort," Weisz said. "Everyone was rowing in the same direction, and it was a great team to work with."
In a ceremonial "ribbon-cutting," Jonathan Brito, a former Richmond Build graduate and solar installer for the MCE Solar One project, turned on the whole operation alongside Weisz, Richmond Mayor Tom Butt, Marin County Supervisor Kate Sear, and several others.
Brito said being a part of the solar project and flipping the switch at the ribbon cutting had personal meaning to him. "For me to come back here and to be a part of it, it's a beautiful thing," he said.
The 10.5-megawatt MCE Solar One project, which has been in the works since 2013, is the largest solar project within the Bay Area and is a multi-partnership with MCE, sPower, the City of Richmond, Richmond Build and Chevron. Located on a remediated brownfield site, Chevron leased the land to MCE for $1 per year for the project. It houses 35,856 solar panels and is expected to provide renewable energy to 3,900 MCE customers annually and eliminate 3,234 metric tons of carbon dioxide each year.
In constructing the farm, MCE requested a 50-percent local hire rate. A total of 341 jobs were created for this project with over half of them filled by local Richmond residents. Forty came directly from the Richmond Build program.
To train these future workers on the specifics needed for the MCE Solar One project, MCE brought solar racks and panels to Richmond Build classrooms.
Thanks to these partnerships, renewable energy is an accessible option in Richmond and future careers in renewable energy construction have now become an accessible option for many local Richmond residents.
Fred Lucero, project manager at Richmond Build, said the presence of the solar farm means something special to the people who worked on it.
"[For graduates] to work on this project is a dream come true," he said, "because now they can point to it literally and say 'I had a hand in working on that project.'"