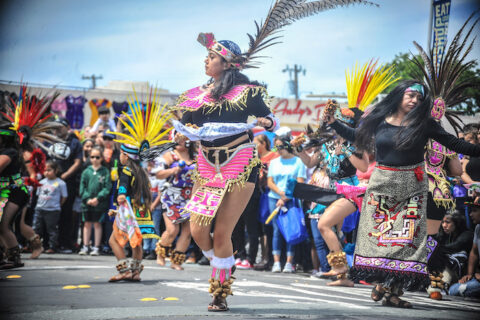 11 May

Richmond's Cinco de Mayo Festival: "A Chance for Positivity"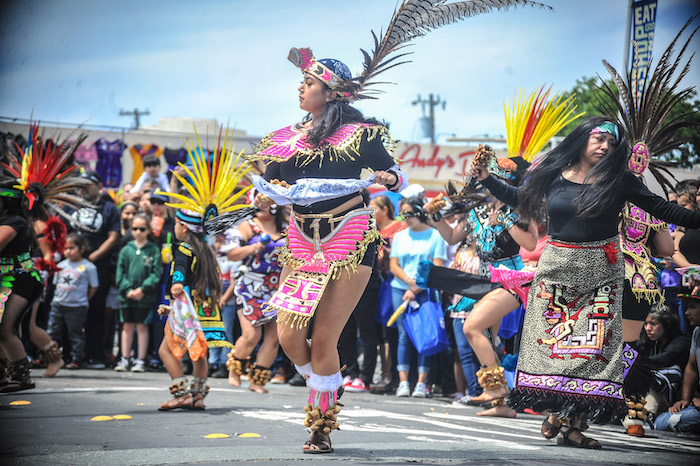 23rd St. Shines At 12th Annual Cinco de Mayo Festival
Story and Photos by Denis Perez-Bravo
With roses painted just above her left eye, 9-year-old Sofia Lopez rode a mechanical bull to the sound of Banda music Sunday on 23rd Street. The ride and the face painting were just some of the activities available during the city's 12th annual Cinco de Mayo Festival.
Sofia, a Richmond resident, and her family were among thousands of people that attended the celebration, held on May 6, to honor the victory of an outnumbered Mexican army against French forces in Puebla, Mexico in 1862.
Sofia's father, Ronald, said he enjoys the street festival because it celebrates the Latino community and its willingness to fight for more. He said the same resilience the Mexican army had back in the1800s remains today.
"The Latino community does not ask for a handout, they ask for a chance," Lopez said.
The festivities stretched for over half a mile between Rheem and Clinton avenues with hundreds of booths crowding the street. Stages covering the whole width of the street were constructed on both Clinton and Rheem avenue intersections. From 10 a.m. to 5 p.m., the street was transformed into the annual event known for its cheerful energy and party atmosphere.
Mexican network TV show host of "Al Extremo," Juan Barragan said that the day-long event draws in performers from all over the Bay Area. Because the event is driven largely by musical talent, Barragan said it attracts more attendees and leaves them with a greater appreciation for Richmond's 23rd Street.
Erika Gomez, a manager at a local Mexican restaurant Bionicos Yahualica, said the festival is meant to recreate the feel of Mexico.
"We remember our country and where we come from," Gomez said. And having a festival on 23rd Street allowed Richmond residents from all origins to enjoy Mexican culture.
During the event, Gomez served hundreds of festival goers at the Bionicos Yahualica stand under a canopy placed in front of its main store on the corner of 23rd Street and Lincoln Avenue. Renting the booth for the day cost $800, but Gomez says it was worth it because it helped spread appreciation of Mexican culture.
For her, serving mangos covered in chili or any other traditional Mexican treat to Mexicans in the U.S is like giving them a piece of their home.
Carla Mendoza, a member of the 23rd Street Merchants' Association which organized the event, sees 23rd Street as a place for Latino business owners to further build. The festival, she said, gives businesses, like her family's, a sense of belonging to the larger community and acts as a powerful antidote against a political climate that at times feels very anti-immigrant and anti-Latino.
"The community comes out and celebrates themselves," she said. "It is a chance for positivity to be spread instead of the lies that Trump spreads."
In addition to food, the festival featured diverse attractions: carnival games, Teokalli (House of Creation) Aztec prayer group, palm readings and the Richmond Fire Department firefighter recreating a rescue mission of a person from a crashed car.
Chris Chow, one of those attendees, drove about an hour from Castro Valley to partake in the Cinco de Mayo celebration. Chow said his wife wanted to expose their four-year-old daughter to Latino culture. They attended a Cinco de Mayo celebration in San Jose the day before and decided to attend Richmond's to take in more culture.
As Chow sat waiting for his daughter and wife to exit a train ride booth, he said that the female folk dancers in traditional Mexican dresses — or as she calls them, "Girls with the dresses" — seemed to impact his daughter the most. And sure enough, as Chow's daughter approached him after the ride, he extended his arm to call her over and her first question was, "Where are the girls with the dresses?"
[ngg_images source="galleries" container_ids="56″ display_type="photocrati-nextgen_basic_thumbnails" override_thumbnail_settings="0″ thumbnail_width="120″ thumbnail_height="90″ thumbnail_crop="1″ images_per_page="20″ number_of_columns="0″ ajax_pagination="0″ show_all_in_lightbox="0″ use_imagebrowser_effect="0″ show_slideshow_link="1″ slideshow_link_text="[Show slideshow]" order_by="sortorder" order_direction="ASC" returns="included" maximum_entity_count="500″]