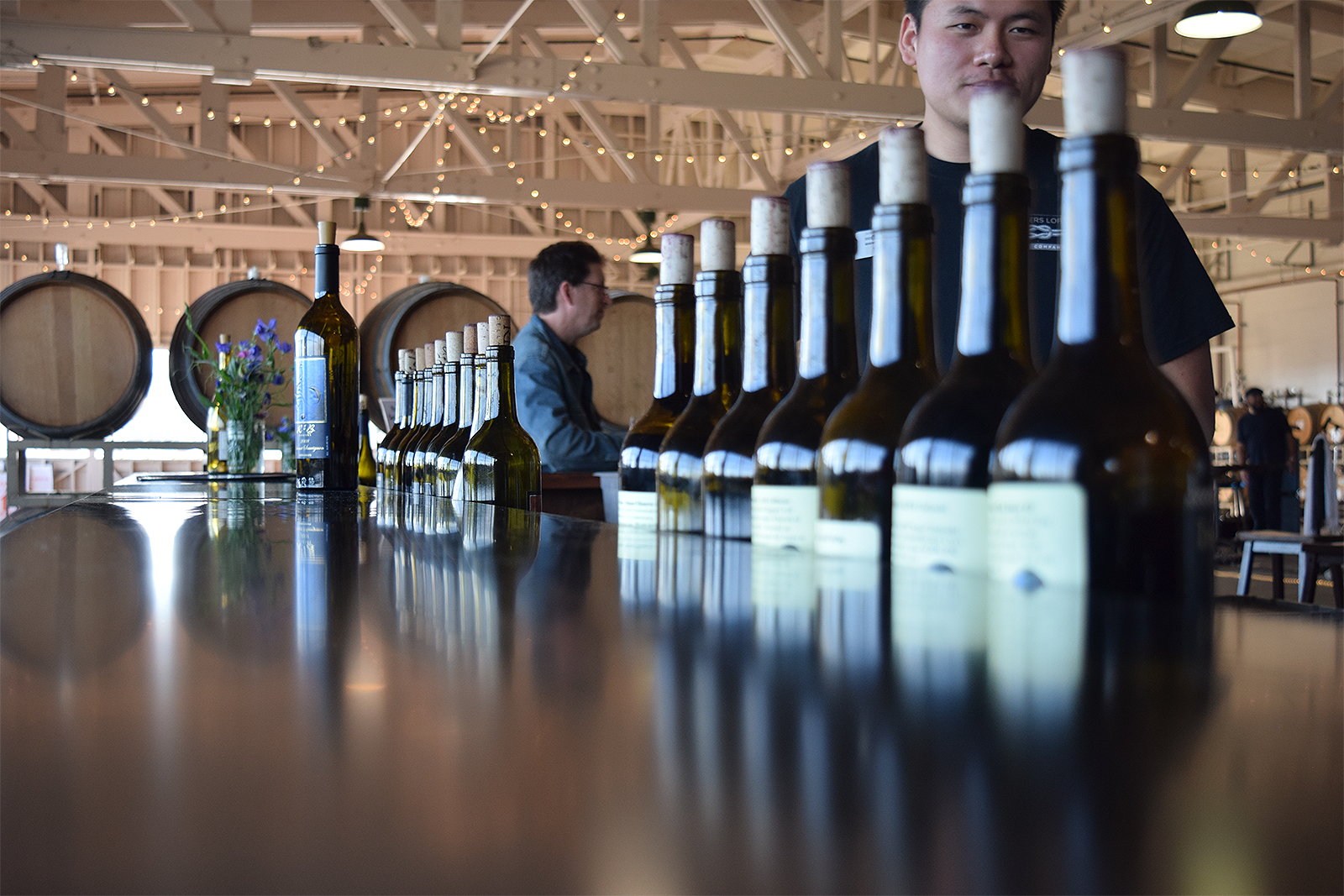 08 Jun

Two Art Forms Merge at Richmond Winery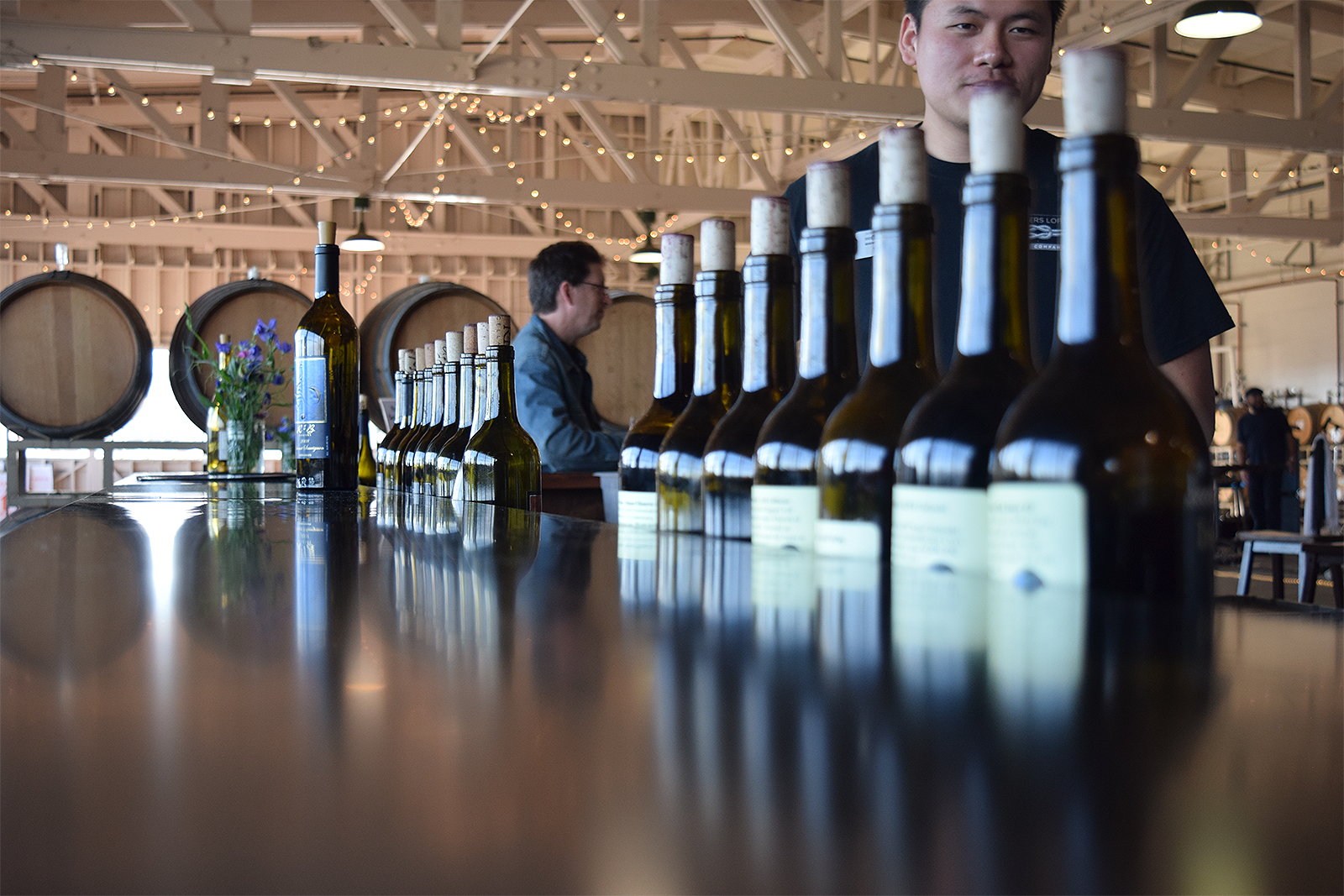 By Abené Clayton
A bass player and guitarist tune their instruments while the late afternoon chatter from patrons mixes with the sounds of clinking glasses and bottles. Bartenders use terms like "slightly smoky" and "dry finish" to describe the wines that customers swirl in their glasses before taking small, deliberate sips. The wine bar at Riggers Loft takes up less than a third of the 22,000-square foot facility that houses wall-to-wall wine barrels and large silver silos.
"People have actually described this huge place as cozy," Riggers' co-owner Barbara Brown said.
She and her husband Kevin entered the wine industry in 2004 with their own line of wines, R&B Cellars, that they sold through a cooperative in Alameda. They opened Riggers Loft Wine Company in 2016 and partner with two other cellars and a cider maker to make the tasting room experience more approachable to Richmond residents.
"We wanted to have a place, kinda like an artist colony," Brown, a jazz flutist and singer, said. "They can share their knowledge. They share the space. And share all of that with the public."
Brown says that the couple's musical backgrounds are a common theme in their wine ventures. Local bands like Afterglow preform Wednesday through Sunday, while people explore the wine production facility, bar and tasting room. Additionally, each of R&B Cellars' wines have musical nods — like treble clefs — on their labels with names like their "Serenade in Blanc Sauvignon Blanc."
"[Music and wine] are both arts forms," Brown said while placing labels on bottles of R&B Cellars' Cabernet. "It's kind of the marriage between two passions that we have: making music and making wine."
Riggers Loft sits a few feet from the SS Red Oak Victory Warship turned tourist attraction, and is less than 10-minute drive from the Rosie the Riveter Museum. Brown says that the location of the loft implored the couple to create a community vibe that makes merlot and pinot grigio tasting less intimidating. They also aim to make the winery experience more convenient for wine drinkers in Richmond and its surrounding communities.
"There's a lot of snooty people out there," Brown said. "The tasting room staff is very knowledgeable, but they don't talk down. They're very accessible so people can come and learn."
Riggers' staff agrees that there is plenty to know about wine, but co-owners Kevin and Barbara make beverage education easy to grasp for the bartenders and, by proxy, Riggers Loft patrons.
"The service part is something I've been polishing up here," said Frank Andrade, who's worked the wine bar at Riggers for about two years. "And they've been willing to put a lot of faith in people to show up and put their time in and do a good job."
As the sun starts to set on a recent Friday, and the light in the loft goes from yellow to red, as Afterglow begins playing a cover of Luther Vandross' classic jam, "Never Too Much." Couples and small groups of friends begin to raise their voices to compete with the drums and bass that fill the space, adding a new layer of energy to the wine bar.
"Before all of this happened you have to drive over to Napa, Sonoma, drive across that crazy bridge," said Linda Huddock, who's been a Riggers Loft patron since it opened two years ago.
Huddock also says that while she's enjoyed wine for years, she's no "connoisseur." At the loft, she doesn't need to be one to enjoy the live music.
"There's a lot of musicians in this town and I feel very intimidated by them, because I can't play." Huddock said. "But I can cut a mean rug."
Riggers Loft also hosts paint nights, karaoke, and offers food from the local food truck, Street Eats, which is open during Riggers Loft's operating hours. It also housed several Richmond eateries during the Taste of Richmond food festival last month. Brown hopes that these events will encourage people who may have limited experience with wines to learn in a relaxed environment.
Brown emphasized that she and her husband envision Riggers Loft as a place where people from of varied backgrounds can gather to learn about what she describes as a "pretty damn cool beverage," listen to great music, and "just be."
"Wherever you enter the [wine] pool — either the shallow or the deep end, just dipping your toes in — doesn't matter," she said. "We just encourage people to try things."
Riggers Loft Wine Company is at 1325 Canal Blvd. in Point Richmond and is open on:
Wednesday: 5 to 8 p.m.
Thursday: 4 to 9 p.m.
Friday: 4 to 10 p.m.
Saturday: 1 to 10 p.m.
Sunday: 1 to 6 p.m.