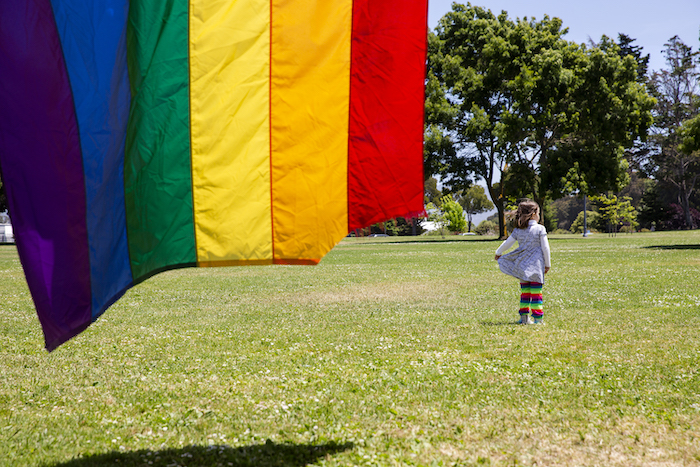 11 Jun

Rainbow Flags and Richmond's Pride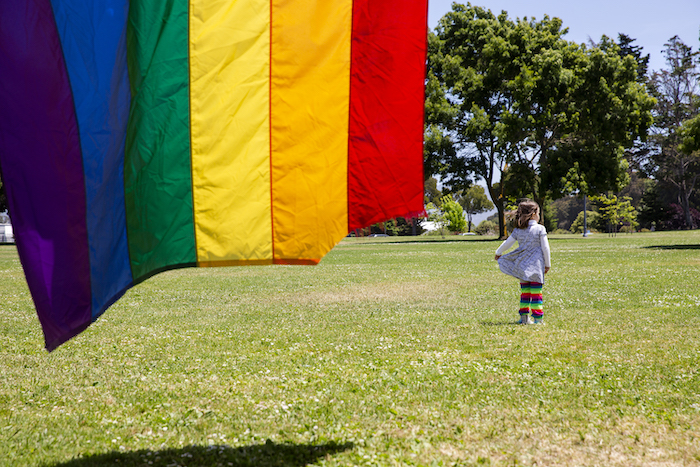 Above: Sofia Silano, 4, stands behind hanging pride flags at the Richmond Rainbow Pride Festival in Marina Park, Richmond, Calif. on Sunday, June 3, 2018.
By Brittany Hosea-Small
Drivers turning down Regatta Boulevard on the first Sunday in June were greeted with the bright rainbow colors of close to 50 Pride flags in Richmond's Marina Park.
For the fourth year running, Richmond Rainbow Pride held its all-inclusive Richmond Pride celebration. Friends, families and all members of the LGBTQI community were invited to come out and celebrate love and visibility for their community as a part of Pride month. Nearly 200 people attended the celebration throughout the day, enjoying the sunshine and joyful energy filling the park.
Information booths for local groups, politicians, and city officials were set up along side the Under the Rainbow consignment clothes stall and a book sale booth whose proceeds went to support Richmond Rainbow Pride at the event. The United Parcel Service took part in this year's celebration for the first time as an event sponsor and even held job interviews that day for those interested in positions with the company. According to B.K. Williams, vice-president of Richmond Rainbow Pride, UPS and Target joined in sponsoring the event for the first time this year, joining returning sponsors from local non-profits and the City of Richmond.
As the energy picked up around noon, a rainbow flag bedecked stage opened up for performers and speakers. City Councilwoman Jovanka Beckles gave the opening remarks, encouraging Richmond residents to continue coming together, showing love and giving visibility to the LGBTQI community.
Following Beckles' speech, local comedian Karen Ripley took the stage – delighting the audience with stories and jokes about her time as a lesbian comedian performing across the country. Poet ESpoken performed several spoken word pieces, opening with a poem called "Open Doors."
"I wanna take this time to reflect on this year / No resolutions just anthems to thank them. / There are so many who I thought would be by my side, who are not even here. //
I dropped to my knees to ask the lord the reasons why / I said Lord please tell me, what am I truly here for? / And as his angels lifted me up he said 'My child, the root of change begins when you open doors."
To close out the event, the emcee invited anyone from the general audience who was interested in performing to come to the stage. A brave four-year-old girl regaled the audience with a version of "Let It Go" from the Disney musical "Frozen." After her, another audience member took to the stage to perform a dance.
Attending the event were several elected officials, including Mayor Tom Butt, Richmond District Attorney Diana Becton, City Councilmember Jovanka Beckles and Contra Costa County Supervisor John Gioia. Some of the officials took to the stage during the celebration to speak about the importance of the annual celebration and the impact on the community since it began four years ago.
Started as a small "family picnic" style event in 2015, the first Pride celebration was created to combat distinct homophobic and anti-LGBTQ sentiments felt in the city. The year before, Beckles, an openly lesbian afro-Latina Richmond city council member came under verbal attack during city council meetings. As a response to these attacks members of the LGBTQI community started attending city council meetings in support of Beckles. In addition, several community members began looking at ways to overcome the long-term issue of homophobia and a lack of visibility.
Against this backdrop, Cesar Zepeda and Duane Chapman came together to create Richmond Rainbow Pride, the city's first LGBTQI organization. As one of their first projects they launched the 2015 Richmond Pride celebration in Marina Park.
"We did it on a shoe string budget but we had such an outpouring from the community," says Jamin Pursell, art director and another founding member of Richmond Rainbow Pride.
This positivity came as a surprise to Richmond Rainbow Pride organizers. Even with support from the city, and several council members, organizers were concerned over how a Pride celebration would be received.
"We had never put up a Pride flag, let alone many of them," said Zepeda, president and founding member of the organization.
But, with a crowd of nearly 80 people that first year, Richmond's 2015 Pride celebration was a success – and it has continued to grow each year.
"We went from having little representation and being afraid of putting up one Pride flag, and I think in the park right now we have about 50 or 60 pride flags," Zepeda said. "You see people holding hands, people showing affection, showing love, building community, that's what this is all about."
Though Richmond's Pride celebration is smaller than some, its grassroots endeavor and family feel is one of the many charms attendees enjoy about it.
"I love that this feels more homey, this feels more neighborly," Beckles said.
Beckles said she is proud to see Richmond acknowledging its queer community, for something so positive to have stemmed from the negativity and homophobia that she experienced is a beautiful thing to her.
For his part, Zepeda said he enjoys seeing people who are normally afraid of being 'out' in Richmond have fun and feel free to be themselves.
"You've allowed them to be themselves in Richmond, even if for a few hours," he said, "And that makes it worth it."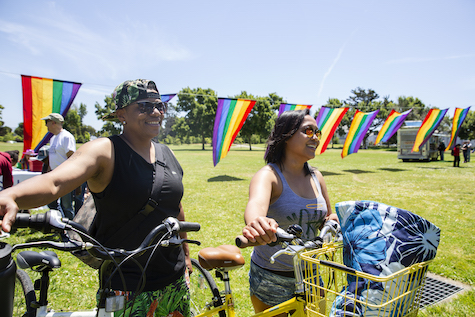 Above: Bibi Adams (left) and Fray Aglipay (right) laugh as local comedian Karen Ripley performs at the Richmond Rainbow Pride Festival in Marina Park, Richmond, Calif. on Sunday, June 3, 2018. Adams and Aglipay have been coming to the Richmond Rainbow Pride celebration since it's first year in 2015.