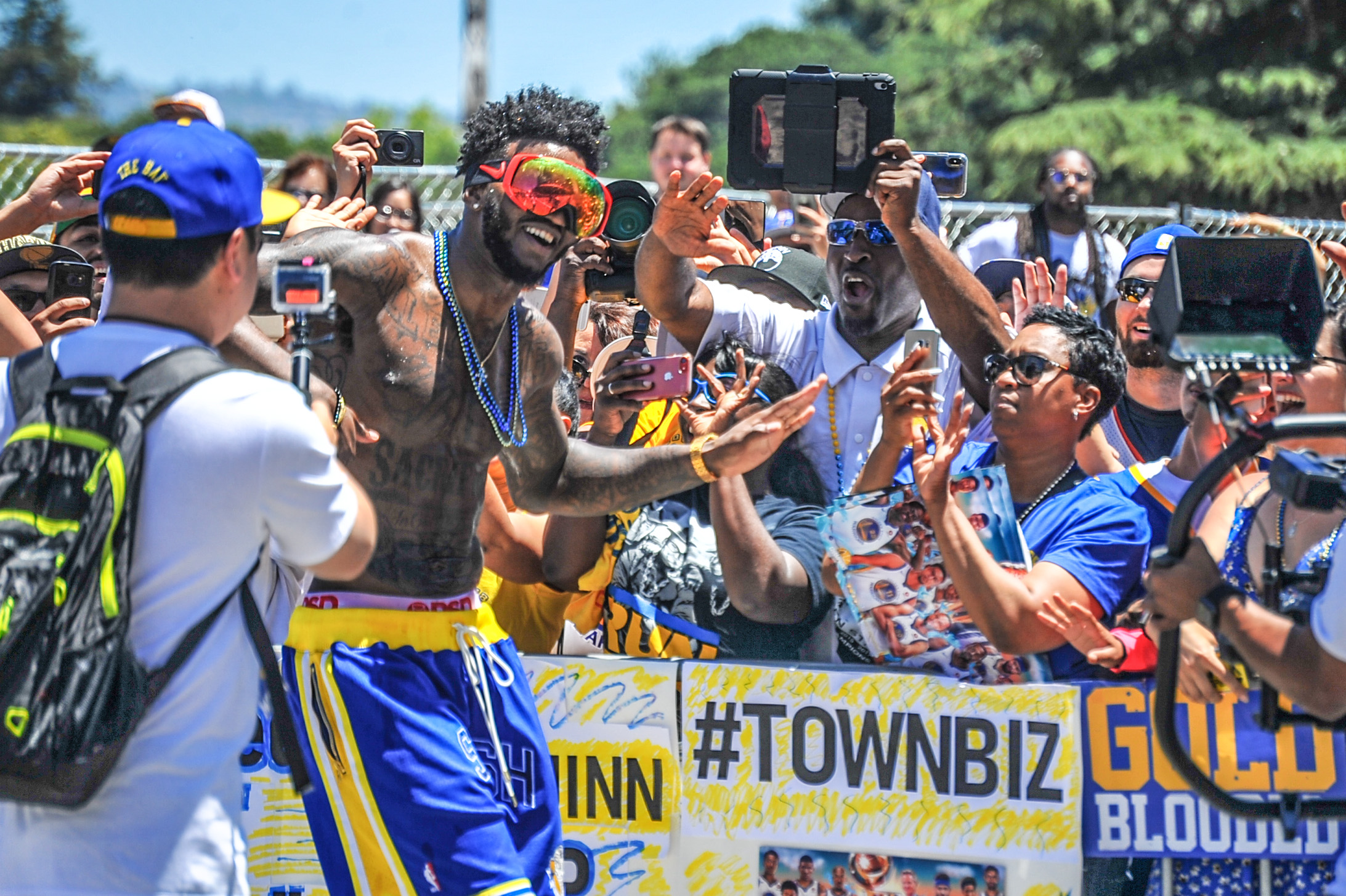 18 Jun

Warriors Fans, Yet Again, Light Up the Town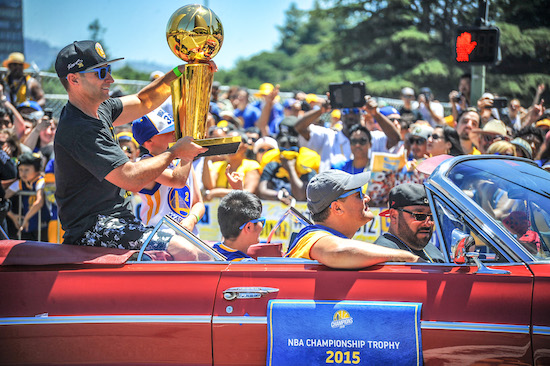 By Denis Perez-Bravo
OAKLAND — An estimated 1 million Golden State Warriors fans packed The Town last Tuesday to celebrate the team's third championship in the last four years.
In case you hadn't heard, the Warriors swept the LeBron James-led Cleveland Cavaliers, once again bringing back the nearly annual celebration to the East Bay.
Along the mile-and-a-half-long parade route in downtown Oakland, excitement over the back-to-back championships brought people dressed in royal blue, orange, yellow and gold to see their favorite Warriors. In some lucky cases, a few fans got to touch them.
Some fans secured their places along the route as early as 5 a.m. and withstood the heat long after 2 p.m., when the festivities ended.
Fans joyfully shouted the iconic "War-yers" chant as players paraded around Oakland, starting at 11th Street, down Broadway, right on 20th Street down Harrison, left on 19th and down Lakeside Drive before ending on 13th Street.
Along the route, fans waved flags, jerseys — anything that could be signed, really — at players. One fan tossed one of his shoes to power forward Draymond Green as he rode atop the slow moving double decker bus. Green signed the shoe and it was thrown back into the crowd.
While this year's parade didn't have a rally at the end, players were more engaged with the fans along the parade route than the two previous parades. The players spent more time outside of the bus and on foot in an attempt to be as interactive as possible.
On the corner of 20th and Harrison streets, some players like shooting guard Klay Thompson got out of the bus and interacted with fans. Thompson carried two open champagne bottles as he walked toward fans. The hundreds of fans that were in that area shouted "Klay, Klay, Klay" before Thompson retreated to the bus and continued on the route.
Warriors coach Steve Kerr, shooting guard and small forward Nick Young and other Warriors players also stopped at the corner of 20th and Harrison streets to high five fans lining the barricades. The Warriors players also took pictures, signed jerseys and shook hands with fans.
On Harrison Street, Warriors center Jordan Bell extended his arms, leaned forward and hugged a group of fans. Embracing one of their champions, the happiness was evident on their faces.
The parade was to celebrate not just Warrior and Oakland pride, but Bay Area pride as a whole. The streets of downtown Oakland were filled with blue and gold confetti after players paraded through those streets.
Although the parade ended at 2 p.m., fans lingered and enjoyed the day in downtown Oakland until the evening, celebrating their town: a city of champions.