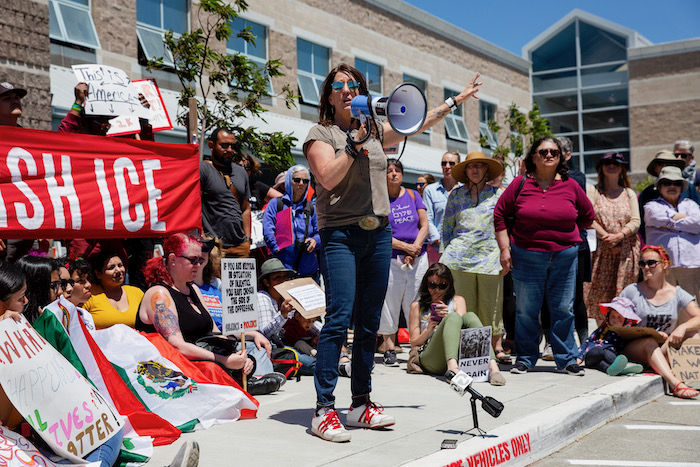 29 Jun

Day of Action Over Undocumented Detentions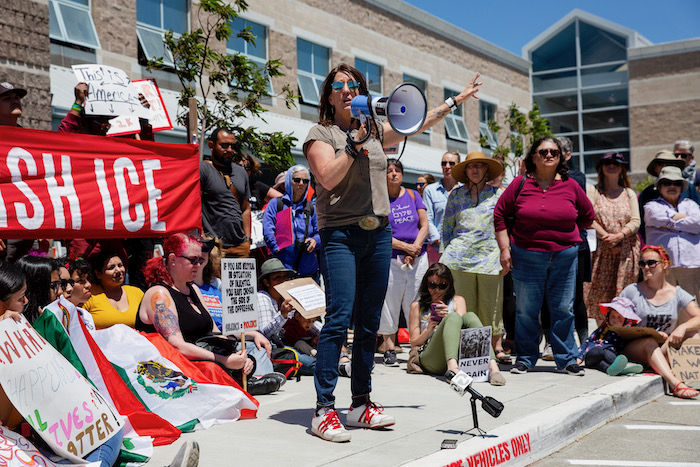 Above: Kate Kendell, executive director of the National Center for Lesbian Rights, speaks to protesters during the Detention Center Day of Action protest at the West County Detention Facility in Richmond, Calif. on Tuesday, June 26, 2018. 
News Report, Brittany Hosea-Small
The sound of metal drums and chanting filled the air at noon on Wed., June 27 as nearly 300 protestors marched in circles outside the West County Detention Facility in Richmond.
The group was part of a Detention Center Day of Action, organized by Cleve Jones, co-founder of the San Francisco AIDS Foundation and supported by many local and reginonal groups including the Richmond Progressive Alliance, Contra Costa Racial Justice Coalition, RYSE Center and Safe Return Project.
Protestors and organizers stood outside of the detention facility from 7 a.m. to 7 p.m. protesting the incarceration and family separations of undocumented immigrants under President Trump's "zero-tolerance" policy.
"When immigrants rights are under attack, what do we do?" protestors called out during the demonstration. "Stand up, fight back," they answered.
"One of the things that we want people to understand is that immigration is about all of us," Cheryl Sudduth, a member of the Contra Costa Racial Justice Coalition and Contra Costa Immigrant Rights Alliance, said. "It's about South America, Central America, African countries, Middle Eastern countries, European countries."
"When people are no longer viewed as humans through a legal lens, it becomes easier and easier to accept this type of action," she said in reference to Trump's controversial immigration policy.
With increasing news coverage of migrant families being separated and facing lengthy detention, many Bay Area residents are feeling spurred into action.
"For those of us who are citizens and have the privilege of being citizens it is so important for us to stand up and say we will not allow this administration to terrorize people who are more vulnerable," said Kate Kendell, executive director of the National Center for Lesbian Rights.
And, for some at the event, it was about doing more than just speaking out.
"One of the reasons we wanted to do this is that we think that people are going to have to start doing more than march on weekends," said protest organizer Jones. "This is about building Bay Area solidarity to work together in the months ahead."
But incarceration and justice for all is not a new fight in Richmond. Tamisha Torres-Walker, Director of the Safe Return Project, reminded protestors during a press conference at the protest that the struggle against unfair incarceration is a long-fought battle.
Many other Bay Area community organizers and politicians spoke during the noon press conference, including Vice-Mayor Melvin Willis. "It's important that we're here today to lift up our voices as community members as people that care, as people that are voters." Willis said. "This is going to take time and it's going to take all our voices."
Others agreed with Willis that this problem would not be solved quickly. "This is going to be a long struggle," Jones said, addressing the crowd. "We're not going to win this in weeks or months."
With that in mind, rather than feeling defeated, protesters seemed to feel further motivated for change. The timing of the event was particularly poignant as it came on the heels of Tuesday's U.S. Supreme Court ruling upholding Trump's travel ban that barred nearly all travelers from mainly Muslim countries, in addition to North Korea and Venezuela.
"We all need to raise our voices and to protest injustice that we see happening around us because we can't just silently let this happen to our country," said Jennifer Gonzalez, a Marin resident and protester. "We have to speak out. It's our civic duty we can vote and we can protest, so that's why we're here."
At the close of the press conference Francisco Herrera, a cultural worker with Trabajo Cultural Caminante, sang "Our Children Are Sacred," and encouraged attendees to sing along with him in any language they wanted. Soon, nearly 300 voices rose, echoing off the looming cement walls of the detention facility.
"Our children are sacred, nuestros hijos son regalos."
"Our children are beautiful, nuestros hijos son bellos."
"Our children are gifts, nuestros hijos son regalos."