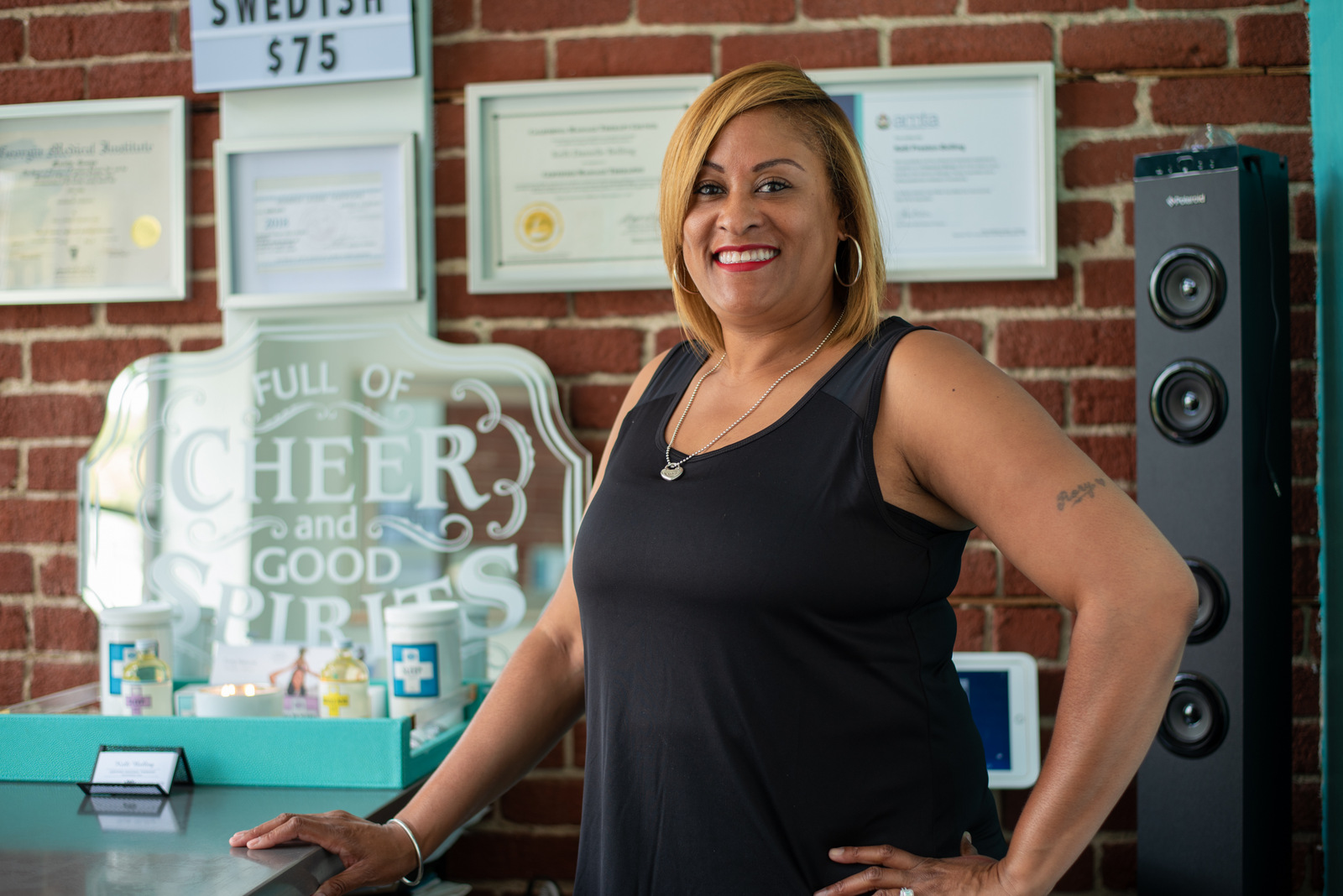 02 Jul

Spa Aims to Keep Athletes Moving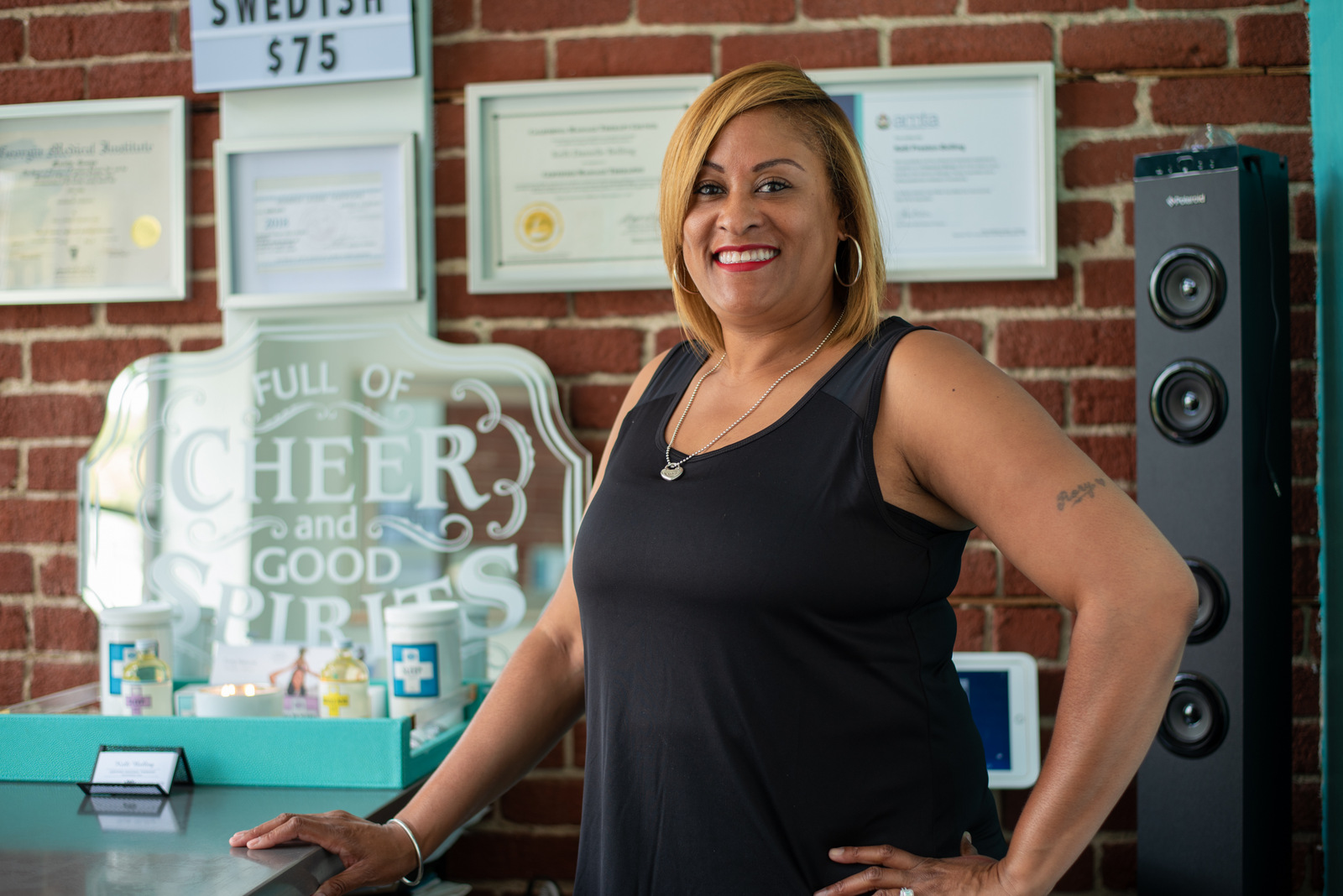 RP Staff Report | Photo by David Meza
Kelli Preston-Bolling loves teaching people about the benefits of massage therapy.
As the owner of Platinum Therapy Spa in Point Richmond, she offers a variety of services including sports, deep tissue and Swedish massages.
Preston-Bolling recently sat down with Richmond Pulse to chat about her spa and operating a business in Point Richmond.
Richmond Pulse: Tell us about your business.
Kelli Preston-Bolling: Platinum Therapy Spa and then a derivative is Platinum Player Sports Therapy. That is the portion of the business that I service athletes ranging from high school kids, professional athletes and semi pro. The services that I offer are Swedish massage, deep tissue massage, and I specialize in injury prevention sports massage therapy.
Currently I'm the only therapist. I am looking to hire and train other therapists to work in the spa. I would like to secure an opportunity with Berkeley High, which is my alma mater. I would like to set up an injury prevention team for athletes in the same fashion I did at UC Berkeley. I would like to have more massage therapists to work with high school athletes and maybe offer clinics at the school and eventually have another space that will accommodate a clinic setting.
RP: Why were you interested in opening your business in Richmond?
KPB: I'm from Berkeley and been in Point Richmond since April 2015. When I returned to California from Georgia in 2006, I moved to Richmond. I would always visit the Starbucks in Point Richmond, and I loved the vibe of the area. I knew I always wanted my own space, and I had a two-bedroom apartment. My extra bedroom was sterile like a hospital. I lived alone and I would service my private clients in my extra bedroom. I began to travel with some of my athletic clients, and I felt I needed a professional location, which would represent who I was. I was massaging professional athletes out of that apartment, and it didn't match up.
So, I really wanted a space and near where I lived. As I was going through Point Richmond, I saw a space I liked, but it was not up for lease at the time. I just kept my eye on it. Four years later, I saw the space was up for lease. It was beautiful. I love Point Richmond a lot. I love that I can get off work at 8 or 9 p.m. and I feel completely safe.
RP: What do you like most about being a massage therapist?
KPB: What I love about being a massage therapist are the results that it produces. I also love teaching people about the benefits of massage therapy, particularly sports massage. My passion is to share information about injury prevention and my goal is to help decrease the probability of injury. That can be done through educating the athlete, the coaches, trainers, sports medical staff and the parents to help them understand how beneficial it is to help either decrease the probability and enhance the performance, restore the muscle and keep them healthy.
RP: How much do your massage services cost?
KPB: A one-hour Swedish massage is $95. A full-body, deep tissue massage is $115. A sports massage is $125 per hour and it's meant to identify problematic areas where people have old injuries, tendons, elbows or a hamstring injury or athletes that are training to start the new season. It's about getting those muscles elongated and to their maximum functionality by targeting specific areas.
RP: What is the best part about being a business owner?
KPB: Being a business owner is the opportunity to give 100 percent of myself through my craft without being hindered. I'm really passionate about what I do, and I found that being at UC Berkeley was such an amazing experience. But due to the bureaucracy of things and because they really didn't have staff that maybe were not passionate or their level of expertise, I was feeling a little bit like I was the only one that really got it.
I feel like I didn't have the opportunity to truly offer the program and the recipients what they really needed to benefit from the services. But being a business owner when people come in, I tell them exactly who I am, what I do and what I offer. They can come in and tell me what they need. Automatically, there is a connection there. I'm able to cater the services to the needs of the clients.
RP: If you had to give one piece of advice to someone just starting a business, what would that be?
KPB: I started my business with $3,000 and faith. If I could give any advice to someone about to start a business, I would say it's really nice to have money saved up for rainy days and things that you wouldn't expect. It would be great if you could start the business and you have other people who were just as passionate and dedicated who were actually there with you. To do it alone and try to figure everything out can be quite challenging.
I think people need to be aware that being an entrepreneur is probably not going to offer you the financial rewards that you deserve in the beginning. So you need to be clear, that you are doing something that you love and eventually if you are operating with good business practices, things will work out.
If you go: Platinum Therapy Spa is at 147 West Richmond Ave. Suite D in Point Richmond. Appointments are required. To book a session, call 510-730-1063 or visit www.platinumsportstherapyspa.com.