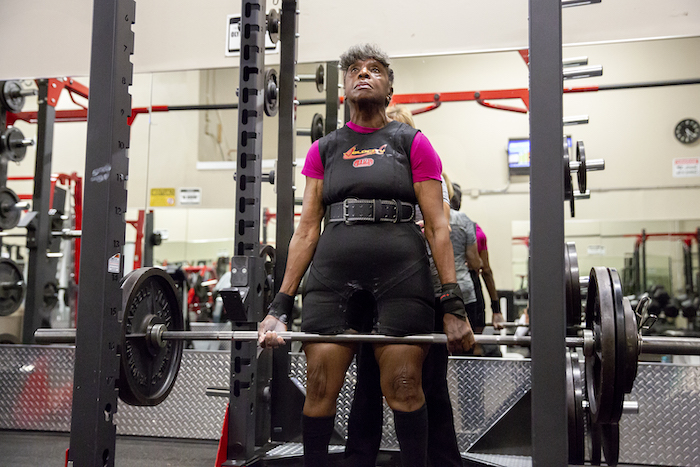 03 Jul

Powerful Lifting and a Powerful Life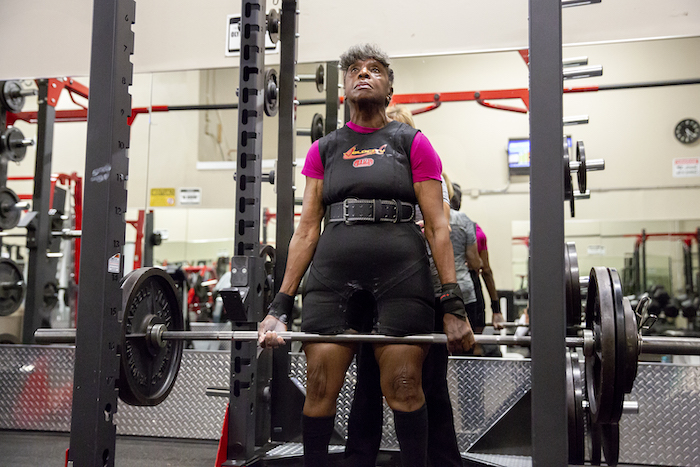 Above: Carrie Reese lifts 250 pounds during her powerlifting training session at Custom Health Fitness in Napa.
Story and Photos, Brittany Hosea-Small
It's 4am and just like every morning, Carrie Reese gets up, has a cup of coffee, a small sensible meal and heads for the gym. Hitting up the weight machines before most people are even awake, Reese gets in her daily weightlifting and cardio routines and joins in on weekly spin classes.
At 82, Reese has been a powerlifter for just under a decade – her career began at 74 and since then she's become the only woman in the world to hold eight world records in six separate weight classes.
In November, Reese will compete in her seventh weight class at 132-pounds. In preparation for this upcoming competition, Reese has a grueling training schedule, spending between two and four hours a day, six days a week on her own and with her four trainers, each of whom who focus on a separate aspect of her powerlifting needs.
Her trainers, Jennifer and Christian Aguirre at Aguirre Fitness in Hercules have been working with her for nearly five years. As her nutrition coach, Jennifer Aguirre provides her with dietary requirements, weight loss goals and most importantly motivation. A Ketogenic diet, which limits her intake of carbohydrates and increases her intake of fats and proteins, keeps her on track and Jennifer monitors what changes need to be made in order to reach Reese's competition weight goals.
As one of her strength coaches, Christian works with her on a variety of upper body muscle groups. Cross training between bodybuilding and powerlifting, Christian has been able to increase her muscle strength and lift capacity for bench press competitions as well as increasing Reese's stamina.
"Her conditioning is better. Even with people that are younger than her, when I put them through that same routine, they've got to take longer breaks." Christian remarks. "So for someone that age, her conditioning is really good."
"Her dedication is beyond anybody we've ever worked with," her deadlift coach Mike Dayton says.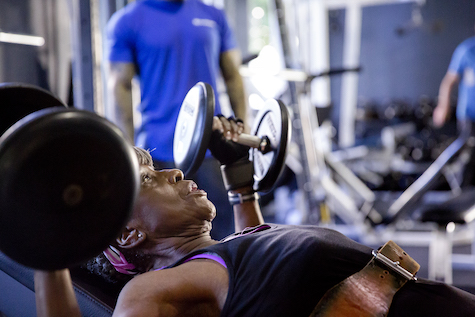 But Reese wasn't always dedicated to fitness, there were low points too, times in her life where she couldn't even picture going to a gym.
In her 40s Reese began running marathons and after over 15 years of pounding pavement her knees blew out. The injuries, combined with her demanding job as a senior litigation attorney, working 16 hour days often six to seven days a week, led Reese to gain weight — increasing to a drastic 280 pounds by the time she retired at age 62. After retirement she had bi-lateral knee replacements due to her excessive weight and previous joint injuries.
While in rehabilitation for a severe wrist injury, a woman came up to Reese and recommended she join her gym.
"Nobody who's fat wants to be told to go to a gym," Reese said. "So I was really angry with her for approaching me."
But after finishing rehabilitation, Reese couldn't stop thinking about the woman's suggestion. Eventually she joined. It was at this gym that her life as a world record power-lifter began.
David Gahn, owner of the Power Form Gym in Oakland, was her first lifting coach. After training for a year Gahn decided it was time Reese try competing.
"The first one was awful." Reese remarks in reference to her first competition.
She recalls Gahn telling her 'not to dance' as she moved her feet around while lifting rather than keeping them planted during the competition.
"Of course you're nervous. You don't know what they expect and what to do," she said.
Competing at the 220 pound and up weight class, Reese lifted 248-pounds while weighing approximately 230 pounds for her first lift. Currently at 82-years-old, Reese plans to compete at the 132-pound weight class, having lost over half her bodyweight since her peak at 280.
"I will not stop until I get good," Reese said. "I will put in the work that is necessary, whatever it takes is what I'm gonna do and I'm not gonna stop until I get what I am going for. That's always been my goal. That's always been how I operate."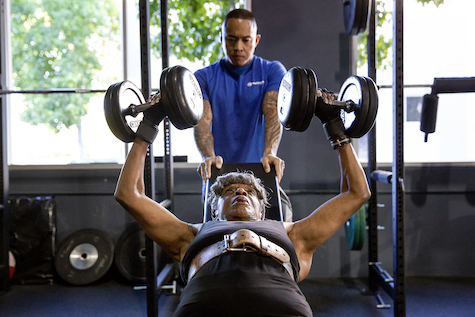 Athleticism and a competitive spirit have been a running theme for Reese since childhood, having grown up playing hockey, lacrosse, tennis and basketball. In fact, Reese was offered a position on a professional hockey team in New York after graduating high school.  She declined it though, choosing to attend a three-year nursing program instead on the recommendation of her father. Plus higher education WAS a goal for Reese since she was nine years old and took her first job to save up for college.
At nine, Reese worked scrubbing floors for .50 an hour. Word spread quickly about the diligent, hardworking little girl and she soon picked up more jobs cleaning homes and floors. All the while, Reese continued to attend school and play multiple sports. By 10, she was working for a family doing domestic housework and childcare. She worked full-time for them during summers until she was 18.
After saving up enough money to attend nursing school, Reese applied and was accepted by a nursing school in Kensington, New York. But, upon arriving for her interview Reese was quickly rejected. It had not occurred to the director that Reese was a woman of color and that was a distinct problem at their school.
"My God, you didn't sound like a lady of color," were the first words Reese recalls the woman uttering. After little discussion Reese was refunded her tuition money and sent packing.
She spent a five-hour bus ride back to Atlantic City, trying to understand what had happened.
"I called my dad when I got back to Atlantic City and he came down there to try to tell me what it's like being black in America," she said.
News of Reese's rejection soon spread in her small hometown and thanks to their support she was soon accepted into the Lincoln School for Nurses in New York where she graduated first in her class and was subsequently offered a one-year scholarship at Columbia University.
After Columbia she was offered a second scholarship and transferred to UCLA where she earned her bachelors degree in nursing as well as a double masters in Nursing and Public Health.
Reese's education didn't stop there though. Instead she continued to cultivate the indomitable spirit that would push her to multiple successful careers and ventures, including setting powerlifting records as a senior citizen.
After working in the medical industry for 27 years, Reese chose to go back to school for her law degree and passed the bar at 44 years old – realizing a dream she'd had for decades.
"If I had had the money I would've gone to law school to begin with," she said. "But I just didn't have the money for a 4-year school, so when I got to be 40 I said I always wanted to be a lawyer, I have the money now. I'm going to go to law school."
Reese worked in corporate law until she retired at the age of 62. She, along with a partner, purchased two houses in Richmond that served as a home for over 100 homeless young women, known as the Imani Girls Home.
From nursing to law and now powerlifting, Carrie Reese has never stopped and doesn't plan to anytime soon.
"I intend to continue competing until I just drop dead," she said. "I'm looking forward to competing in my 90s. And there's no limit. There's no stop limit for me."