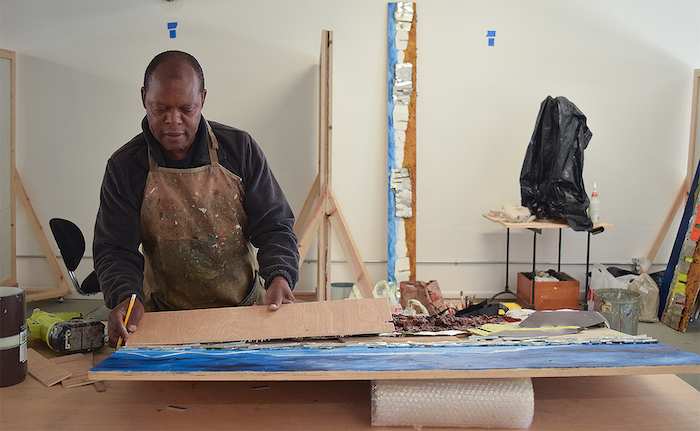 09 Jul

Storage Warriors: 'Bridge' Offers Artists Affordable Spaces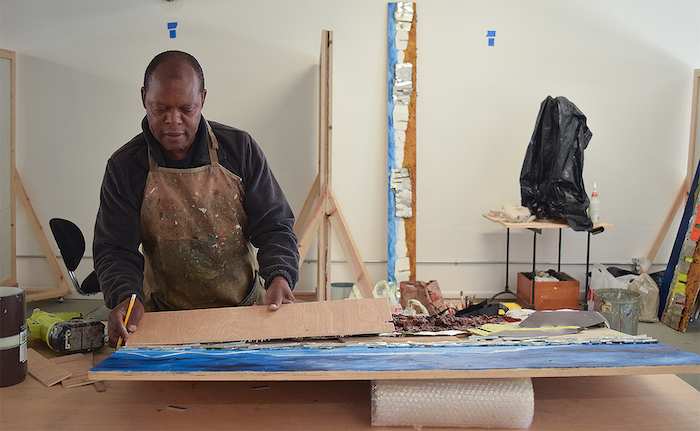 By Abené Clayton
Artist Fortune Sitole moved between spraying a partially complete clay sculpture of a woman and cutting geometric shapes out of plywood with a small, loud handsaw. He stuck the freshly cut plywood on a mixed media collage depicting a shantytown in his hometown in South Africa. He then took a few steps back to spray his sculpture with water to keep the clay soft and pliable.
"I'm still thinking about if I'm gonna dress her up or leave it," Sitole said, putting down his spray bottle.
Sitole's projects — which are in various stages of completion — take up a small portion of a 1,650-square-foot "semi-private studio" at Bridge Storage and Art Space on Main Avenue, deep in central Richmond.
Bridge opened as a storage unit rental business in 1993. In 2010 Jeff Wright and his father Jim, who initially opened the storage business—turned a few of the units into studios for local artists. That was until the city closed the facility for code violations in 2016.
When Bridge made room for artists, their categorization with the city shifted from being solely a storage space operation to a "mixed-use storage facility," according to Bridge's Chamber of Commerce profile. This new classification necessitated a new sprinkler system, insulation and other fire safety mandates. After the Ghost Ship fire in 2016 — which killed 36 people in a mixed-use warehouse and art space in Oakland — cities, including Richmond, increased scrutiny on artist spaces that weren't up code.
Bridge was caught up in that sweep, and Wright had to evict all of its artists. Local artist, Daud Abdullah says he was teaching a mosaic-making class when the fire marshal came to Bridge.
"They gave the kids a tutorial on how to use a fire extinguisher," Abdullah said, "and they let me do the project, which turned out amazing."
Even after the class, Wright was told he had to evict all of the artist-tenants. He says that he spent "hundreds of thousands of dollars" to get the space up to code.
Hoping to reinvigorate Richmond's growing art scene, Bridge now serves as a legal co-working space for artists like Sitole.
"The machines and the wood workshop and the sculpting in the same place," Sitole said, listing the amenities that attracted him to Bridge. "It's not like I just paint. I do other things, so this works for me."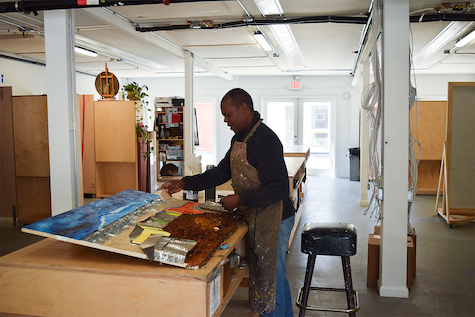 Now, Wright and Bridge's staff are trying to revamp the business model to keep it financially viable while still catering to artists with limited incomes. Wright also installed a green screen in the new film studio in the hopes of making Bridge a "one-stop shop."
"Storage is paying for this grand experiment," Wright said. "It's a little bit like the nimble startup."
Michele Seville, Richmond's arts and culture manager, said Bridge has demonstrated that they're not really there as a business to make money. "They're there to make the neighborhood better," she said, "to make space available to artists at an affordable price."
According to Seville, art space is at a premium in Richmond. The galleries at the Richmond Art Center (excluding the Community Wing) are fully booked for the next two years, making Bridge one of the few places where local artists can hold exhibitions and work on their pieces.
Abdullah says he and other artists struggle to find other workspaces.
"Where else are we gonna go if we want to stay in this area?" he said. "If you're lucky enough to have an extra bedroom, that becomes your studio. You wanna have a space you can go to that's just art."
Abdullah and Seville also see Bridge as a potential piece of erasing Richmond's negative stigma. Both were concerned about negative stereotypes of the city keeping people from supporting Richmond's "under the radar" art scene.
"I wish Richmond had a PR person," Seville said. "How the city is perceived is kind of left up for grabs."
Once known as a "as being this crazy Wild West" Abdullah says the city has changed for the better in recent years. "So now let the art flourish," he said.
Bridge Storage and Art Space is located at 23 Maine Ave., Richmond. Its office is open from 9 a.m. to 5 p.m. Monday through Friday. For more information, visit bridgestorage.com.