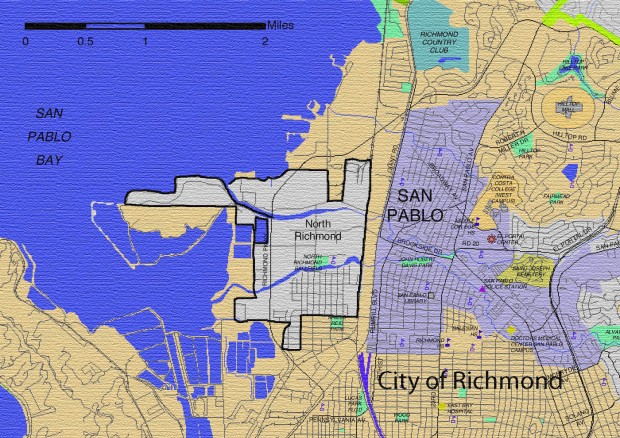 03 Aug

Should North Richmond Finally Become Part of Richmond?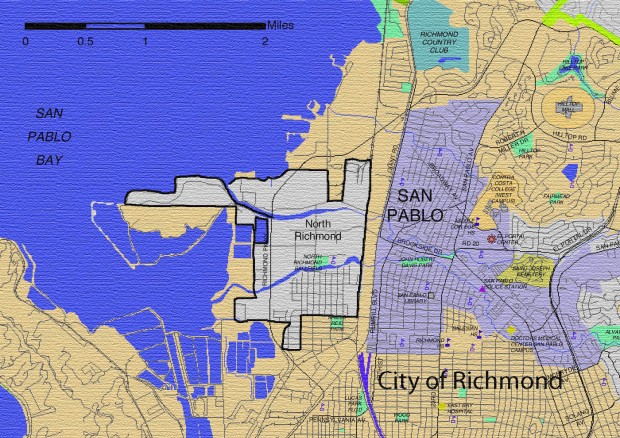 News Report, Abené Clayton | Image via Richmond Confidential
After decades of failing, Richmond leaders are trying yet again to bring the small, underserved community of North Richmond into its jurisdiction. Some residents are hesitant; others hope this time will be different.
North Richmond is 1.5 square miles completely surrounded by Richmond proper, and the two are undeniably intertwined. Historically, both were destinations for people, especially African Americans, who sought work on the shipyards. Both have been affected by persistent problems like infrastructural disinvestment and crime. But in North Richmond, these and other issues can be more difficult to address.
Last year, the City of Richmond hired Willdan Financial Services, a consultant, to analyze the fiscal impact of annexation. Willdan found it would initially cost Richmond about $2.2 million to expand the police force and library and fire services, but these costs would decrease as residents begin paying higher property and sales taxes.
Last October, the City Council voted to submit an annex application to the group in charge of city incorporations, the Contra Costa County Local Agency Formation Commission, and to survey North Richmond residents about annexation.
In an effort to reach those residents, city and county officials are holding meetings about the pros and cons of incorporation. The biggest potential benefits include representation and access to services such as public safety, code enforcement and street repairs, which are now provided by the county.
Plus, 32 sheriff's officers serve 3,700 North Richmond residents on top of the other 600,000 people in West Contra Costa County. By comparison, the Richmond Police Department has 177 officers for a population of 112,000.
North Richmond's status has been an issue since World War II. Former councilmember and mayor George Livingston led attempts to annex the region in the 1970s and '80s when developers planned to build a mall in the unincorporated Hilltop area. Councilmembers wanted to buy the land for the mall but not the neglected residential areas around it. They were predominantly Black with several unpaved streets and a growing crime problem.
"The city knew that it could get the Hilltop area, and that would be quite a windfall," said Robert Rogers, who works for Contra Costa County Supervisor John Gioia. Taking on the rest of North Richmond would diminish that windfall.
So the council purchased and incorporated the land where Hilltop Mall has stood since 1976, leaving North Richmond out. Since, the issues that led officials to omit the area from the Hilltop deal have persisted.
In the 1970s and 80s, residents with industrial interests did not want to be subject to city regulations and taxes, according to a series of articles by Rogers. To block annexation, they used "anti-incorporation propaganda" to sway councilmembers. Their efforts were compounded by the council's wariness of incorporating North Richmond and its needed improvements to public safety and infrastructure.
"The idea of absorbing a community that was all African American and relatively poor was not something that the city leaders at the time wanted," Rogers said at an annexation meeting.
That feeling may be mutual.
"Many residents in North Richmond have deep distrust for good reason, whether it's the county, the city, whatever," he said. "The idea of being a part of the city of Richmond might not be appealing to them as well."
Richmond is working on North Richmond's annexation application. If councilmembers decide to move forward, LaShonda White, senior management analyst with the city manager's office, says incorporation will likely be successful.
"[LAFCO doesn't] like service islands, which is what they call unincorporated North Richmond," White said. "It is completely surrounded by a city. LAFCO doesn't like that."
Officials say they also want to use a mailer to gauge residents' feelings before they make a decision.
"A ballot is [going to] be sent to every resident who lives in North Richmond, regardless of background, regardless of immigration status," Rogers said.
According to Rogers, only about a quarter of North Richmond's residents are registered voters. Documentation status and former incarceration contribute to low representation at the ballot box. North Richmond voters also make up a small portion of the county's population, and their voices tend to be drowned out by voters in larger Contra Costa County cities, including Walnut Creek and Concord.
If annexation is successful, this hurdle to governmental representation could be eliminated.
Despite the hope for greater accountability, the costs that would fall on the city and North Richmond's residents garnered skepticism from audience members. According to the explanatory mailer, residents would see increases in property and sales taxes and rental property owners will be subject to Richmond's "Residential Rental Inspection Program," which requires owners to pay between $68 to $161 per unit once every three years.
"If we're gonna cost the city of Richmond a loss of $2.2 million off the top, what is their interest?" asked one woman.
"I've heard a lot about righting a wrong," White said, referring to past annexation efforts.
"Even though it would cost us money right now, there's so many other good things that they feel outweigh the cost," she continued. "There's property where we could build more housing or commercial development can happen."
After collecting the surveys, White will present the results and community feedback at the Sept. 25 city council meeting. If councilmembers reconfirm the decision to submit the annexation application, LAFCO will then hold a public hearing and hear protests from North Richmond's registered voters and property owners.
While one audience member was hopeful about the possible protections for renters, most seemed unmoved by the prospect of increased representation. During dialogues with White, they focused on their financial concerns.
"For me it's about money," said another attendee. "We are running a tight budget. It's hard."
Rogers said it all boiled down to two questions: Do residents trust the city and are they willing to pay more because of it?
"It's important for you to engage in the issue and use your power of choice," he said.
The next community meeting will be Aug. 16 at 6 p.m. at Shields Reid Community Center.