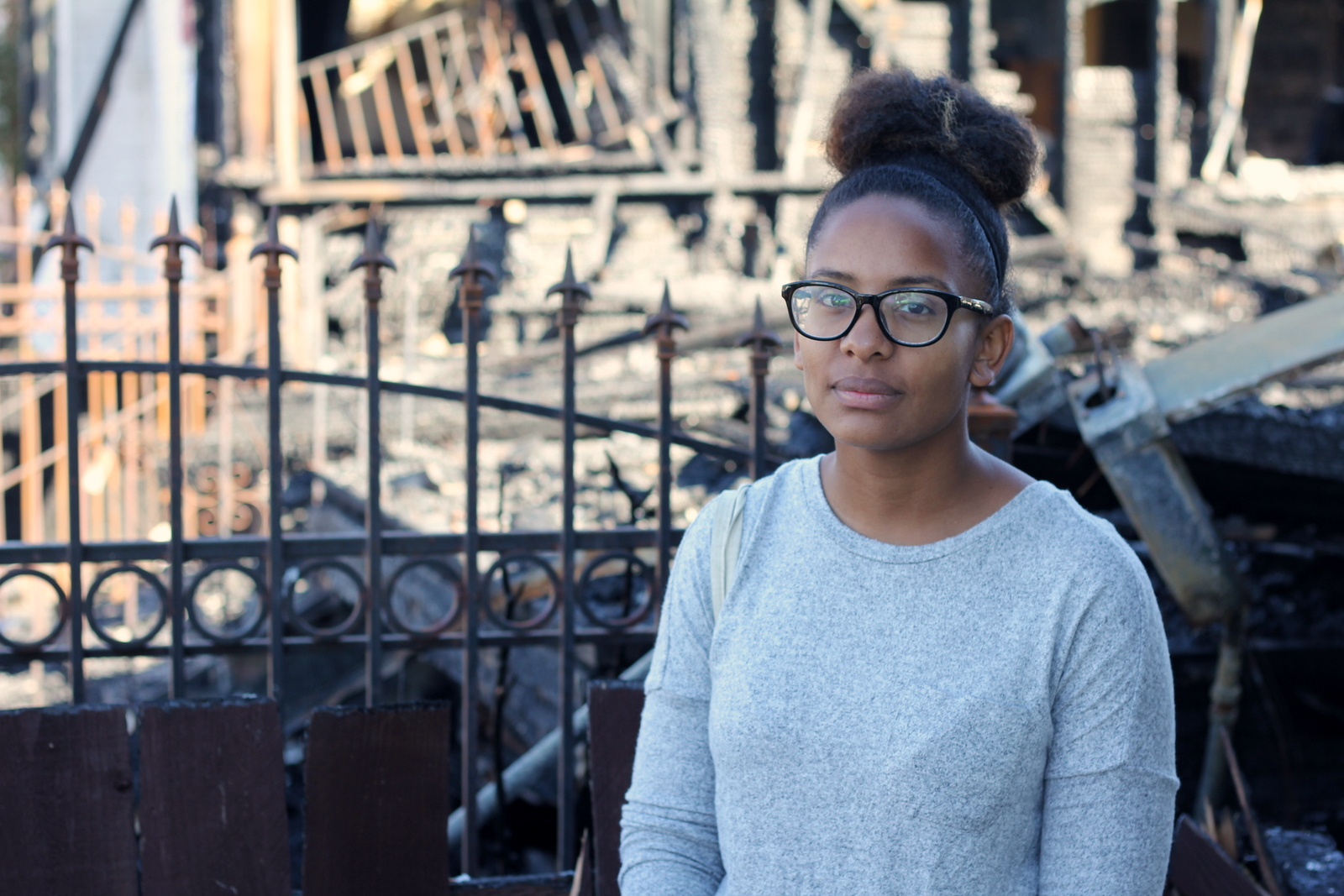 06 Aug

A Year Later, Not Yet Risen From the Ashes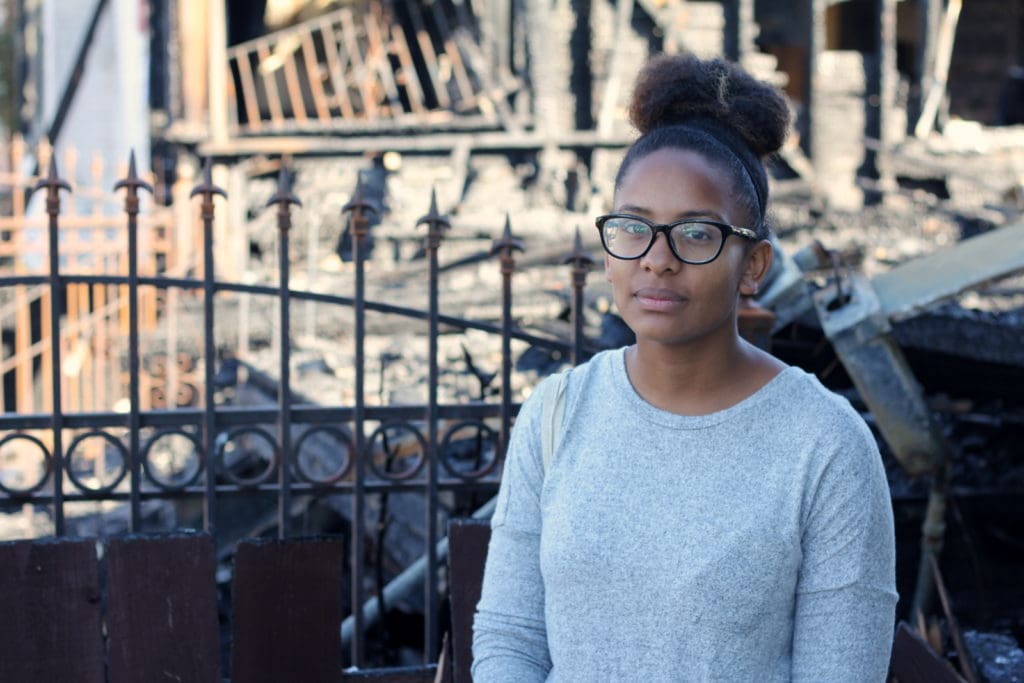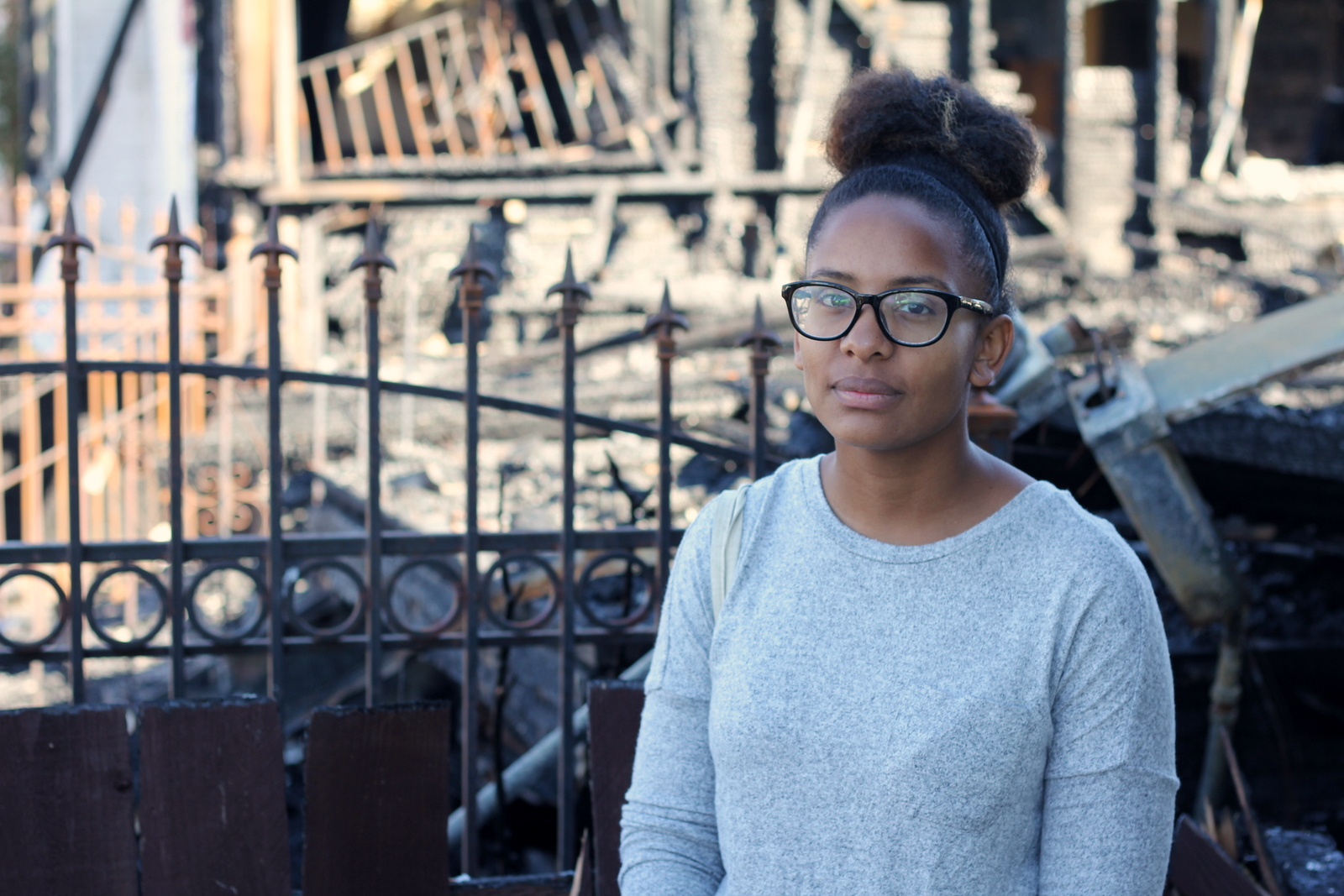 By Brittany Hosea-Small
One minute Elora Henderson was watching TV with her boyfriend; the next, she was watching her Iron Triangle home burn down right in front of her. Life as she knew it was immediately put on hold. The Sept. 28 blaze started in a vacant house before spreading to the two homes on each side of it. Nearly a year later, Henderson has at last started to rebuild but not for lack of trying.
A month after the fire, Henderson contacted a construction company. By December, she had plans for a new home drawn up and submitted to the city.
While waiting for approval, the construction company demolished what was left of the interior of the ruined house, also removing asbestos and lead. Come January, the builders were ready to move forward, but still they, and Henderson, had to wait.
In fact, they waited for six months. Henderson tried to make sure she would not be forgotten or ignored.
"I called every week," Henderson said, and she wasn't alone in that.
The construction company regularly checked in with the building department as well. Eventually, even her grandfather Paul Wine called from Nevada in hopes of helping his granddaughter's situation.
Chris Castanchoa, a building official with Richmond's Planning and Building Services Department, said building construction plans can be approved in as quickly as 2-3 weeks, but the timeframe depends on the complexity of the project and even the application itself. For instance, approval can take longer if corrections need to be made or if the application needs to be resubmitted to ensure the plans are up to code.
It wasn't until mid-June of 2018 that the construction team got the go-ahead from the city to begin exterior construction and rebuild her home.
Henderson, who has a special needs dog, was unable to take the insurance company's offer to put her in a comparable living situation. Henderson has been living out of a room in her grandfather's home in the Hilltop area of Richmond since her home was destroyed in the fire. She shares the home with her aunt and cousin. Having little space and not knowing when she will have her own place to call home again have made her reluctant to purchase many new belongings.
The fire and its aftermath have not only affected Henderson's home life. It's impacted her work as a special-education teacher at Lincoln Elementary School in Central Richmond as well. She used to visit her student's families at home regularly, working with them outside of class. Now that she lives much farther from the school, the additional commute time has put a hold on this practice.
Paradoxically, the longer Henderson finds herself stuck in this situation, the less her students and friends seem to remember. It's not that her troubles don't matter to them but that many wouldn't expect someone to still be without a home and belongings nearly a year after a fire.
"People don't forget. It's just people don't expect me to still be in the same situation now that I was 10 months ago," said Henderson.
That's not to say, however, that she hasn't had support from the community. Neighbors have opened their homes to her and her school held a fundraiser right after the fire. Henderson recalls kindergarteners walking up to her with five-dollar bills to put in the fundraiser box. Living in Central Richmond, she fully understands the financial hardships that many of her student's families can be in and for them to support her in such a way was truly heartwarming.
"Yes, the city of Richmond has been terrible about this, but the citizens of Richmond have just been amazing," Henderson said.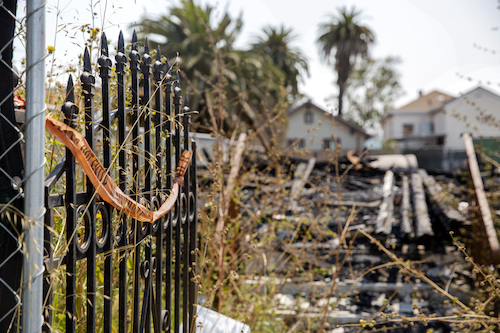 In fact, she and her boyfriend have considered leaving Richmond, but each discussion has ended with a decision to stay because of the community support they've received.
In an age where many seem to hold to the old adage "good fences make good neighbors," Henderson is very appreciative of how much her neighbors have looked out for her — particularly while her gutted house has been abandoned, making it vulnerable.
While the rebuilding plans were in limbo, Henderson's house sat empty and partially demolished. She and her neighbors say it was broken into regularly. There wasn't anything to steal once the interior had been razed, but what was left of her house did become inhabited by vagrants.
"I hate going there," Henderson said, "It's so unsettling."
Every time she would drop by to pick up mail or check on the house, she feared seeing strange people entering or leaving her burned home. As construction begins, that fear has lessened but has not gone away. Henderson looks forward to being able to move back in soon, but she has a lot of reservations. Watching her home burn, plus the break-ins that have followed, has made her feel unsafe about coming back.
"I remember being so excited about buying a house and having a home really close to my school." Henderson said.
Now, that excitement has vanished.
"[I'm] excited about my new countertops, not excited about being scared to be in my own house," she said, referring to how her feelings have changed.
Henderson is also concerned for the future of her new home and the health of her neighbors. The burnt remains of the vacant building where the fire originated still cover the lot next door.
"It's not safe for anyone living on that street," Henderson said.
She fears for the safety of the children in the neighborhood, knowing that they are going to be drawn to play in a place like that.
She recalls seeing a video on social media of one of her own students playing in the ashen remains of the abandoned home. Those ashes, could contain lead and asbestos. According to conversations Henderson had with city officials, that was one of the reasons for the delay in cleaning up the lot.
Once the site of a fire becomes charred, it's hazardous, said Tim Higares, director of infrastructure and maintenance operations for the city of Richmond, who also said the cleanup process can be slow.
Any asbestos must be removed before the property can be torn down, he said. And for someone to be able to deal with the asbestos, they have to get a warrant approved by a judge.
According to Richmond's Code Enforcement Supervisor Eva Mann, the city can't just go out and clean up a site after a fire has occurred. The state requires the city to have a testing agency to inspect and test samples from the property and provide an anylysis report.
"If it's deemed hazardous, then the city has to hire an outside contractor to come in and remove the waste," she said.
Higares said the other big issue that slowed the process was determining who the owner of the vacant property was. The city learned after the fire that the name on the deed of that house belonged to a man they hadn't been able to find. Reporting by Richmond Confidential showed that the name was an alias for a man who had been investigated for real estate fraud.
After all the hurdles, Mann says the lot will be cleaned in the next 30 days.
"The contractor actually went out to the property today and did the assessment for the job," she said
Henderson filed a claim against the city in March over the years of inaction regarding the vacant house. Before the fire, the house had been abandoned for more than seven years. For the one and a half years prior that Henderson owned her home, she made repeated calls to the city to report break-ins, vagrancy, trash building up, broken fences and much more. All of which was met with a similar response: The city was aware of the house and it was on the list to be demolished.
As of June her claim is being reviewed and investigated by the city.
Even with all the obstacles she has faced, Henderson hopes to move back into her home by late September to mid-October. She already plans to have friends, family and neighbors over for a house "cooling" of sorts.
"I don't want to call it a house 'warming' because it's been too warm," Henderson said.
She especially looks forward to having her parents visit from Tennessee and finally, a year later, taking her life off pause.