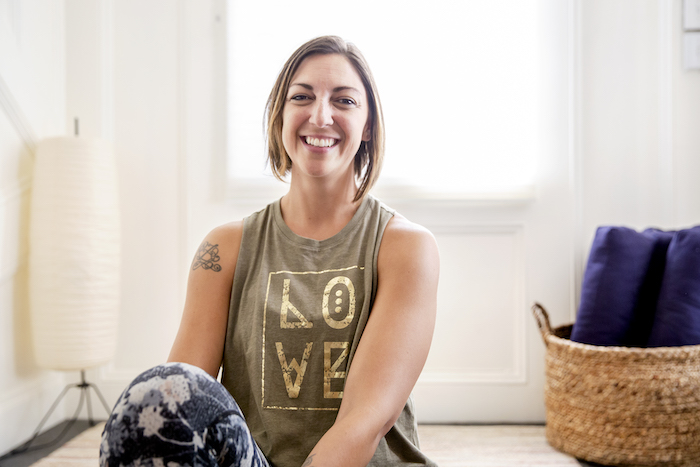 09 Sep

Gaia Opens Its Doors to Yogis of All Skills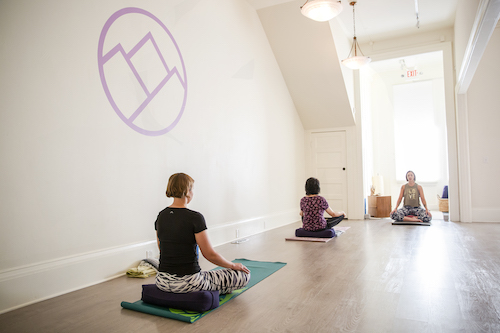 Above: Yoga students practice with Martina Chavez, owner of Gaia Yoga, during a Hatha Yoga class at Gaia Yoga in Point Richmond, California on July 11, 2018.
The soft sounds of breathing filled the room as students practiced Hatha Yoga under dim lights on a Wednesday evening at Gaia Yoga in Point Richmond.
Along Washington Avenue, nestled amongst cafés and offices, Gaia offers a multitude of classes seven days a week, opening itself up to yogis with a variety of schedules and skill levels.
Since January, the studio's owner, Martina Chavez, has been crafting what she sees a welcoming and supportive place for new and veteran yogis alike.
"Folks who've been practicing for decades are in a shared space with people who have never done yoga ever, and every instructor is able to offer something to both," she said.
In fact, one of Chavez's favorite aspects of teaching beginner yogis is the ability to share kindness and acceptance. Chavez believes that not enough people experience non-judgmental situations in their day-to-day lives.
Barbara De Silva had tried yoga once before in Brazil, but she didn't enjoy the large, crowded group classes. Now, her favorite class is the candlelight class — which includes gentle movement and guided meditation — on Wednesday nights at Gaia. She was hooked after her second class.
"I've always known that yoga is something I should do, something good for me," she said. "It makes me feel more connected to the universe and myself."
De Silva says the hours she spends on digital devices often make her feel disconnected, but practicing yoga has helped her feel more at balance. It's also helped her insomnia.
It's these therapeutic aspects that brought Chavez into yoga — first as a student and later as a teacher.
Prior to owning Gaia Yoga, Chavez was a yogi herself. What started out as a fitness goal soon became a therapeutic practice that balanced out her competitive athletic lifestyle and work in the corporate world. Three years before owing Gaia, she went through a teacher-training program so she could teach her own yoga classes.
"I felt so much more free and light. I wanted to take that into teaching," Chavez said.
Before its new life as Gaia Yoga, the studio was formerly Mindful Life Yoga, which moved to Point Richmond in May 2017. With the growth of its Mindful Life Project, its CEO and CFO decided to sell their studio. Since Chavez already taught at Mindful Life Yoga, it seemed like a perfect fit that she take over the studio.
Chavez may be new to owning a small business, but she's diving in headfirst. By rebranding and renaming the studio, Chavez made the space her own, rather than a continuation of Mindful Life. Each decision had a close meaning to her.
Chavez's legal first name is Gaia. While she doesn't use it in her day-to-day life, her plan had been to possibly gift it to a daughter in the future.
"I think this is my daughter, you know? This is my baby right now." Chavez said.
Since Gaia represents Mother Earth and Mother Goddess, Chavez sees it as an opportunity to bring in feminine energy and claim it as her own. As an avid lover of hiking and backpacking, the mountains have been a special place in her life, which is why she incorporated them into Gaia's logo.
Chavez plans to continue cultivating relationships throughout Richmond. She says too often newcomers are concerned they aren't flexible enough and don't have the right lifestyle or body type.
"One very key aspect of yoga, or the education of yoga, is that it is not movement by itself," Chavez said.
No matter the body type, experience level or mobility capacity, Chavez believes yoga can be for everyone. She says that while Asana yoga, the practice of movement, is one of the most common forms of yoga, there are at least eight other studies of yoga that range from breathing (Prana Yama), to moral disciplines and positive duties, (Yama and Niyama). The simple act of mindful breathing is a form of yoga suitable for nearly anyone.
As Gaia Yoga continues to grow, Chavez hopes to make it an access point to teach the community about physical and mental wellness. Chavez would rather share this important information rather than compete for clientele. To begin, Chavez has created a "partnership" page of sorts on her website with resources on essential oils, chiropractic work, and financial wellness for women, among other topics.
Chavez hopes to eventually open up a second location, as well as begin offering a teacher-training program. In the short term though, she plans to hold a grand re-opening in August once final renovations are complete. She hopes that it can be a celebration for those who have followed Gaia Yoga through its beginning months and an invitation to those interested in the practice of yoga.
For more information, visit gaiayogastudio.com or call the studio directly at 510-255-0804.•