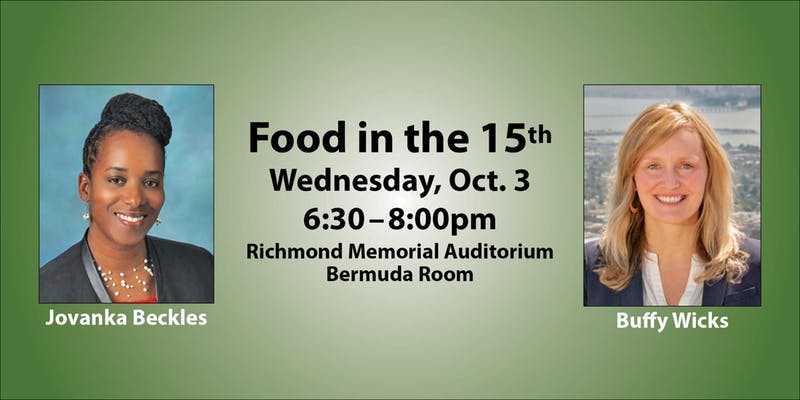 02 Oct

Local Happenings: October 2018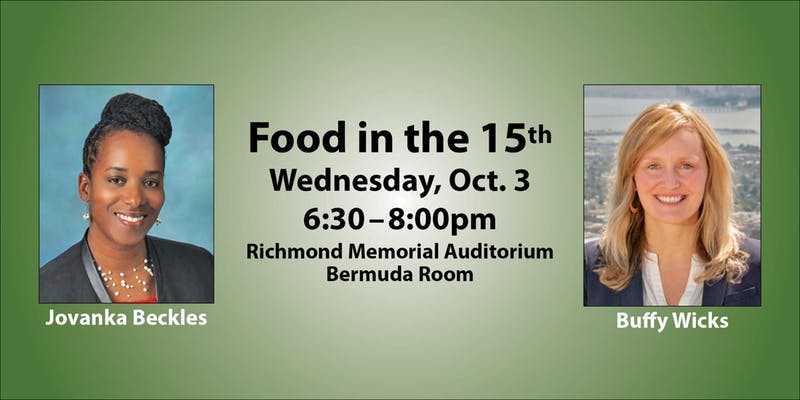 Candidates to Discuss Food System
Wednesday, Oct. 3
Assembly candidates Jovanka Beckles and Buffy Wicks will discuss the current food system and its impacts on wage, hunger, climate change and several other environmental issues beginning at 6 p.m. Wednesday, Oct. 3, at Richmond Auditorium's Bermuda Room, 2540 Nevin Ave.
Nina Ichikawa, policy director of the Berkeley Food Institute, will moderate the discussion. The event is free, but because of limited seating pre-registration via Eventbrite is recommended. Doors open at 5:45 p.m.
Boss Up: Girls Leadership and Career Brunch
Saturday, Oct. 6
The first annual Boss Up: Girls Leadership and Career Brunch will be held Saturday, Oct. 6 at Lovonya DeJean Middle School, 3400 Macdonald Ave.
Hosted by the T.E.A. Academy, girls ages 13 to 17 are invited to learn to write an entry-level resume, listen to panels of women working in a multitude of fields, and gain insight on the intricacies of business.
Tickets are $10 and pre-registration is required. Lunch will be served. The organizers request girls dress in business attire. If you do not have access to business attire clothing, please email info@teaacademygirls.com to help make arrangements. For more information visit www.teaacademygirls.com
Fall Family Day at the Richmond Art Center
Saturday, Oct. 20
Bring the whole family to the Richmond Art Center October 20 for fun fall-themed art activities for all ages.
From 12:30 to 3:00pm Richmond's Art Center studios and courtyard will be filled with fall-themed art making projects. The event is free to the public and located at the Art Center at 2540 Barrett Avenue, Richmond, CA 94804.
For more information call the Richmond Art Center at 510-620-6772
RYC Sportboat Invitational
Saturday and Sunday, Oct. 6-7
This year's Sportboat Invitational will be held from 6 a.m. to 9 p.m. on both Saturday and Sunday, Oct. 6-7, at the Richmond Yacht Club, 351 Brickyard Cove Road.
Registration for the race is currently open with competitors coming from throughout California as well as Utah. For more information call 510-237-2821.