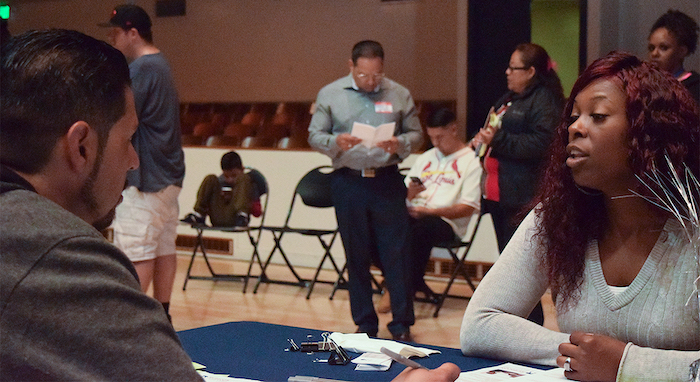 10 Oct

Clean Slate Day Offers a Chance at a Fresh Start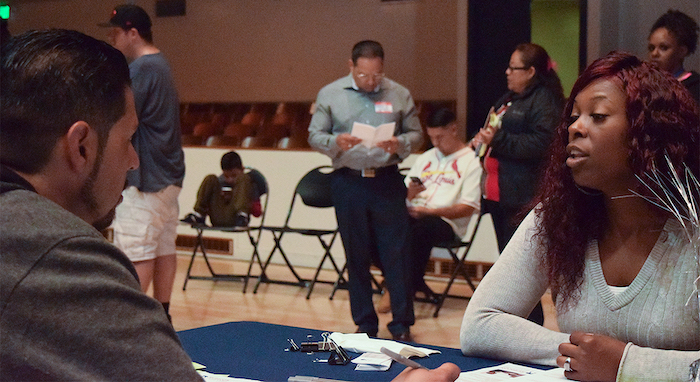 By Abené Clayton
People often gather at Richmond's Memorial Auditorium for concerts, graduations and school dances. On one recent Saturday, about 100 people with prior criminal convictions came to the space to learn about making a fresh start.
"Years have passed, but these old convictions keep coming, and it's very difficult for people to move on with their lives," said Ellen McDonnell, who runs the county's Clean Slate Program. "There's a lot of stigma and carrying a scarlet letter unless you can get that clean slate relief."
Those who have convictions in Contra Costa County have access to expungement counseling through the public defenders' Clean Slate Program.
On Sept. 29, volunteers consulted participants on the expungement process through which people can have criminal charges reduced or their conviction histories sealed or dismissed.
Individuals also received a free Live Scan fingerprinting application, which usually costs about $32. This process allows people to see their rap sheet, so they know what others may see.
At the event, people could also register to vote and use their experiences in and outside of the criminal justice system to affect systemic change.
"This is another spoke in the wheel," registration volunteer Cheryl Sudduth said. "If you're going to be fully entrenched in building a new life, then you need to be taking advantage of all of your rights."
For most attendees, this relief would help them move forward toward housing and employment opportunities that can be out of reach, depending on someone's conviction. They came in with charges ranging from DUIs to failure to pay child support, and shared the common goal of leaving negative situations in the past.
"I need help with tickets that I have. I [also] have a restricted license because I caught a DUI," 28-year-old Camiya Watts said of her motivation for coming to the event. "I want to clear that. It's stopping me from getting my child where she needs to go."
Richmond native Jose Ponce said he has a drug case he wants to get completely off his record.
"I'm trying to become a citizen of this country," he said, "so I want to make sure everything is fine before I follow through with that process."
Private attorneys and county public defenders provided insight on the clean-slate process to folks such as Watts and Ponce and counseled them on the next steps they'll need to take to see it through. After someone follows up with an attorney and is deemed eligible, a lawyer with the public defender's office will argue on their behalf before a judge. All of these services are provided free of charge through the county office.
"When I worked at a private defense firm, we charged a minimum of $1,500 for our clients to get their record expunged," said Scott Harris, the former business manager at Summit Defense, "and sometimes even more if it was a more serious crime like a felony."
But this day was about something more than making money. He says that attracted some of his former colleagues to Clean Slate Day and helped bring together sponsors including the Contra Costa County District Attorney's Office, Bay Area Legal Aid and the Richmond's Police Officer's Association.
"They were excited to give back to the community and do their work," Harris said. "It was really nice to tap into that good will."
Re-entry service providers with Rubicon Programs, the Re-entry Success Center and the Safe Return Project were also on hand to give a rundown of the opportunities that each organization provides.
"It isn't just about expungement," said Ricky Agnew, who works with the Re-entry Success Center and had his own record expunged in order to get a driver's license. "It's about helping people with a lot of other things, whether they need employment, housing."
"If you're fighting to get ahead, those barriers sometimes cause you to make bad decisions," Agnew continued. "And bad decisions, you know where you'll end up most of the time: in jail or dead."
Clean Slate services are available year-round through the Contra Costa County Public Defenders Office. Visit cocopublicdefenders.org to learn more about the program. You can also call the office at 925-335-8000 or email cleanslate@pd.cccounty.us.