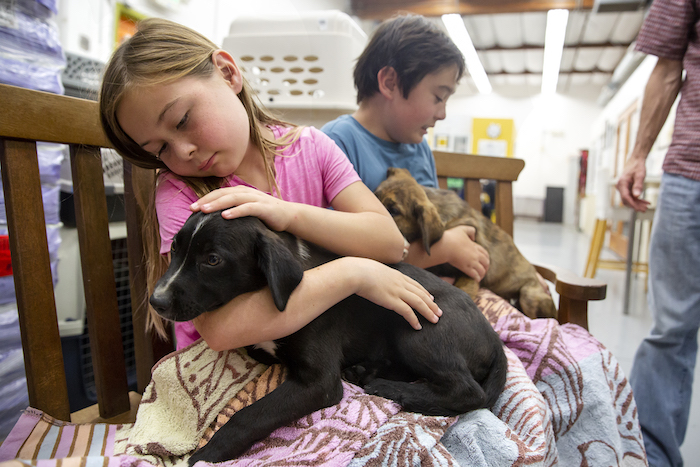 12 Oct

The Milo Foundation Gives a Home to All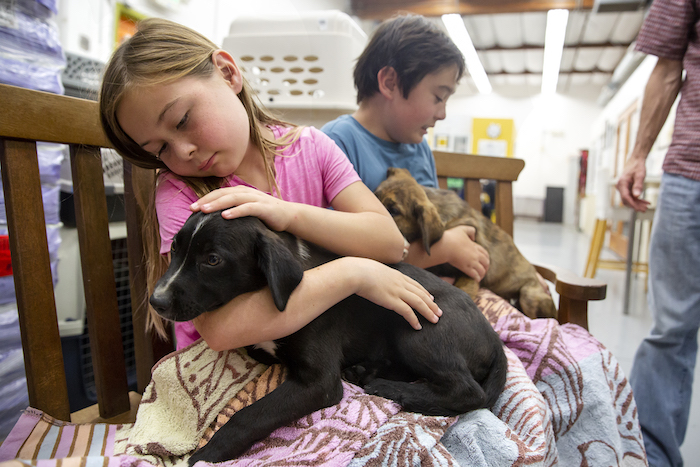 Above: Lia Thompson (left), 9, and her brother Oliver Thompson, 12, hold puppies while their parents look for a puppy to adopt at the Milo Foundation Adoption Center in Richmond, Calif. on Sept. 20, 2018.
By Brittany Hosea-Small
On a Thursday afternoon in September, nine-year-old Lia Thompson and her older brother Oliver sat on one of two large wooden benches at the Milo Foundation Adoption Center. Each of them held a young Labrador puppy snuggled in blankets. Their parents, Eric Thompson and Cynthia Campbell, had brought their children to the center in hopes of adopting their family's first dog.
The Milo Foundation, soon to be in its 25th year, has helped many people find their newest four-legged family member. What started out as a 90-acre sanctuary in Mendocino has now grown to 283 acres along with a brick and mortar adoption center in Point Richmond.  Lynne Tingle, executive director and founder of the Milo Foundation, brought the center to Point Richmond six years ago after having outgrown its two previous locations in Berkeley and San Rafael.
The Milo Foundation can hold up to 60 dogs and 40 cats, including litters of puppies and kittens. With a small office, supply areas, animal check-up room, multiple fenced yards and a dog park just around the corner, the Point Richmond facility has become a place for the Milo Foundation to call home.
 "I think the space and the yard work really well for us," Tingle said.
Plus, having the dog park next door has been a huge asset for working with both incoming canines and those ready to be adopted.
"It helps them to relax and keeps them social," Tingle said.
It was a long time coming to this point for Tingle, having started her work with animals and adoption centers in the mid-80s as a volunteer. At the time, she a owned retail shop on 4th Street in Berkeley, just around the corner from the Berkeley Animal Shelter. Having always been an animal lover, Tingle was immediately drawn to the shelter and soon began volunteering: walking the dogs, photographing them for the shelter and doing everything she could to help the animals find homes.
Tingle continued this for close to 10 years, along with running her own business, working as an artist and taking care of her own dogs, one of which would become the namesake for her own animal foundation.
Milo, an Australian Shepard born blind and deaf, would not be kept down by his disabilities. A genuinely happy dog, Milo enjoyed playing with Tingle and his mother Annie, also an Australian Shepard. People encouraged Tingle to put Milo down because of his health problems, but his spirit belied his difficulties. Soon, Tingle worked out a command system for Milo.
After 10 years in retail, Tingle decided it was enough and needed to find something different to fill her soul. With the 10-percent share of her former business, she purchased the first 90 acres of the Milo Sanctuary in Mendocino County. While there wasn't a brick and mortar facility for people to visit adoptable animals, Tingle found another way to get forever homes for the animals in her care.
"We started basically doing sidewalk adoptions," Tingle said.
Since she already had connections in the 4th Street shopping center in Berkeley, Tingle would drive down from Mendocino every weekend with a car full of animals. It quickly became a huge hit. Pet lovers would flock to her spot keen on adopting a new family pet.
After a decade of this, Tingle realized they'd outgrown their sidewalk location and were in need of a more permanent place.
Over the following 12 years, the Milo Foundation would move from Berkeley's Solano Avenue to San Rafael before landing in Point Richmond. In that time, the Milo Foundation Sanctuary continued to grow, allowing its adoption center in Point Richmond to maintain its status as a no-kill shelter.
The sanctuary's vast acreage has allowed Tingle to take on animals that couldn't be kept in a standard shelter, giving them a place to rehabilitate while they find a home.
On Sept. 19, a carload full of 17 dogs, cats, puppies and kittens arrived at the center's doorstep, just one of many deliveries from the Merced animal shelter.
The Milo Foundation takes in animals from all over California, including Redding, Sacramento, Mendocino County, Monterey and Contra Costa area shelters. The focus of their rescue work, however, remains on rural shelters with the highest kill rates throughout the Central Valley. Every Thursday, a van full of shelter animals makes its way from Bakersfield to Emeryville, where it's met by rescue agencies, including the Milo Foundation. It's this non-profit shuttle service that makes it possible for the Milo Foundation, as well as many other Bay Area groups, to save as many cats and dogs from Central Valley shelters as possible.
 Tingle isn't picky when it comes to saving animals.
"Long hair, short hair, big, little, black, gray, you know you name it. [We take] all of them," Tingle said.
This makes for busy days at the shelter though. From feeding and cleaning to fur-parent coaching and online outreach, 25 full and part-time staff, along and upwards of 80 volunteers and foster families, help out with the day-to-day tasks.
Whether it's in labor or funding, Tingle is never one to turn down help. She knows all too well the number of animals that are still in need on a daily basis.
"The need for help in the Central Valley to save animals lives is an everyday thing," she said. "There are so many animals dying in the shelters."
Being a conscientious owner by spaying and neutering, keeping up on annual shots and training your pets are the best things an owner can do to help keep animal shelter numbers down, Tingle says.
"We can't just take in every animal," she said. "Owners have to make a commitment to their pets, train them and keep them healthy as they would any family member."
For those looking to bring a new four-legged family member home, the Milo Foundation Adoption Center is open from 11 a.m. to 5 p.m. Wednesday to Monday.
Volunteer hours are from 7 a.m. to 7:30 p.m. every day. Walking dogs, cleaning cages and caring for puppies and kittens are just a few of the tasks needed at the adoption center. Any one at any age can lend a hand, however, volunteers under 14 need parental supervision. Before starting, volunteers must attend orientation training, which is held at 5 p.m. on the second and last Thursdays of the month.
For more information, visit: www.milofoundation.org