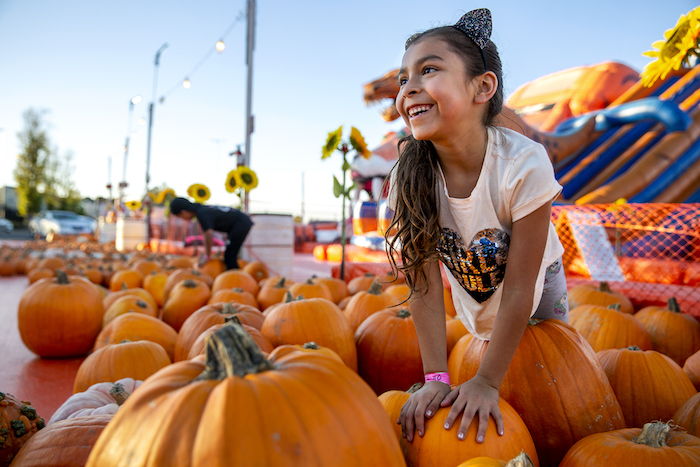 24 Oct

Picking the Perfect Pumpkin at the Patch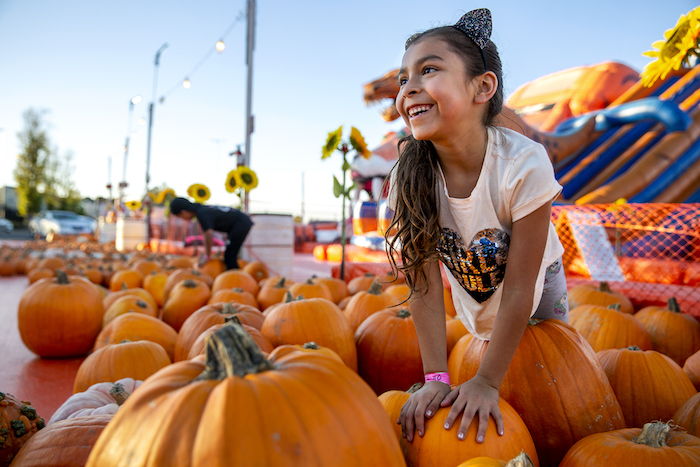 Above: Chelsea Torres, 7, picks out a pumpkin with her mother and brother at the Pick of the Patch pumpkin patch in Richmond, Calf. on Tuesday, Oct. 23, 2018.
Photo Essay, Brittany Hose-Small
As the sun began setting behind scarecrows, pumpkins and stacks of hay, seven-year-old Chelsea Torres searched for the perfect pumpkin at Pick of the Patch in Richmond on Tuesday. It was serious business.
"I really want one because I make really good faces," she said after having played with her brother, Cristopher, in the children's inflatable play area.
Located in the southern parking lot of the Hilltop Mall, Pick of the Patch offers pumpkins in a variety of sizes, shapes and colors.
One of the owners, Jerry Klima, says that business has been good this year, particularly because of their new location. Prior to this year, the pumpkin patch could be found at Sycamore and San Pablo avenues in Hercules.
"The reason we decided to come here is because of the change of ownership with the mall," Klima said. "They've been putting a lot of effort in making it a destination area for events and improving the neighborhood."
The pumpkin patch will be open for pumpkin picking up until Halloween night. On weekdays, gates will be open from 1 p.m. to 9 p.m., and on weekends pumpkins can be picked from 9 a.m. to 10 p.m. On the 31st, the pumpkin patch will shut down by 5 p.m.
Pumpkins cost between $1 to $25, depending on the size and type of pumpkin.
There's also a kid's amusement area with inflatable games and bounce houses, motorized animal rides, and a small paintball range. The cost per child for admission to the inflatable area is $12 for 30 minutes and $16 for an hour.
But whether you're looking for a gnarly, bumpy colorful table centerpiece or a giant jack-o-lantern masterpiece, there's a pumpkin for everyone at Pick of the Patch at the Hilltop Mall.