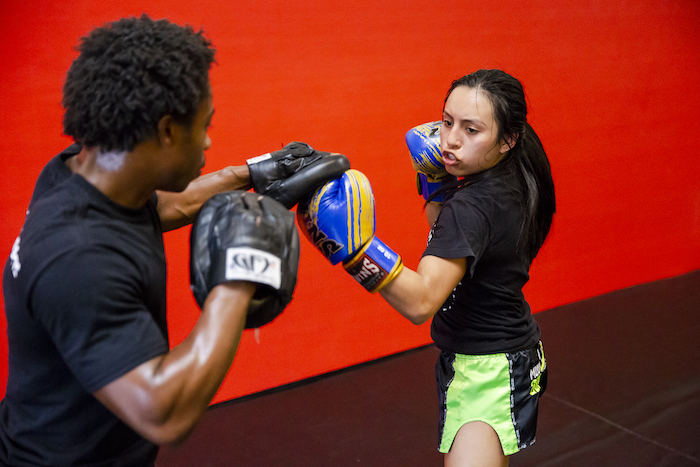 26 Oct

Small, Yet Determined: Sorel Benitez Fights for Herself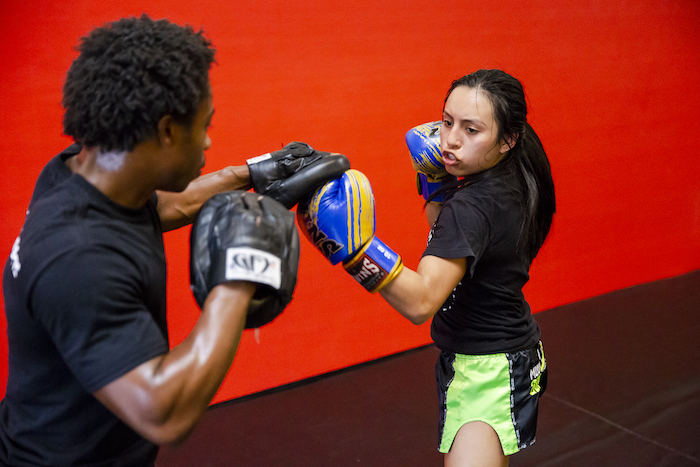 Above: Sorel Benitez, 16, trains with coach Dominique Williams during a training session at Omni Movement in Richmond, Calif. on Tuesday, Oct. 2, 2018.
By Brittany Hosea-Small
At 6:30 each morning, 16-year-old Sorel Benitez starts her day with a bowl of oatmeal before school. She attends classes and hangs with friends during lunch, same as any other high school junior.
After school, however, it's not the normal high school experience.
Five days a week, Sorel gathers her homework and heads to Omni Movement in Richmond, where she trains for up to three hours a day.
Since the age of 11, Sorel has been participating in Muay Thai, a sport that originated in Thailand. It is also known as the "Art of Eight Limbs" because fighters are allowed to use their fists, feet, knees and elbows during combat.
Five years later, Sorel has fought nearly 30 times, ranging from point kickboxing events and "smokers" — or in-gym training events — to amateur fights through out the U.S. Currently, her amateur record is 3-2.
Her first experiences with the sport were thanks to her father, Pedro Benitez. When her father would train at Chai Yo Muay Thai in Richmond, he would bring Sorel with him so she could study while he took class. It wasn't long before the training took over her interest.
"I'd be like 'Oh I concentrate better there' but really I would just be looking at them," Sorel said.
Soon, Sorel was enrolled in her first beginner class coached by Steven Chao. At that time, it hadn't crossed her or her parents' minds that some day she would be fighting in competitions. But by 12, she was training for her first fight.
Josefa Benitez, Sorel's mother, was certainly worried about her daughter's safety in her newly chosen sport. But as the years have progressed, she has gotten more comfortable with Sorel's activities.
"I'm not as scared now, but when she fights, I get motherly," Josefa Benitez said.
Both of Sorel's parents have seen tremendous changes in her since starting her training, from increased responsibility around the house to an overall sense of happiness that she carries with her.
For Sorel, Muay Thai is an opportunity for her to express herself. While the sport may come across as combative and aggressive, it's exactly the opposite. Muay Thai is based around the concept of respect between opponents, whether it's before, during or after a fight. Sorel has enjoyed making friends with so many different people through her many competitions.
It also helps Sorel see things differently, at least in terms of training.
"It's kind of funny, but I relate it to math in a way," she said. "Like in math, you learn certain formulas and with that, it ties to other things. It's the same with Muay Thai."
Benitez sees it as an ever-branching set of formulas. Learning the basic fight combinations leads to more complex strategies that she can implement in the ring against her opponents.
"It's always fun watching a young person with no martial arts experience develop into a stellar person that she is right now," Chao, Sorel's coach, said. "I was training her dad beforehand, and it's cool to see some of the traits that she has now that her dad had before."
Over the five years that Sorel has been training, she's worked to overcome any obstacles she's encountered. Most recently it's been a matter of becoming more adaptable and finding a fighting style that matches best to her body type. At 4 feet 10 inches, she is shorter than the majority of her opponents, so she has to fight in a way that compliments her stature.
"We try and be more of the sword than the spear," Chao said. "So, if someone is tall, they fight like a spear. They pull you from long range. Sorel's short. She can't do that. So, she has to get in and be able to work her magic from the inside."
Sorel's most recent amateur fight was in 2016. She's taken the last two years off to focus on school. At Summit K2 High School in Richmond, she takes a multitude of AP courses and is currently preparing to take her SAT's this year. Following high school, she plans to study either animal husbandry or equine veterinary medicine. While she's uncertain where she will eventually end up, UC Berkeley, UC Davis, CSU Sacramento and UC San Francisco are some of her top choices.
But her break will soon be coming to an end. On Nov. 10, Sorel Benitez faces Inez Perez for the Muay Thai Global Girls/Juniors Amateur title belt in the 100-105 pound weight class in Vacaville. Sorel fought against Perez for this title previously in 2015 in Arizona, losing in a narrow split-decision. Because of that, Sorel is all the more focused on coming home with her first amateur title belt.
In order to prepare for her upcoming fight, Chao has created a five-day workout regime that Sorel follows to the letter. On different days, this can include pad work, sparring, sprints, strength and conditioning exercises, and boxing.
Sorel has been keeping to this schedule since the start of her "fight camp," which is a designated period of time that a fighter takes to prepare for upcoming bouts. For her, that's meant 15 hours of training a week for 10 weeks. That's on top of her school schedule, AP homework needs and S.A.T. prep.
To say that she is dedicated to her abilities would be an understatement. Sorel is a 16-year-old fighter who puts herself wholly into her training, schooling and family responsibilities and only accepts perfection from herself.
Along with her own commitment, Sorel is supported by a dedicated coach, loving younger brother and incredibly encouraging parents.
"When I see her fighting I feel like I'm fighting with her," her father, Pedro Benitez, said.