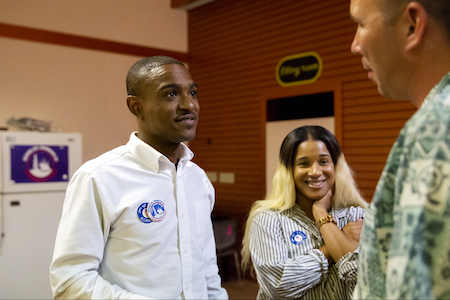 09 Nov

Election Ushers in Shake-Up on City Council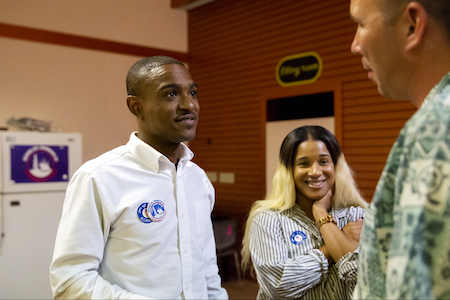 Above: Demnlus Johnson talks with friends and supporters during his election watch party at the Hilltop Mall in Richmond on Nov. 6, 2018
By Brittany Hosea-Small  | Updated 12.1.18 
Richmond City Council's makeup took a decisive turn following last month's election with only one incumbent retaining a seat on the council, an addition of a newcomer and a return of a long-time former councilman. In the mayoral race, Tom Butt won re-election with nearly 56 percent of the vote.
First-time candidate Demnlus Johnson III was the top vote-getter, netting 12.15 percent. Johnson, who grew up in the Iron Triangle and went to Howard University before returning to Richmond, chairs Richmond's Economic Development commission and is a member of the city's Citizens Police Review Commission.
Incumbent Eduardo Martinez was the only member of the Richmond Progressive Alliance – a historically powerful force in local politics – to win a seat. Other RPA supported candidates, Ada Recinos — who was also up for re-election — and Melvin Willis, who ran against Butt for mayor, lost their races. Their losses, combined with another RPA-backed councilmember, Jovanka Beckles, whose seat was open because she unsuccessfully ran for Assembly District 15 seat against Buffy Wicks, means a loss of the groups' council supermajority.
Nat Bates, a former Richmond mayor and councilman for over 30 years who was unseated in 2016, returned to the council with 10.10 percent of the vote.
"I had a lot of interest in me getting back [on the council] from the business community," Bates said, "and also several senior citizens that I'm very fond of that felt they weren't getting representation after I left the council."
According to Martinez, Bates also benefitted from outside support.
"For instance, Nat Bates is number one at this point," Martinez said on election night as the results came in. "It's because people, PACS, started putting out all this literature for him, and I don't think Nat did anything except, you know, let them do it."
But, he added, there was a detrimental lack of cooperation and organization among the RPA candidates.
"I also think that all the other candidates, myself included, should have worked harder at coordinating our efforts in building a stronger team," he said.
As for the RPA's losses, Martinez chalked those up to "growing pains" and says he believes the RPA will regroup and continue full-steam again in 2020.
There were certainly struggles in many of this year's campaigning. For Demnlus Johnson III, it was in the initial stages of his campaign funding.
"We didn't know where the money was gonna come from then," Johnson said Tuesday night.
Up until September, funding was incredibly slow for Johnson's campaign, but things began turning around after he received endorsements by the Contra Costa Trade Building and Construction Trades Council. Following that, other affiliates came on board and individual contributions increased as well.
Fast-forward to election night.
"The best way to describe tonight is it's like Christmas," Johnson said Tuesday. "I just love the vibe that's going on. Everybody's going around voting. Everyone's excited. There are multiple watch parties going on and for me, as somebody who is politically engaged, to see people who on a regular basis don't like CNN or aren't interested in the news to take time [to vote], it's like a Christmas spirit."
Johnson was met with a surprise the next morning as the final results posted: he was the top vote-getter and was assured a seat on the city council.
For those who lost, they say this election is not the end of the line. Many of the candidates say they intend to continue their work in the community as leaders and activists.
Cesar Zepeda said his community work is a part of himself and he doesn't plan to slow down any time soon.
"One of the things I'm looking forward to the most now that the campaign is over, is being able to go to community events and not have people look at me and say 'Oh he's just campaigning'," Zepeda said. "If I'm being with the community, it's not because I was campaigning, it's because that's what I do. It's what I've been doing for many years."
Recinos, an incumbent who lost her seat, echoed his sentiments.
"I'm going to continue to do this work, regardless of whether I win tonight," she said at the RPA headquarters on election night. "There's definitely some policies that I still want the city to accomplish, and so I definitely see it as my agenda to continue to do that."