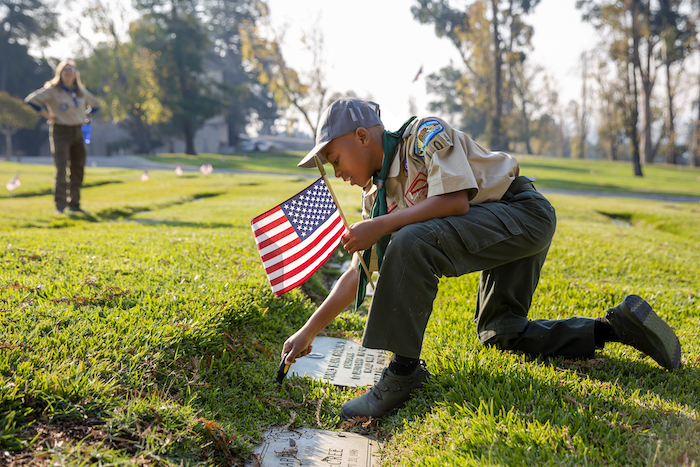 15 Nov

A Flag for Each Veteran

Above: Kyell Harris, 11, with the El Cerrito Boy Scout Troupe 104, places a flag next to a veteran's grave site during the annual Veteran's Day cemetery flag placing sponsored by the El Cerrito Lions Club at the Sunset View Cemetery in El Cerrito, Calif. on Sunday, Nov. 11, 2018.

Photo Essay, Brittany Hosea-Small

Small American flags dotted the cemetery lawns at Sunset View Cemetery in El Cerrito for Veteran's Day.

In a long-standing tradition with the El Cerrito Lions Club and the Bay Area Scout Troupes, the Veteran's Day flag placing event was held last Sunday, just as the sun rose above the hills and grave stones.

Youth from several Girls and Boys Scout Troupes, Cub Scout packs and Brownies came together with their scout leaders to place flags on the gravesites of veterans laid to rest at Sunset View.

This year, 12-year-old Nikolas Yang took part in his flag-placing. Having only just recently joined the Boy Scouts, Yang enjoyed spending time with his troupe mates.

He said he enjoyed putting down the flags and finding the graves of those who served, "because I get to respect them and thank them for helping us during the wars."

The tradition itself has been going on for nearly 50 years. For the last twelve years, El Cerrito Lions Club member Barbara Renteria has been coordinating the event, from organizing scout troupes to providing refreshments for the participants. She's always has been fascinated with walking down the rows of graves and learning the ages, time periods, and families associated with each of the deceased.

"We're very proud of this service tradition." she said.

And the Lion's Club isn't alone in that pride.

Jennifer Hansen Romero, scout leader for Girl Scout Troupe 31585, has been bringing her troupe to the event for the past four years.

"I think that it's a great lesson for them to understand what people have done for our country over the years," she said. "To be able to honor them and encourage the girls to understand [the sacrifice]."

One of those Girl Scouts, eight-year-old Parker Nagafuji, enjoys taking part in the flag placing each year "because it makes me feel helpful and I like seeing people who have helped our country and other countries."

Young or old, new or long-standing, each participant at the Sunday morning event carried with them a feeling of pride and thankfulness as they placed a flag next to the final resting place of each veteran.