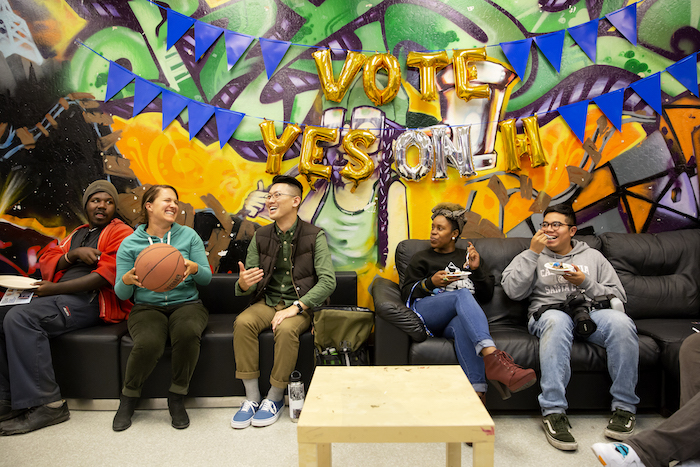 16 Nov

Voters Approve Tax Aimed at Helping Kids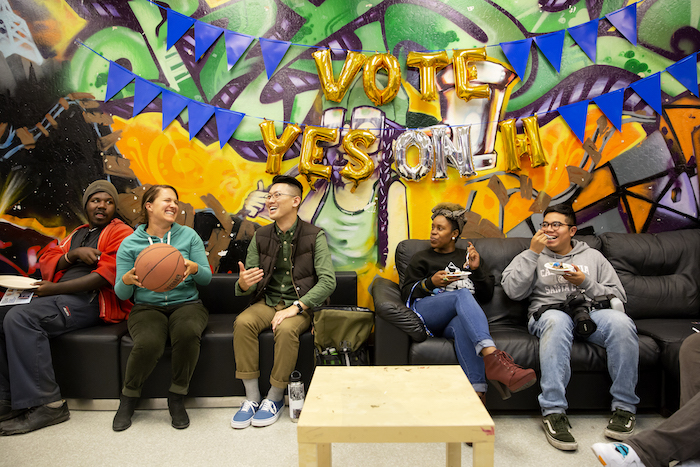 Above: Cordell Hindler (left), Lana Tilley, Andrew Yeung, Cici Gordon and Luis Cubas sit on a couch during an election watch party at the RYSE center in Richmond, CA on Tuesday, Nov. 6, 2018.
By Mitzi Perez
For the first time in the city's history, Richmond youth are set to have a local government department dedicated to serving them.
Kids First Richmond, the ambitious initiative that required passage of three separate local measures, passed its last test on Nov. 6 when voters approved an increase in the real estate transfer tax to fund the program.
According to Measure H's official language, the transfer tax will not affect properties sold for less than $1 million, but will raise the transfer tax by the following amounts: 1.25 percent for property sold for $1 to $3 million, 2.5 percent for $3 to $10 million, and 3 percent for properties over $10 million.
At least part of that revenue will go towards implementation of Richmond Kid's First. The plan is to roll out the program over the next few years, eventually allocating up to 3 percent of the city's general fund over the next decade. The fund will be administered by a city-operated Department of Children and Youth.
Hopes were high at the RYSE Center on election night as supporters of the measure watched returns come in.
Isaiah Grant, 18, was part of the effort to get Measure H passed. He and his friends hiked up the hills of Point Richmond and El Sobrante and knocked on doors to inform people about the tax measure.
"A lot of people were supportive about it," Grant said. "When we would canvass, it was usually a house that had kids. When we told them it helped youth they were like 'Oh, it must be beneficial for my kid.'"
Even though the RYSE team, which Grant was a part of, made a big push in local politics this year, some youth at the election night watch party said they didn't see the point in voting.
Tearra Brintley, 19, said she is disappointed by our two-party system and the back and forth between Republican and Democrat held chambers. She said she doesn't see a point in helping that wheel keep turning.
"Even if I did vote and I go vote for things that people didn't want me to vote, what was the point of it?" Brintley asked.
Marques Egan, 18, said he doesn't think the items on the ballot are going to make substantial changes.
"For the Obama election, I would've voted, if I could, because it was the first Black president," he said. "That changed history, but for the senators I think it's just gonna repeat itself."
Although Brintley and Egan did support Measure H by canvassing, they seem to be frustrated by the constant cycle they see in politics.
"This generation just does not care," Egan said. "For us, it is just an obligation. We do not really look into politics and we do not know what is going on unless we look at a meme or something."