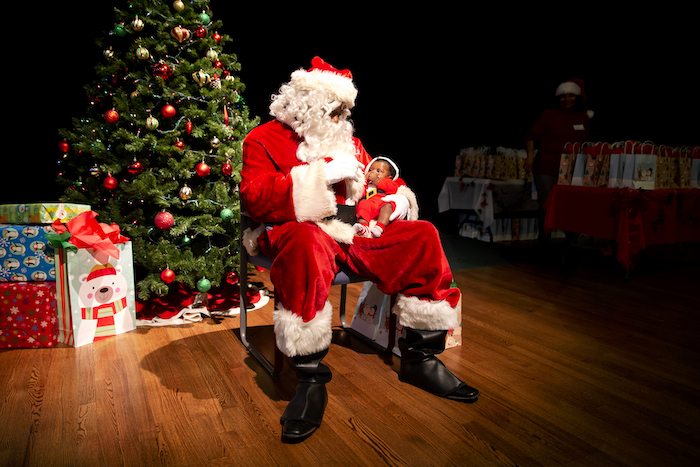 18 Dec

Being a Kid (Again) at the Downtown Holiday Festival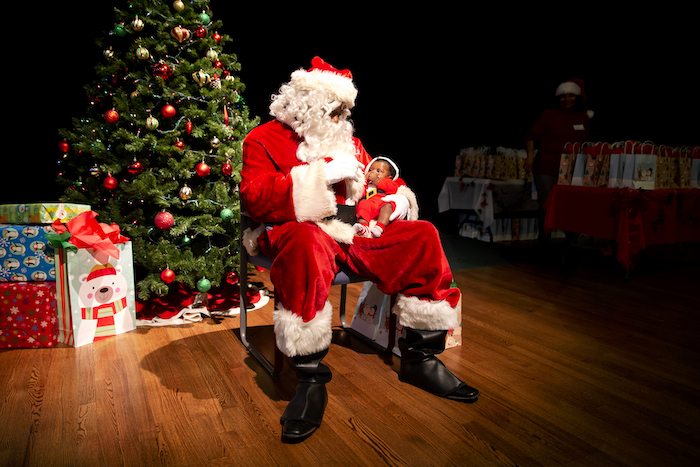 By Brittany Hosea-Small
With a grand "Ho, ho, ho!" Thursday afternoon, Santa walked through the front doors of Richmond's East Bay Center for the Performing Arts. Families had been lined up for almost a half hour before the start of the Downtown Holiday Festival in preparation to see the jolly man himself.
Six-year-old Ellaya Lawson sat on Santa's lap and asked fora drone and an electric scooter, before taking a picture with him and her two-month-old cousin, Mekhi Bryan, who was dressed as tiny Santa.
"I'm happy that Santa came from the North Pole," Lawson said after meeting the man in the red suit.
Now in its seventh year, the East Bay Center for the Performing Arts was once again transformed into a mini North Pole so families all across Richmond could come and visit with Santa, enjoy holiday treats, receive free books and watch a performance of the holiday staple The Nutcracker.
Brimming with excitement, a winding line full of children excited to sit on Santa's lap with a list of holiday wishes filled the first-floor room of the center. Some children — like Hudson Raymond and his little sister Ella — even brought special drawings for Santa.
"It's just an incredible feeling to be able to see the positive outcomes in the children's faces from all the hard work that goes into this event," Alicia Gallo, outreach coordinator with Richmond Main Street, said.
Gallo and her colleagues have been working on the holiday festival preparations, along with the East Bay Center for Performing Arts ,since October, which includes everything from coordinating volunteers and decorations to purchasing gifts and securing Santa's arrival.
"It takes a small army of elves to put on the Downtown Holiday Festival," Gallo said.
Gallo especially appreciates the young adults and high school students volunteering to be friendly faces of generosity throughout thee vent.
"That's another beautiful aspect that I feel very privileged to see as the coordinator," Gallo said.
Twelve-year-old Mirabai Ari and 13-year-old Luna Flores manned the free books table and both young girls warmly greeted each child as they came to the table, asking what types of books they liked and even offering recommendations of their own.
"My favorite part so far is just seeing everyone smiling," Ari, who is a student at the performing arts center along with Flores, said.
Flores echoed that sentiment, saying how much she enjoyed seeing all of the kids.
"I like getting to know the community better and getting involved with everybody who wants to support the center," Flores said.
Between decorating, gift-wrapping and running the event itself, over 30 volunteer elves took part in making sure the holiday festivities ran smoothly. Each year, Gallo looks forward to getting into ac hild's mindset to come up with new and interesting ways to make the event fun.  And she isn't the only one making a return to childhood.
Mary Brown and her husband Alvaro Anduray enjoyed attending the festival with their three children Imani, Alvaro and Jakhi, especially being greeted by young carolers at the front door.
"It's great getting to see all the kids and the joy." Brown said. "And being a kid again actually."
After taking a family photo with Santa, all three of the Anduray children made a beeline to the free books table with parents in toe. Brown and her husband planned to watch the second performance of The Nutcracker before staying for the Christmas light illumination ceremony at the end of the night.
From holiday lights to carolers, the downtown district brimmed with holiday spirit Thursday night thanks to an army of elves, a man in a red velvet suit and the holiday magic that being a child, or just child at heart, can bring.