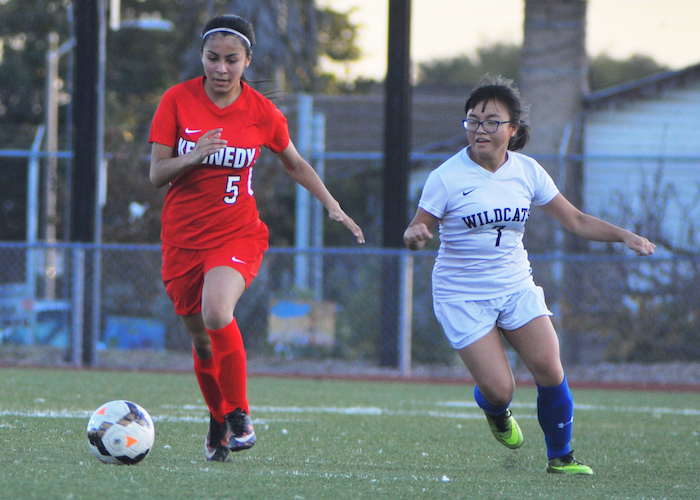 19 Dec

Despite Losing Season, Kennedy JV Soccer Team Gains Experience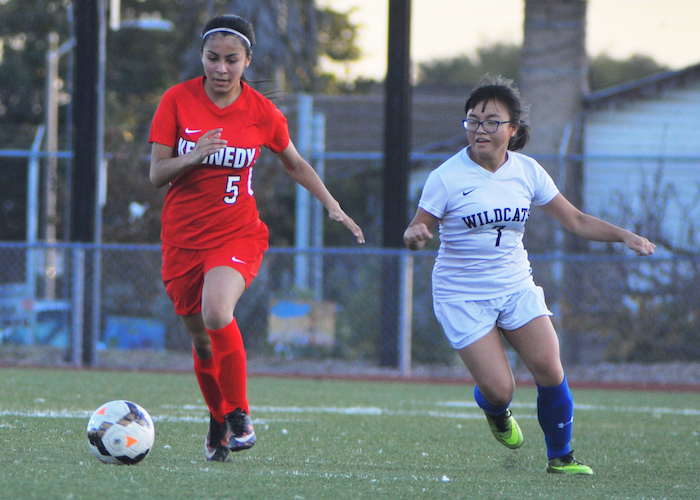 By Denis Perez-Bravo
Judging by the Kennedy High School's junior varsity soccer team's attitude after their loss against Oakland High, you wouldn't know that the Eagles had just lost their fourth game in a row.
For the team, tasting defeat 0-4 against the Wildcats on Dec. 12 was easier knowing they had the opportunity to play one more game.
The 2018 Eagles women's soccer season is the first in recent years for a full JV team. Coach Yaquelin Valencia says it's been more than 10 years since Kennedy High had a junior varsity team.
"They have gained experience to play varsity at some point," Valencia said. "I wanted a JV team to start building a base for next year. So they can be ready for next year."
Games like the one against the Oakland Wildcats varsity team serve as instrumental moments of growth for the players and the soccer program at Kennedy, even without the win. "This game was a non-conference game, so it serves more of a practice," Valencia said.
Kennedy started with all JV players against the varsity Wildcat team, a move Valencia made so they all can gain experience they can use later. "If they don't get it now, they are not going to get it anywhere else," she said.
In the game against the Wildcats, the Eagles defense allowed an early goal by Wildcat forward Tiffany Ortega in the first half. Despite pressure from the Eagle forwards toward the end of the first half to score, at half-time the score remained 1-0.
Soon after the whistle blew to start the second half, Wildcats forward Shikam Walupupu scored the second goal for Oakland after receiving a ground crossed ball from the right side of the field. With most of the Eagles defense on the right side of the field, it left Walupupu marked by one defender. Walupupu overpowered her defender and scored from a long shot on the edge of the goal box. Ortega and Walupupu, both juniors, scored one more goal each before the final whistle.
"Even though she wasn't as fast as us, number 19 (Walupupu) was able to score two goals because she was able to kick it into the goal from far away," Eagles JV last defender Yisel Luna said.
For Luna, this season is about more than winning or losing. It is about becoming a better player and a great person.
"This is my first year playing high school soccer," Luna said. "It is great for my health, and I am able to put that I was part of this on scholarship and school applications."
Valencia said Luna is one of the girls that have showed progress during their season and will be moved up to varsity next year. "And some of them [JV players moving up] might not be ready to play games, but they can come to practice to continue growing their confidence," she said.
One thing the Eagles JV team must practice to be able to compete at a higher level is communication on the pitch. "They do practice that [communication], they are just not doing it in the field," Valencia said. "Part of that is because they are beginners and just have to lose their fear."
Eagles defender Haley Salazar said her team needs to practice to be in better shape. "If we practice more, get more comfortable with our positions and each other's names, we will be able to transfer the communication skills from practice to the games," she said.
Salazar said the way the team has been communicating varies from game to game because how each individual feels on a certain day determines how effective the team will communicate with each other.
Moving forward, the Kennedy women's program is optimistic about their players and their teams. Eagle forward Samantha Tagaloa, a junior, says having a JV team means the incoming girls have somewhere to play. "It also allows us to scrimmage against them," she said.
The varsity team helps bolster the junior varsity's skill because they get to compete against higher level players. Tagaloa, who is the captain of the varsity team, said at the same time having a JV gives the varsity team a leadership role.
"We have them looking up to us, so we have to step up," she said.