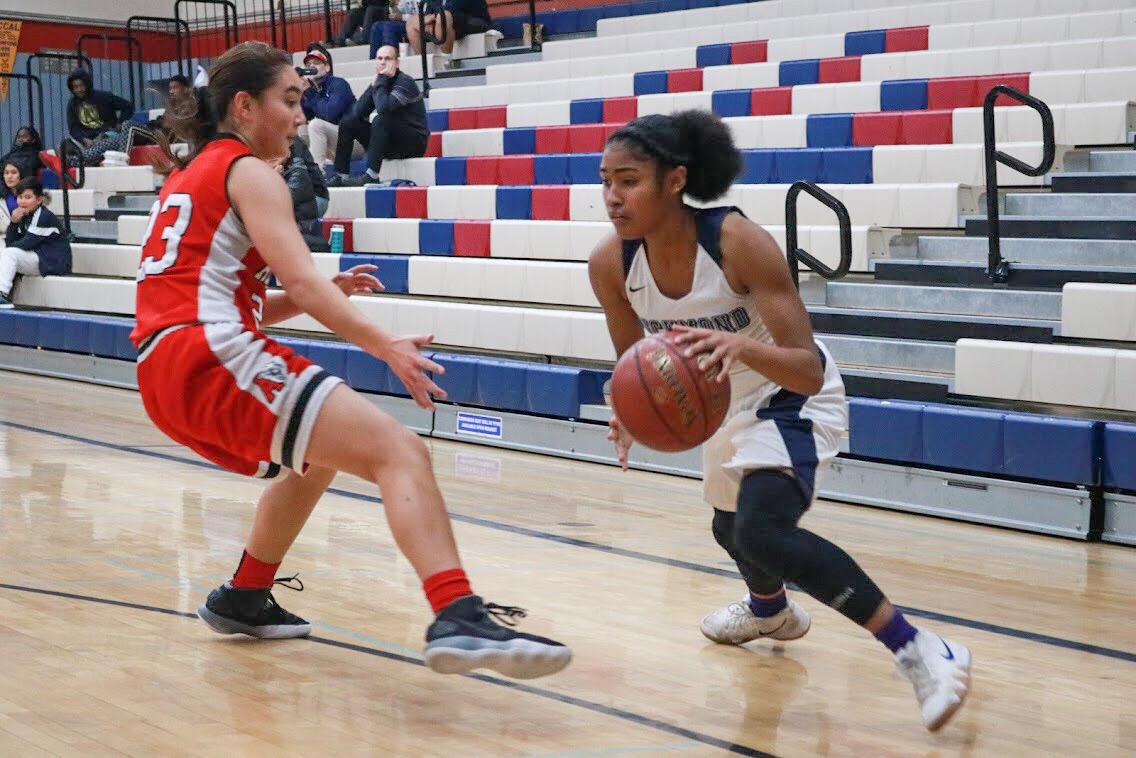 27 Jan

'Closing the Gaps' Pays Off for Oilers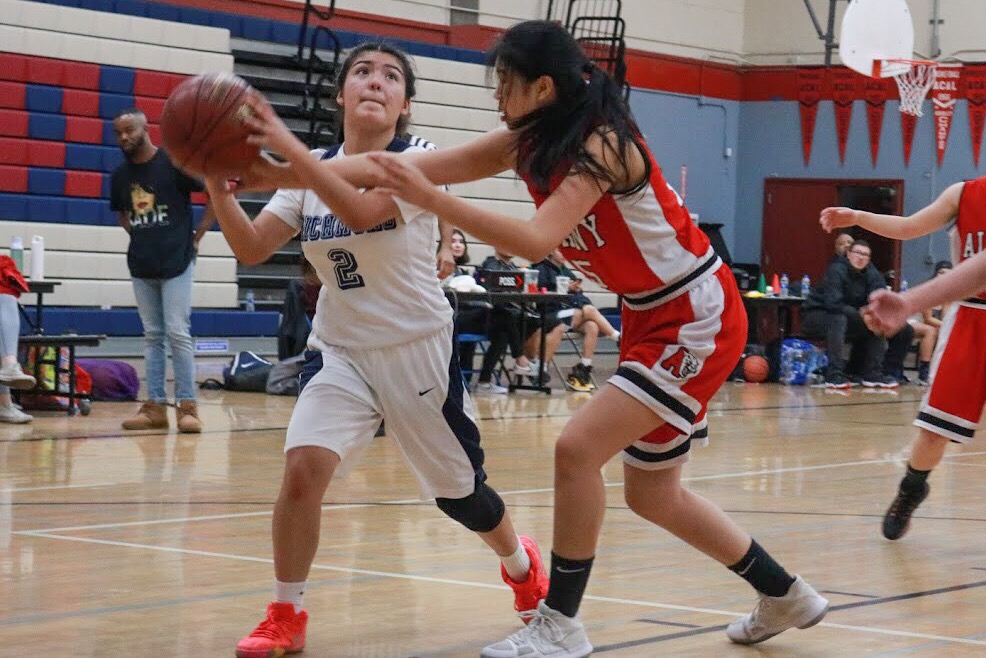 By Denis Perez-Bravo
High pressure defense and sharing the ball on offense earned the Richmond High School girls' varsity basketball team a 52-46 victory over the Albany High Cougars earlier this month.
"Our biggest thing was their point guard (Maggie Paulovich) was penetrating in through gaps," Richmond Oilers head coach Jefferey Jaymot said. "I needed them to close the gaps rather than them reaching."
During the Jan. 18 game, Richmond (8-15) played a zone defense that prevented Albany (3-19) players from driving in and scoring more often, sophomore Yuritzi Cambron Villegas said.
Albany's quick passing skills helped the Cougar's neutralize the zone and led them to halftime lead of 24 to 19. But the Oilers' defensive strategy began to pay off in the second half, and they went into the fourth quarter up 43-32.
"Their advantage is that they are faster," Oilers junior Micha Turner said of the Cougars. "Because of that, we knew to run back as fast and play defense before they were able to set up."
The defensive strategy clogged driving lanes and forced Albany junior Moxie Evans to go up for multiple three-point attempts. She connected on five of them.  But the goal was to limit the Cougars' easy baskets.
"We knew if we went out [to guard Evans] that she was gonna pass it, and we were more worried about the inside plays," Turner said.
Once they were able to stop attacks and get the ball back, the Oilers began to use ball movement on offense to create scoring opportunities. Turner ended the game with 14 points and was able to assist Oiler sophomore Hillary Castillo in racking up 12 points.
"You got to look up and have court vision. I was trying to pass it to Yuritzi, Hillary (Castillo) and Jada (Reddic)," Turner said. "I passed it a little above their heads so they could just get the ball and go up (for the layup)."
Although the first half of the game was a catch-up period for the Oilers, they were able to keep their composure and play their game, Jaymot said.
"We have been having quite a few slow game starts. When we got up we wanted to slow down the game and run our zone offense," he said.
With Albany beating Richmond 59-37 only four days earlier, this game showed the Oilers need to keep their confidence up to win more games, Jaymot said.
"I enjoyed this game," Villegas said.
The Oilers' overall record is not representative of their strength as a team, she said.
"We thought we could beat them, and we did," Villegas said. "We came in with a high effort and ended with a high effort. That is what got us the game."