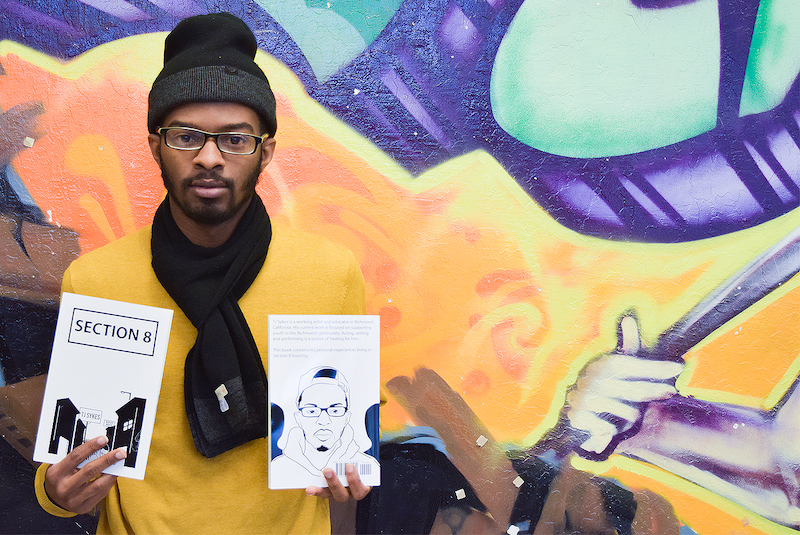 01 Feb

New Book Examines Life Inside Section 8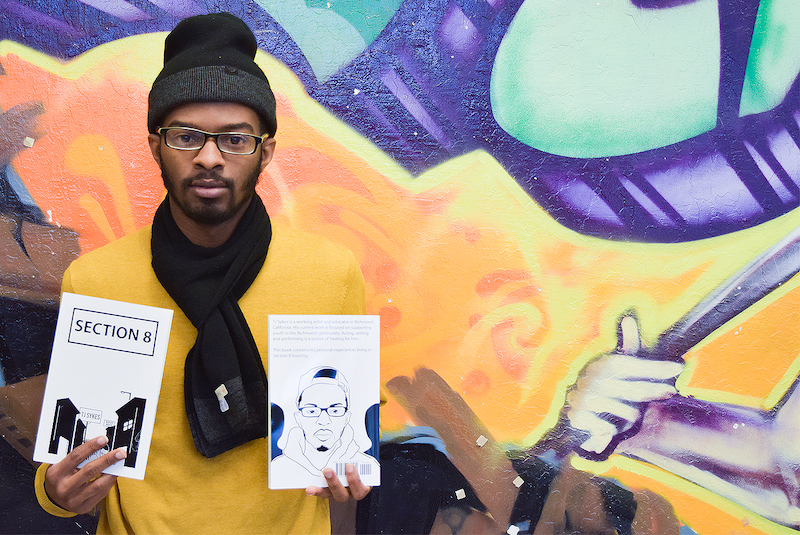 By Abené Clayton
Tyjohn "TJ" Sykes is a Richmond native, poet and "youth justice assistant" at the RYSE Center. His first book, Section 8, is based on a poem of the same name that he wrote about his experiences living in "The Manor," also known as the Monterey Pines apartment complex in Richmond. The book illustrator is Webster Quoc Nguyen, a visual arts assistant at RYSE.
Richmond Pulse: What impact has living is Section 8/low-income housing had on your development as a person and an artist?
Tyjohn Sykes: As a person, I think it really made me who I am. It shaped how I look at the world, from buying groceries, looking at foods that we don't have access to in the area. Just looking at the stores that were close to us, who accepted food stamps at the time, there are a lot more people who accept food stamps now than they did back in the day. I can remember a time where for a month straight we ate Top Ramen and Cup O' Noodle, which is hella bad for your body.
Living in Section 8 apartments that were gated, my mindset was gated for a long time until I moved out of the apartments into a house not far from it. Prior to moving, I thought that the world revolved around these gates or everybody outside of the gates was an enemy. When I moved into a house, I understood that even on that side of town, there were people who are trying to survive, trying to make ends meet.
I want more people to know that even if you grow up in a neighborhood with low-income housing — there's more liquor stores than groceries stores — you can express yourself through your art. Hopefully, this book inspires people to do that. I don't want people to look at me like I'm the chosen one, I'm the one that "made it." I want more people to have a different outlook than the one they're given.
RP: Who is you intended audience for this book? What do you want them to get from it?
TS: Mainly, people who come from my community. More broadly, communities that can relate: projects in New York and Philadelphia to slums in Jamaica and Africa. If it can get it all the way out there, it would be dope.
There's not really an age range. The book is complex in a good way. It's simple enough for an eight-year-old to read. There's also adults who need to hear this. It's an easy read, but it gets deep quick.
People who don't own their homes. There's a lot that you go through on Section 8, like housing inspections. You're constantly moving things around to [meet] these people's standards. You're cleaning the house so much it's like you want it look like no one even lives here. That's a messed message.
I want them to get hope. I want to inspire people to tell their stories. This is a healing process for me to be able to look at this [book] and be able to publish it, and it's here. I [wanted] to put that inspiration to action.
RP: The title, Section 8, evokes a certain image. What are your thoughts around the negative stereotypes of people who live in low-income housing (i.e. the welfare queen, drug dealers who want to live off of the government)?
Tyjohn Sykes:  I think that some people are content with being on Section 8. That wouldn't be a stereotype if you said, "some black people like being on Section 8." Some people pass it down to their children. They make sure everybody in their household gets on Section 8 when they move out. Some of that is partially true because they don't know that [Section 8] was created for us to get addicted to, just like crack cocaine and gun violence.
Some people are trying their best to get out of the Section 8 mentality and it seems to be hopeless — that they can't get out.
[Seeing thee stereotypes acted out], it helps me grind even harder to show people that there's something better for us. Section 8 is kinda like something that you settle for. It could be used as a tool, if you use it the right way. But if you get stuck on it, then it's something you settle for and you see it passed down through generations. I mention in the book our grandmothers watch generations of us go through Section 8.
I have an auntie who's lived in The Manor for 20 years. You don't get no reward for being on Section 8 for 20 to 30 years. You don't get any recognition, so it's not doing you any good.
Tyjohn Sykes' book release celebration is planned for 6 to 8 p.m., Saturday, Feb. 16 at Bridge Storage and ArtSpace, 23 Maine Ave., Richmond.