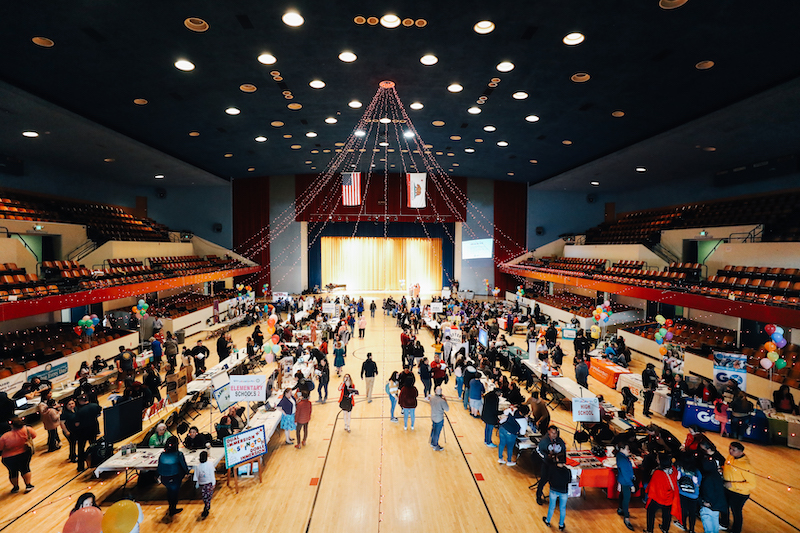 09 Feb

Third Annual West Contra Costa Education Fair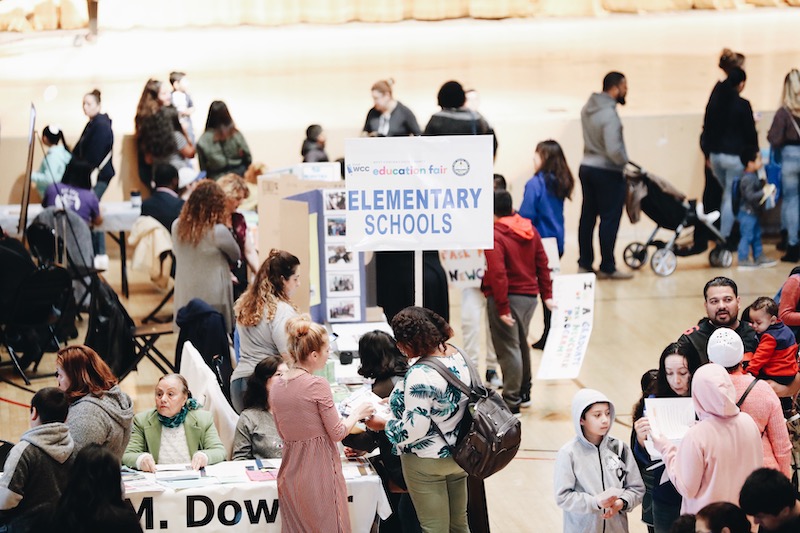 By Abené Clayton | Photos by Luis Cubas
The discussions around schools in California often boil down to three issues: class sizes, admission processes, and access to data. Charter schools are a growing part of this conversation, as sites pop up throughout West Contra Costa County.
Combined, there are 68 public charter and district school sites in the district.
To help families weigh their options, Enroll WCC — a collective of 12 of the 14 charter schools in West County — held its third annual education fair Jan. 26 in Richmond's Memorial Auditorium. This, however, was the first time that district schools were brought into the fold.
"The more that we have separate spaces, the more of the story we are missing," Kennedy High School Asst. Principal Helene Burks said. "As a school leader, a lot of the narrative around district and charter schools is full of blanket statements."
Charter schools are publicly funded, tuition-free schools often run by nonprofit or private organizations. Unlike traditional public schools, students have to apply and are admitted via a lottery system. Since district and charter schools get money from the same source, implementing this newer way of operating public schools has not always been easy in West County and other districts across California.
In Los Angeles, for example, concerns over charter schools' impact on the traditional public school system played a significant, if under-the-radar, role in a recent teachers' strike. L.A. Unified School District teachers staged a six-day walkout last month over a number of issues, chief among them, salary and class sizes. Charter school teachers are not covered by public school district's union contracts. They could, however, be affected by the agreement reached by L.A. Unified and its educators.
As part of the contentious negotiations, L.A. schools Supt. Austin Beutner agreed to a resolution that would recommend temporarily prohibiting new charter schools from opening within the district until their effect on traditional schools could be studied and determined. That moratorium cannot go into effect, though, unless state officials act on it.
During the strike, though, the two sets of teachers weren't necessarily on opposing sides. Educators at three South L.A. charter schools walked out as well, reportedly the first time in California and second time in the U.S. that a charter school organization went on strike.
Closer to home, in 2017, the Rocketship Charter School group wanted to build a campus in San Pablo. WCCUSD students and parent advocates contested the effort, citing ambiguous suspension criteria. They also had letters of concern from the California Department of Education sent to Rocketship Futuro Academy in Concord regarding the school's ability to serve English-learning students.
The department recommended that the school board deny Rocketship's petition, and with a 9-to-1 vote, the school board agreed.
But it's not just one proposed charter school: The district has also had its own issues with equity and accountability.
In April 2018, the nonprofit law firm Public Advocates filed a complaint against the Contra Costa County Office of Education on behalf of WCCUSD parents. It argued that the district was "violating state law by refusing to release data on student outcomes" in its yearly accountability report. This includes data focused on "high-need" students including English learners and low-income youth.
Achievement among these groups is "vital" to where the district allocates funds, according to a Public Advocates press release.
The complaint and subsequent settlement don't point to any specific data. However, the district looks at suspensions, absenteeism, and how many ELL students are reclassified as "English proficient" when divvying up money.
The district settled the complaint three months later and agreed to revise its 2015-2016 accountability report.
Concerns about spending and data among charters are potent throughout the state. At the beginning of February, the L.A Times and EdSource published pieces about Gov. Gavin Newsom's call for an in-depth review of charter school operations.
This month, WCCUSD school board members joined other state public school districts in a call to suspend charter school expansion throughout the state.
A resolution appeared on the Feb. 6 board meeting agenda for members to consider. The resolution cites a charter accountability report that was "woefully lacking," making it "sometimes impossible to determine how charter schools were spending millions of dollars."
This proposition comes less than two weeks after the Education Fair and illustrates the ongoing charter versus public school debate. Fair participants, however, insist that this kind of dysfunction between neighboring schools only limits the amount of information families can get about educational options.
Ed Fair organizer and Nystrom Elementary School parent Guadalupe Calvario said it seems like there are not enough opportunities to work together, so the education fair gave people an opportunity to actually interact with their neighborhood schools.
"Sometimes, we hear all the negative things, and it's not a representation of what the schools are offering," she said.
Calvario worked alongside Richmond College Prep parent Tana Monteiro. Prep and Nystrom are both elementary schools and are separated by a three-minute walk.
"Even though the narrative [says] there's a lot of division happening," Monteiro said, "when it gets down to it, this is my neighbor. This is my community. They're our kids."
The pair agree that district and charter school pooling their resources will help them address disparities in achievement for the student groups that make up most of their schools: low-income youth and English-language-learners.
Monteiro says that RCP is planning programs that she hopes will boost engagement among Black and Latino families. And according to accountability reports dating back to 2015, WCCUSD continues to seek a 2% increase in ELL reclassification and attendance rates among their high-need students.
"This is the community that failed me — the education [system] that failed me," Calvario said of her motivations to collaborate with charters. "As a parent, I need to make sure that it doesn't keep failing the generations to come."