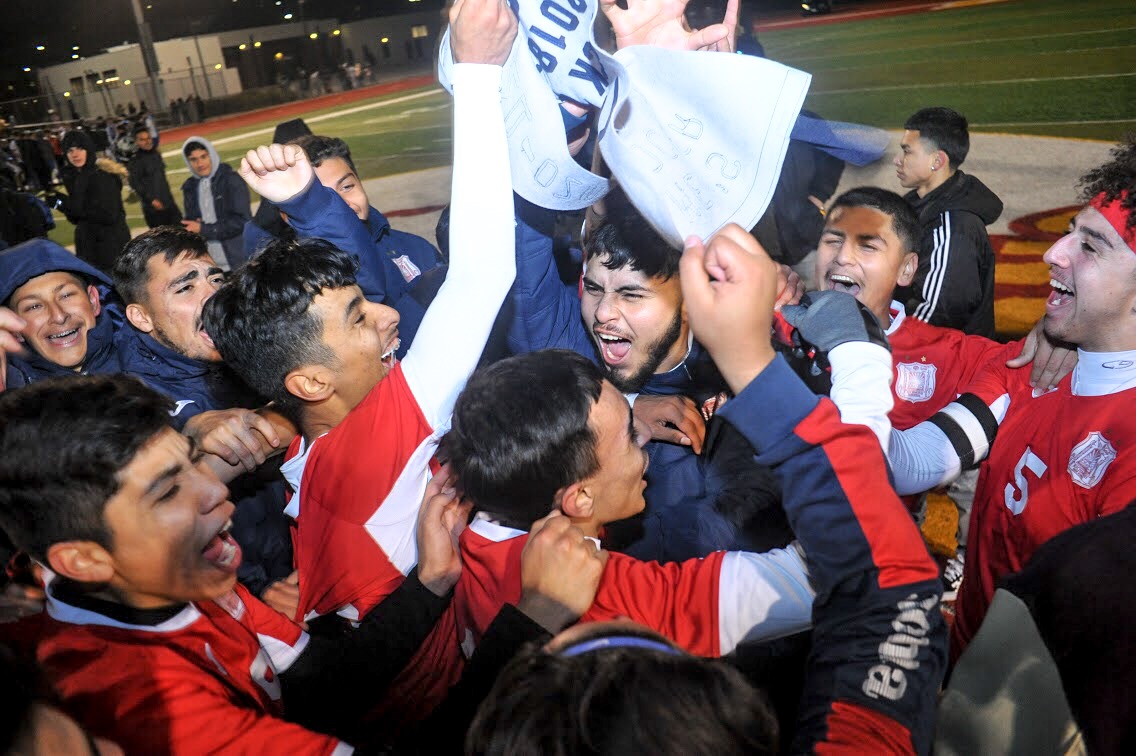 11 Feb

Richmond Takes Tri-County Title Over Pinole Valley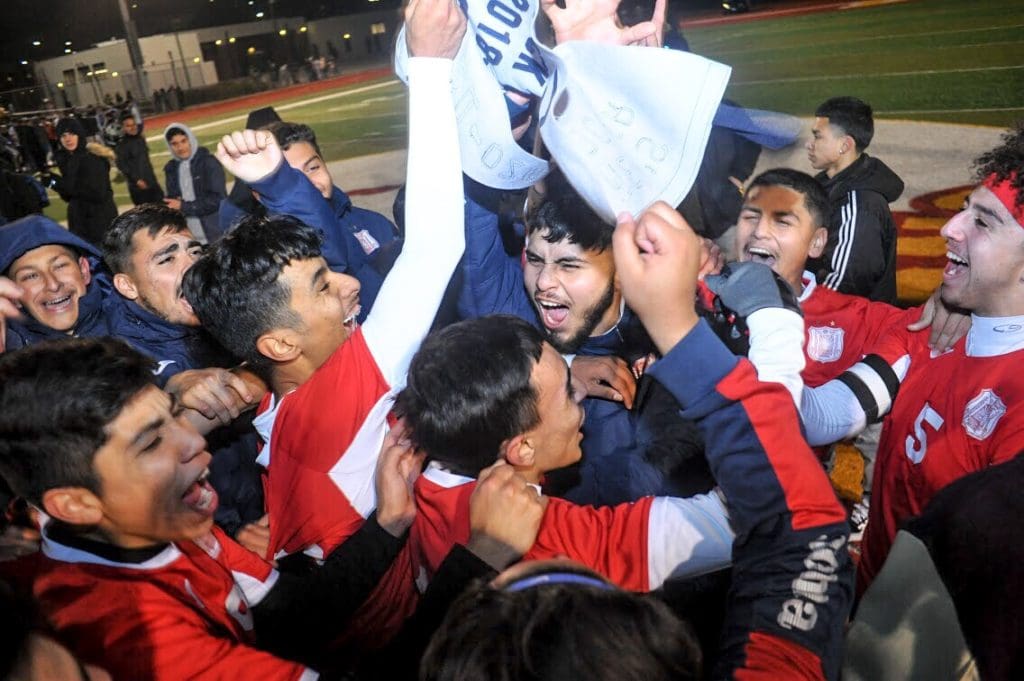 Story and Photos by Denis Perez-Bravo
The Richmond Oilers boys' soccer team won the Tri-County Athletic League (TCAL) Rock Division title with a 2-0 victory over the Pinole Valley Spartans Feb. 8 at DeAnza High School.
Richmond left wing Hugo Romo said Pinole played a very physical game, but his team stayed mentally strong.
"We stuck together as a family and kept each other's head up," he said.
For the first half of the game, the score was locked at 0-0. When forward Romo was put on the left wing in the second half, there was a key shift in the left side that generated a lot of opportunities, Oilers coach Rene Siles said.
In the 20th minute of the second half, Richmond forward Manuel Navas controlled a cleared ball with his chest and ran past the center mark of the field into the Spartans' side. The ball bounced about five times until Navas kicked it from 30 yards out. The ball dipped and bounced in front of Pinole goalkeeper Luis Felix and went past his right side as he dove for it.
"There was a lot of physical pressure from Pinole," Siles said. "We did not have time to play the way we like to play. The first goal was unexpected but nice."
Richmond was unable to utilize their opportunities they created and translate it into a goal, he said. "Winning was the expected outcome, although they gave us a lot of trouble and we had issues with finishing," Siles said.
With around ten minutes left in the game and the score 1-0, the Spartans pushed up and pressured the Oilers on their end of the field. To answer, Romo got the ball, ran up the left side of the field and passed to Villatoro on the left wing. Villatoro controlled the ball, dragged the center Spartans defender toward him and instantly passed it back to Romo.
Villatoro ran into the goal box as Romo received, touched and passed a ground through ball to Villatoro, who was then one-on-one against Felix. Felix ran up to Villatoro to block, but a Richmond forward kicked the ball to the right side and scored the game-sealing second goal.
"We were a little nervous and tired from the Tuesday game against DeAnza, but in the second half, we connected our passes and finished our shots," Villatorosaid.
The Richmond team now has its eyes on their third Northern Coast Section (NCS) title, Villatoro said.
With the TCAL title in their hand, they are ready for the NCS title, but Siles says the Oilers' finishing and attacking need to get better if they are to win it all.
"The team has not proven themselves yet. We need to prove things in the next two weeks," Siles said. "Then we can say that we are good."