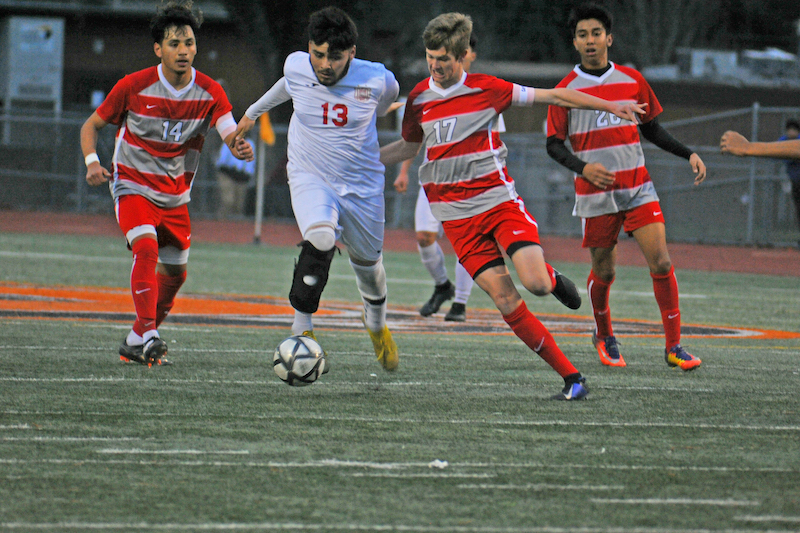 26 Feb

Unfocused Oilers Come Up Short, Lose North Coast Section Final to Montgomery, Again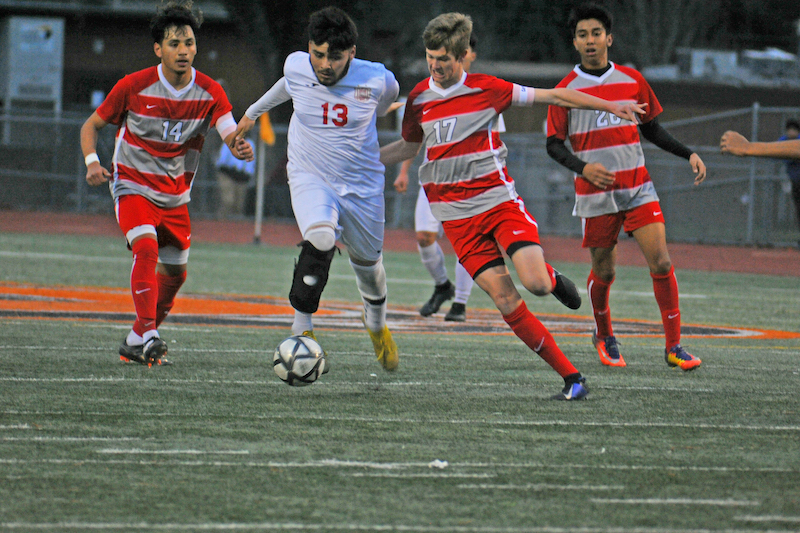 By Denis Perez-Bravo
As the final whistle blew, signaling the end of the 2019 North Coast Section Division 2 soccer championship, reality hit the Richmond High School boys' team. The Montgomery High Vikings had just beat them 2-1, defeating them for the title for the second year in a row.
Despite having individual players clear the ball from their own box or gain ground in the midfield, the Oilers were not able to come together until the last 15 minutes of the game, held at Santa Rosa High School on Feb. 23.
"We couldn't keep the ball," said head coach Rene Siles."The balls kept getting lost, kept coming back, and there was a lot of pressure in the defense."
Richmond had the ability to overcome the tall, strong and top-seeded Viking team. The Oilers showed flashes of what they were capable of in the last minutes of the game by generating a goal, but for most of the match, frustration kept them from executing.
"When the players began getting frustrated, they didn't work together," Siles said.
On defense, the Oilers looked unsure of how their opponents would move. The midfield lost too many balls and gained the ball too little. They played a first half without confidence, and it cost them.
For Richmond goalkeeper Alejandro Rodriguez, last year's defeat brought his first time in the finals to a disappointing end. Rodriguez felt nervous in that game, but he made sure he didn't feel that way this year. "I expected shots, crosses, corner kicks and all of what they would try. I was prepared," he said.
Rodriguez blocked multiple shots on target and skillfully went up for incoming air balls constantly throughout the first half. But the Vikings didn't stop, ultimately forcing a goal in the last ten minutes. Montgomery forward Zack Batchelder kicked a shot that was blocked by Rodriguez, but Montgomery's Oswaldo Rojas kicked in the rebound.
The Oilers, or Aceiteros in Spanish, were not able to respond quickly enough and went into halftime down 1-0. The Richmond squad came out in the second half playing no better than they had in the first half.
"As a team, we were mentally unfocused. We all wanted this, but emotions took over," Rodriguez said.
The same two Vikings teamed up again for Montgomery's second goal, at the 8-minute mark of the second half, as Batchelder crossed a ground ball into the box and Rojas kicked in his second goal.
By the time powerhouse Richmond midfielder Roberto Gonzalez scored a free kick from outside the goal box at stoppage time, the clock had already run down. The Oilers' chance at the title was over.
"We had an opportunity to put one away before," Gonzalez said.  "And once that goal came in, if we would have had more time, I feel like we would have tied it up and went to overtime."
But, of course, it was not to be.