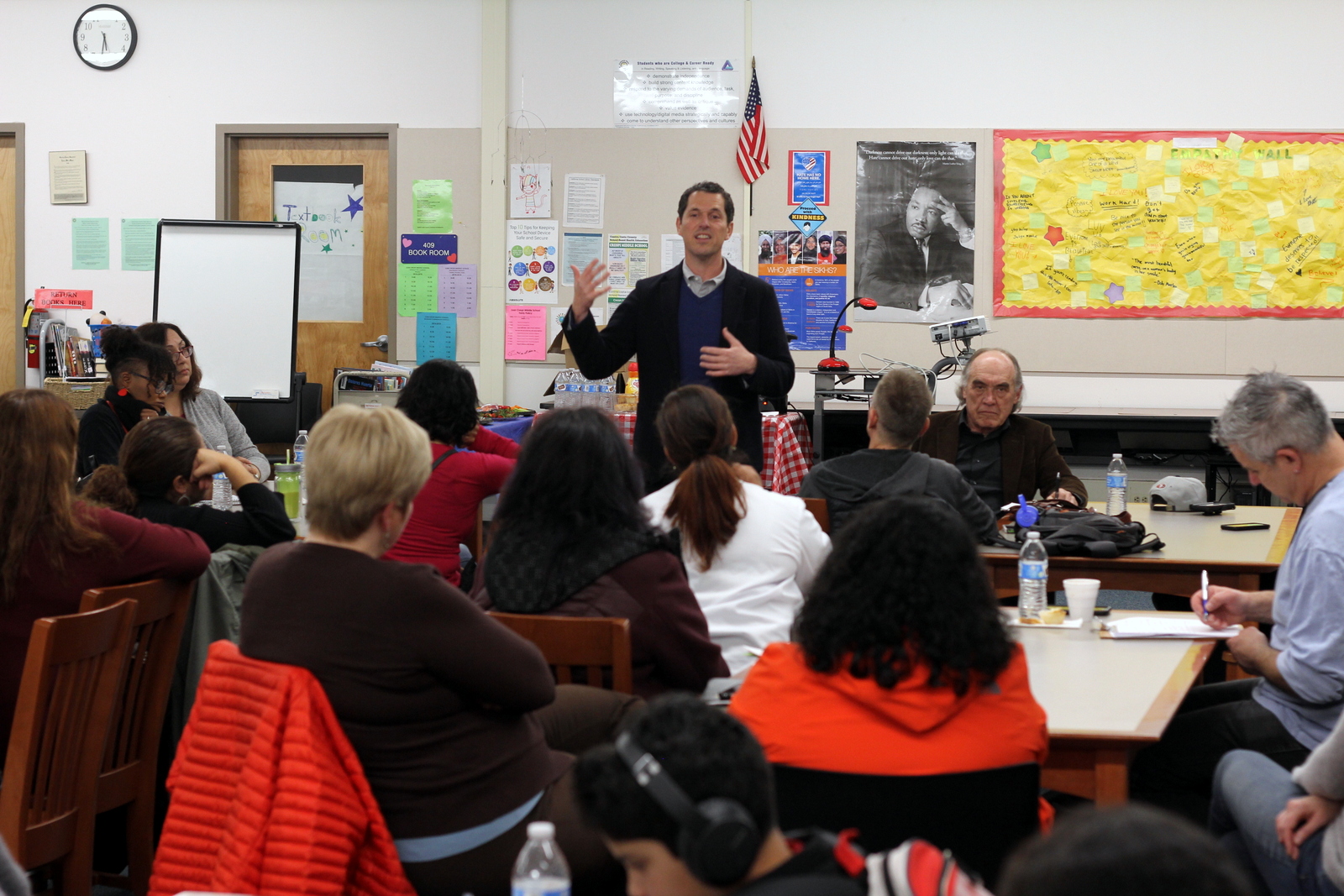 07 Mar

WCCUSD Weighs Closing Crespi Amid Concerns over Space, Costs and More Across Schools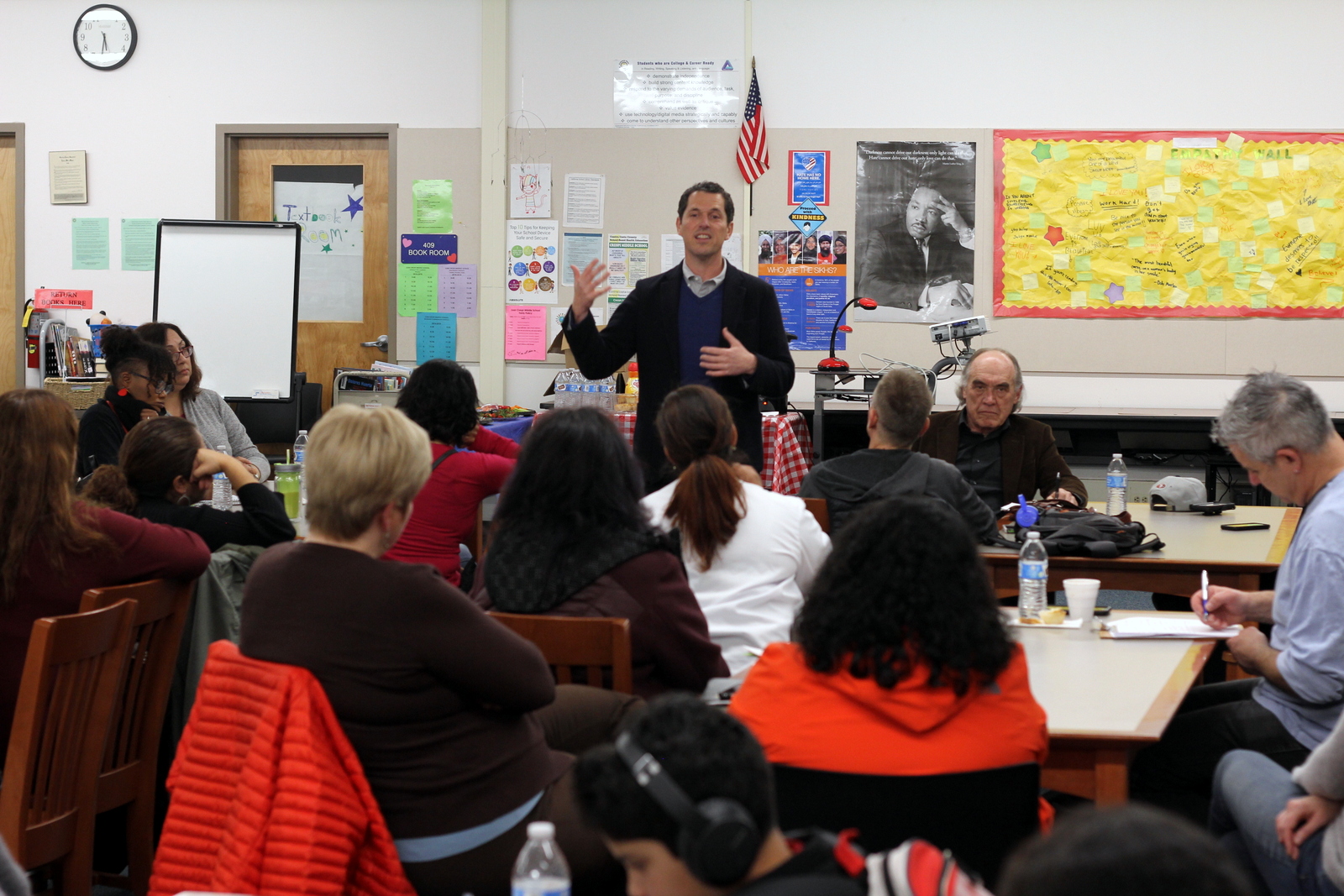 By Mitzi Perez and RP Editors
West Contra Costa Unified School District is considering closing Juan Crespi Middle School in El Sobrante, opened in 1965, because of what Supt. Matthew Duffy called "a shortage of space."
In December, Duffy met with the principals of Crespi and Pinole Middle schools to discuss the possibility of combining the two middle schools into one.
The potential closure of the 7th and 8th grade school comes as the district grapples with challenges involving spending, declining enrollment and a legal requirement to provide facilities to charter schools.
Two new charter school, Invictus and Voices, which both took up residence at the two middle schools at the beginning of 2018-19 school year, are requesting more space for 2019-20.
As news of the meeting and the potential closure got out, fears and tensions flared among school staff and community members.
Duffy addressed the issue at the Jan. 23 district school board meeting.
"We have two middle schools, and both schools are having their space eaten up," he said.
Invictus, on the Crespi campus, and Voices, at Pinole Middle are expected to grow by approximately 160 students each this coming school year and to increase to 500 to 640 over the next several years, Duffy said. Neither Crespi nor Pinole Middle has the space for these projected incoming students.
As a result, Duffy has looked at combining Crespi and Pinole, which are reportedly experiencing a drop in enrollment.
Duffy says he knows the meeting caused some confusion but that it was intended to be a proactive discussion about the district's options.
"District-wide, we are seeing declining enrollment, and that's been an ongoing situation," Marcus Walton, the district's communications director, said by phone. "It's a little more acute at Pinole and Crespi because you have demonstratively smaller student populations in bigger spaces, which causes a tension in itself."
Parents largely were not part of the discussion as Duffy and the district offered them little opportunity to voice their opinions.
When asked by board member Consuelo Lara what outreach has been made to families, Duffy said he sent just one letter about the requests for space. The letter also invited families to participate in the board's discussion as the district "continues to look at all options across the district to find a solution to these pressing challenges."
Some people apparently decided to take the district up on that offer. Five members of the public commented on Crespi's potential closure at the meeting. Some said they were concerned about parent and staff outreach and a lack of transparency.
"I want to make sure that we're not doing transparency and community engagement for name only," said Emma Erbach, executive director of United Teachers of Richmond. "These are folks that have spent years of their life in this school and they deserve a say in what their community is going to look like if hard decisions are going to be made."
Don Gosney, a member of the Citizens' Bond Oversight Committee, asked the board to look at why families are leaving the district. "How about learning where these schools intend to draw their students from, [then] speak to these parents and learn why they think it's imperative to flee from our schools," he said.
Walton said that, for now, Duffy is only exploring the possibilities and the district never set a plan in motion to shut down Crespi.
"It's nothing that was ever set in stone. There wasn't a complete plan, because we can't plan until we explore the options," Walton said.
At a meeting with parents in the Crespi library on Tuesday attended by about 40 people, Duffy attempted to reframe the issue, saying the challenge faced by the district is much bigger than the "Crespi/Pinole Middle situation."
He even offered a personal apology for some of the information that led community members to believe the district had planned to close Crespi.
"We had some conversations about all sorts of things that might take place in the future," Duffy said. "Those conversation got boiled down in the public sphere as the closure of Crespi."
Duffy went on to describe another dilemma: The district has more schools than it does physical campuses, if you include charter schools, to which the district owes facilities by law.
After a few years of being able to manage the extra load, Duffy said the district hit a wall when, last year, out of extra space and money, the district made the decision to host charter schools at Crespi and Pinole Middle, which then had available space.
"It's difficult and has been a challenge for sure. And we've heard that all through the year," he said.
Now, the charters are requesting more space, and Duffy says that, under the law, the district must accommodate them.
"Pinole Middle and Crespi have space to share for one more year, but after that, we can't do it," he said, adding that the district needs to figure out its long-term plan.
Duffy say the problem may have been compounded by an ordinance recently passed by the city of Richmond prohibiting schools from being built in commercial areas. "Now that a charter school can't go build at Hilltop, can't go rehab a building," he said, "they're using the state statutory processes to ask us for facilities. It puts more pressure on us."
Rachel Arrington has one daughter in the 8th grade at Crespi and another in 5th whom she has expected to send there from nearby Murphy Elementary.
Arrington said she's heard from her older daughter that students from both schools sharing the campus talk about the situation.
Like others in the room, she believes she sees the writing on the wall, despite Duffy's words.
"I appreciate the district being proactive, but, at the end of the day, I didn't hear any guarantees. We believe in this school, and we need to fight for this. As a parent, that's what I want to do."
Though Duffy repeatedly stated that here is no plan to make changes for the 2019-20 school year, he offered Crespi parents little other assurances.
"We still have these schools that we're going to owe some space to. That's going to be the challenge for us," he said.
UPDATE: At a study session on Thursday hosted by the school board to discuss facility challenges in the district, Superintendent Matthew Duffy recommended the board not consider closing Juan Crespi Middle School unless its enrollment drops below 350.