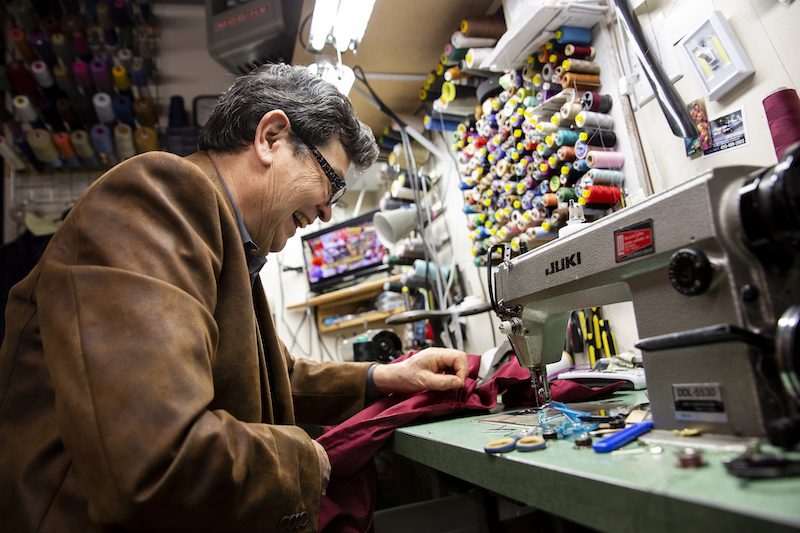 08 Mar

A Legacy of Tailoring with a Smile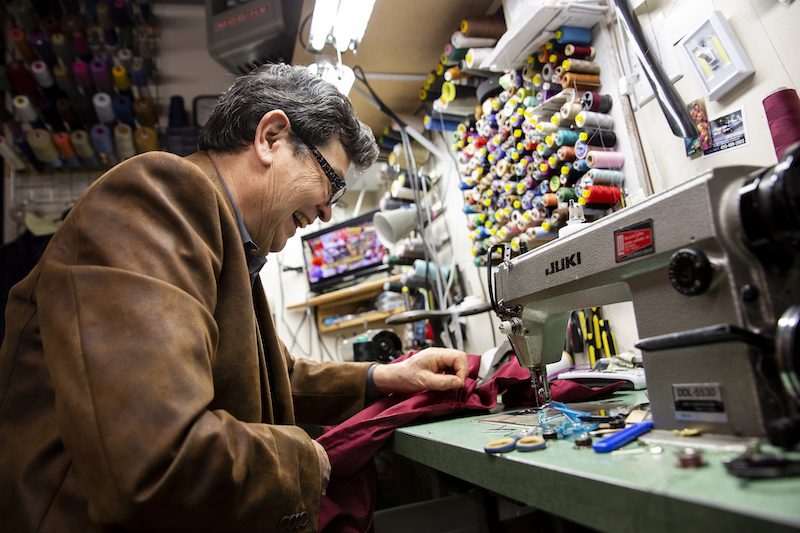 Above: Herman Garduno, owner of Herman's Tailoring, laughs as he works on a shirt for a client.
By Brittany Hosea-Small
When you walk into Herman Garduno's tailoring shop, you can expect to be greeted with a smile and a warm hello. 
Suits, shirts and ties of all varieties line the walls while Herman and his wife Rosa's sewing machines are tucked in the back corner under a bank of lights.
Located at the corner of San Pablo and Van Fleet avenues in El Cerrito, Herman's Tailoring has been serving the needs of Richmond residents for the past four years. But Herman Garduno has been working in the tailoring business for far longer than that.
Starting at the age of 15, he was helping his father with tailoring work in their home in Toluca, Mexico. When he wasn't in school, he would work on projects for his father. Besides his father, Garduno's two uncles, two brothers and sister and several cousins are in the tailoring business in the U.S. and Mexico.
It came as no surprise that these skills would come naturally to Herman Garduno as well. Beginning with a cuff or a sleeve, by 20 years old Garduno had graduated to entire pants and suits. Now 45 years later, he runs his own shop with his wife.
Rosa and Herman met when they were young through family, and the two have been married and working together for the past 28 years. After so many years together the two are a well-oiled machine, working seamlessly together in the shop handling projects and greeting customers.
While Herman is tucked away at his sewing machine, Rosa bounces between the backroom and her own machine, pressing finished clothes, finding matching buttons and finalizing sewing projects.
From pants and suits to fancy dresses, each piece of work has a life of its own in terms of difficulty, from shortening a pant leg to redoing an entire suit. But the Gardunos makes it a point to never say no to a customer, if they can help.
Prom season is particularly busy for them, with high school students coming in with dresses and suits in need of attention.
Herman says that often customers will call in asking if something can be repaired, and he and Rosa always tell them to bring in the piece and they will see what they can do.
"You never know what kind of work is coming," Herman said. "By phone it's impossible to know."
Putting the customers first is top priority for the couple. They don't take appointments at the shop, but if you call and ask, they'll wait until after closing time so you can get fitted or have something repaired.
Customer satisfaction is the most important thing to Herman.
"I don't like people going out without smiling," he said. "For me, when the people come in, I don't see a customer. I see a friend."
The Gardunos pride themselves on doing right by their customers. Even when it's difficult work, they try to keep the costs low. The essential thing is for the work to speak for itself and their customers to speak for them. The Gardunos don't advertise their business, but rely on word-of-mouth to bring in new and returning customers.
One such customer is Jonathan McGriff, who has been coming to Herman for over 20 years. McGriff first met Herman at the Clothing Brokers and continued coming to him after he opened Herman's.
Herman sometimes likens the store to a barbershop.
"Sometimes I think people come in not for this service. They come in to speak with us," he said. "They bring us stuff [that's] very easy to do, little holes and such, but they stay for a long time."
It's that comradery that means so much to him. If Herman's not in his shop when a customer picks up their clothes, he asks Rosa how the clothing looked and if they were happy.
"Because for me it's very important to tell me if I do the work right," he said. "That's the best thing for me when the people go out with a smile."
IF YOU GO:  Herman's Tailoring, 10257 San Pablo Ave, El Cerrito.  Hours: 11 a.m. to 6 p.m., Monday through Saturday. (510) 526-5195