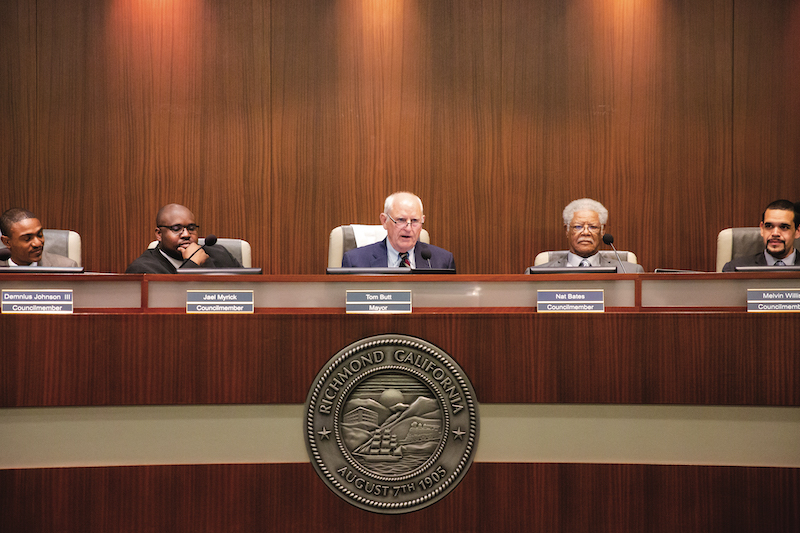 23 Mar

'State of the City' a Mix of Triumphs and Challenges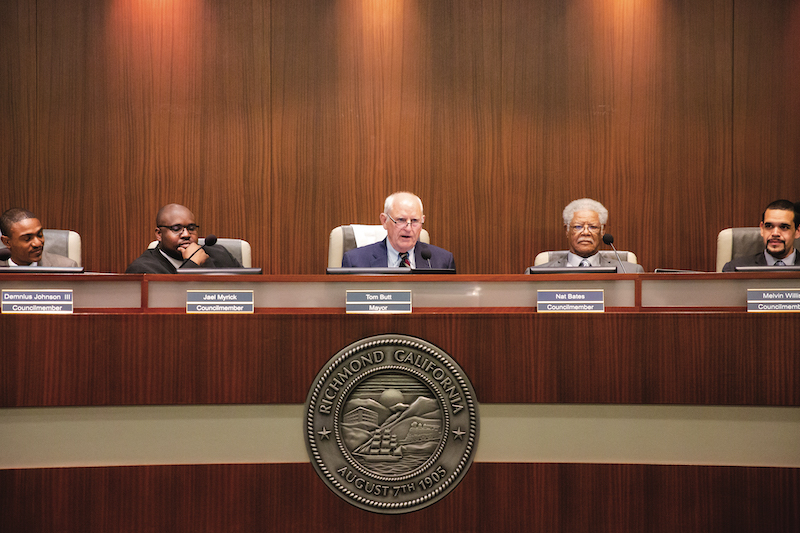 By Brittany Hosea-Small
Richmond Mayor Tom Butt began his State of the City address with the overall finances of the city, saying they're currently "stable."
"There is practically no wiggle room, and more work is needed to keep our bottom line safe," he said during the Feb. 26 city council meeting.
His address touched on a bit of everything happening in the city, to finances and housing to cultural impacts and increased growth.
A colorful bar graph showed the increasing revenue growth the city has achieved, which broke down its three primary sources of revenue. In 2018, sales taxes increased to just over $46 million, an increase of 4.28 percent. Property taxes increased by 9.4 percent to over $42 million while utility taxes only increased .29 percent to a little over $46 million.
Butt went on to discuss future financial challenges the city will face, given its current trajectory, which include the rising cost of employee compensation and benefits and the Kids First initiative that will begin showing a revenue deficit as early as 2023.
Then there were the issues currently at hand.
"In 2019, we can agree that housing and homelessness stand out as one of our most pressing challenges, but no subject seems to generate more controversy and division in Richmond," Butt said.
The city's housing authority program currently provides affordable housing for over 4,000 people, even as it struggles with less-then-necessary federal funding. The city has been using money from the general fund to compensate.
Richmond is in the process of transitioning the operation of public housing to private sector managers and the Section 8 program to the Contra Costa County Housing Authority. Butt says this is consistent with the U.S. Department Housing and Urban Development policy and will stop the city's financial losses while providing better service to residents.
Butt described current homeless camps as "unhealthy, unsafe and a visual blight," and said that the city has no dedicated revenue source to provide services to homeless people. He said his office is working to raise $1.5 million to provide a managed encampment for tents and RV campers that would partner with community-based organizations to provide comprehensive social services.
Despite hitting a historically low unemployment rate of 3.1 percent in May 2018, Butt said "finding a job with a living wage remains a challenge."
To help improve that, Richmond's minimum wage rose to $15 per hour as of Jan. 1 and the RichmondBUILD, RichmondWORKS and YouthWORKS programs helped find jobs for 780 people in the past year, along with providing 175 youth summer jobs, according to the mayor's address.
Butt also talked about what residents want most.
"Reducing crime and improving public safety continues to be the number one concern for Richmond residents," he said.
Citing police statistics, Butt said major crimes dropped in the last year, compared to 2017. Theft and burglaries were down 1 percent and 10 percent respectively, and domestic and aggravated assaults were down 9 percent and robberies down 14 percent.
Homicides, however, are still Richmond's biggest challenge, Butt said.
There were 18 homicides in 2018, a fairly low number historically.
"This year we got off to a bad start with four in January alone," Butt said.
Butt did offer hope though, stating that there have been a reduced number of shots fired and firearm assaults and Richmond police are continuing to confiscate a steady stream of weapons. 
In the discussion of transportation and infrastructure, the newly opened Richmond Ferry terminal stole the show. Having only been open for a little over a month, the terminal's popularity has surpassed all expectations, Butt said.
Over 16,000 passengers have ridden the ferry as of Feb. 15, with an average of 624 passengers per day.
On several days, Richmond ridership exceeded South San Francisco ridership, "which is pretty amazing for the first month of service compared to a service about seven years old," Butt said.
Following the current transportation plans and improvements, Butt discussed the real estate, business and economic developments in Richmond, covering warehouse, manufacturing and residential trends and vacancies.
The future of Point Molate was a point of contention, or as Butt referred to it, "Richmond's most controversial policy debate."
The city is currently on a tight deadline, needing to obtain approval of land-use titles by April 2020 and sell 30 percent of the developable shoreline within two years of that.  The remaining 70 percent of the Point Molate shoreline will become public open space, including a shoreline park.
The new Dirt World Bike Park and Unity Park both made appearances in the community investment portion of the mayor's address, along with the Mary "Peace" Head Memorial Garden.
Butt closed out his address with a wish list for 2019, covering everything from community and cultural improvements to climate and development policies. Expanding support for the Richmond homeless population, driving down the homicide rate, and annexing North Richmond were also on that list.
Sarah Wally, a Richmond resident and board member of the Richmond Main Street Initiative and Workforce development board, appreciated the quantity of statistics in every aspect of the city's development.
"It's very powerful," she said. "It's very exciting, not with a lot of fluff, and you can see everything that he presented on those slides as the reality."
To view the full presentation, go to www.ci.richmond.ca.us/3539/State-of-the-City.