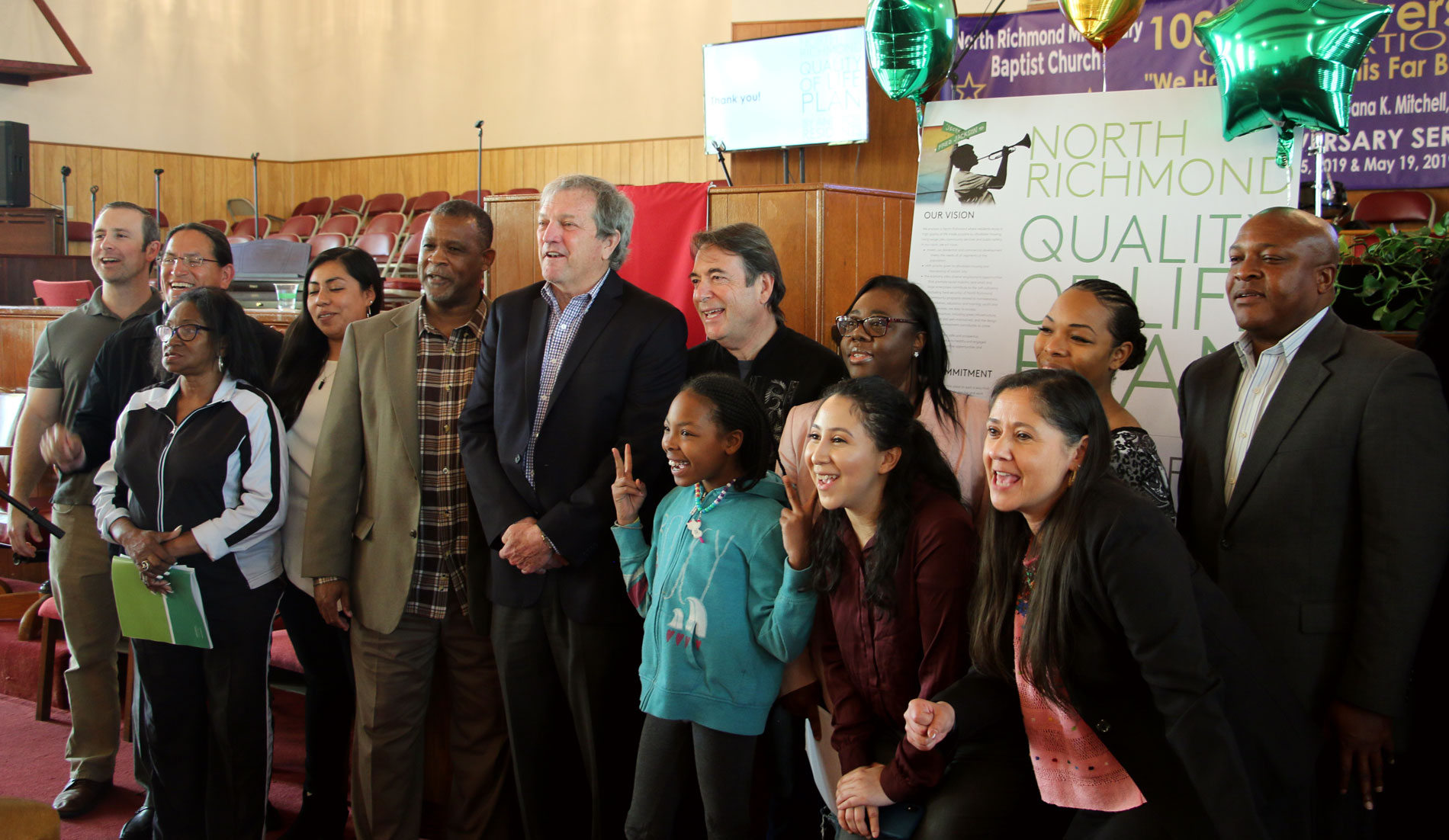 02 Apr

North Richmond Quality of Life Plan Rolls Forward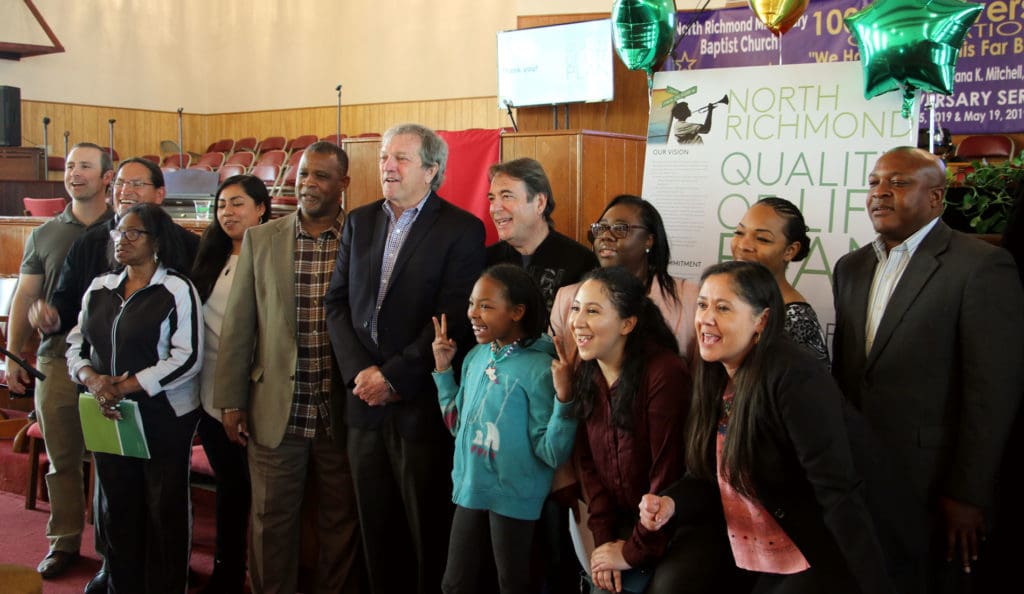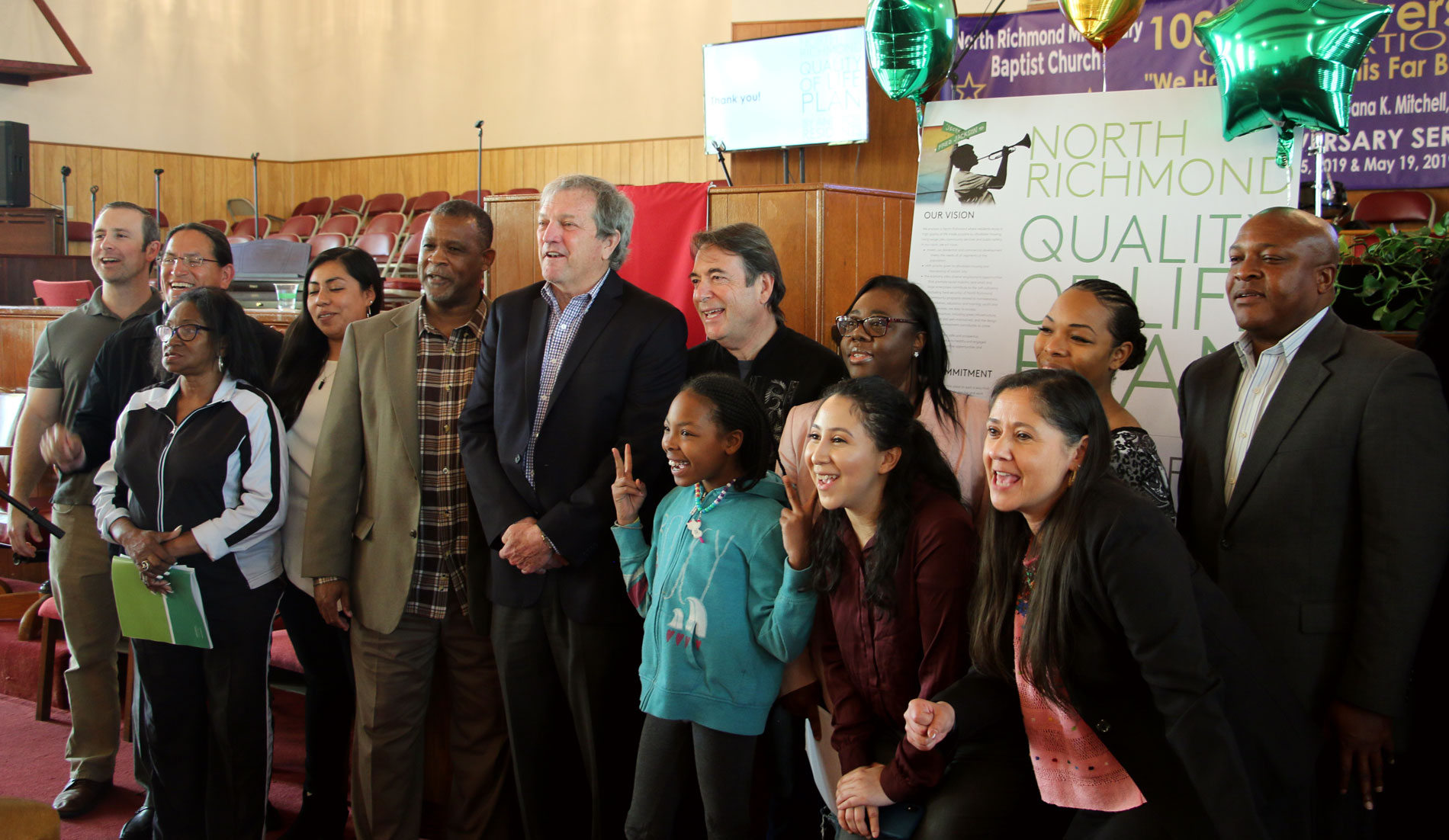 By Edward Booth
North Richmond's residents and leaders see a few common areas that need attention: projects intended to spur affordable housing development, street improvements, and the creation of a youth community center.
Those, among other goals, are set to kick off in the coming months as the early steps in the new community-driven plan to improve the quality of life in North Richmond. It was rolled out in a ceremony Saturday at the North Richmond Missionary Baptist Church hosted by Healthy Richmond — a coalition of community organizations, resident leaders and advocates focused on developing projects in the community to build lasting health equity.
A cast of rotating speakers — including ten North Richmond residents who helped create the plan and various stakeholders who also assisted in shaping it — outlined improvement proposals in four areas: community safety, youth and education, housing, and business opportunity. After the speakers finished, Bay Area Regional Transit board director Lateefah Simon and Congressman Mark DeSaulnier gave supportive keynote speeches.
Following a jazz performance given by musicians from the East Bay Center for the Performing Arts, County Supervisor John Gioia and North Richmond resident Sara Gurdian ran through the process of how the quality of life plan was developed. Gurdian said Healthy Richmond's North Richmond Leadership Team interviewed 127 residents to gather information on the "strengths, weaknesses, opportunity, and threats of North Richmond." The issues identified in these interviews, according to Gurdian, formed the basis of what the plan attempts to address.
There were meetings, starting in October of last year, to hone specific approaches, including one focused on community visioning with over 80 resident attendees. Finally, there were a series of six research and 10 planning meetings held over subsequent months.
"We really wanted to make sure that we were grounded in a reality where our recommendations would yield successful results for our community," Gurdian said. "This is not pie-in-the-sky dreaming — we invested many, many, many hours doing research meetings and site visits, learning just about how to make every strategy possible for North Richmond."
North Richmond resident Camillo Navarro and Richmond Police Crime Prevention Manager Michelle Milam presented ideas for improving community safety. Milam said it was important to first acknowledge the structural racism that led to poverty and violence in North Richmond in the first place, then talked about a strategic framework she called "crime prevention through environmental design," which she said looks to prevent crime in the planning and building phases of construction. Navarro used Richmond Village as a potential model, about which he said: "The most important thing is you cannot tell the difference between homeowners and renters."
"It's not only about the people, but also how communities are built," Navarro said.
Milam and Navarro also spoke about reducing danger from traffic, which they said tends to cut through North Richmond with no mind to speed limits.
The next topic was housing, presented by resident Lynne Abram and Joseph Villarreal, director of the Contra Costa County Housing Authority. Abram said they recognized the necessity of developing below-market rate units, including many for very low and extremely low incomes. She also said they were committed to retaining as many residents as possible from the closed-down Las Deltas public housing project.
Abram and Villarreal's four housing strategies include: more housing, with at least 50 percent affordable units; new housing on abandoned properties; preparing residents for home ownership; and an intent to compel housing developers to be transparent in their resident selection process.
Richmond Main Street Initiative director Amanda Elliott and residents Johana Gurdian and Jannat Muhammad gave the business presentation. Their strategies included programs to involve the community with businesses, cooperative development to address the wealth gap, improving financial literacy, and exploring non-traditional business models. Muhammad mentioned several partners invested in growing business in North Richmond, including Rubicon Programs, the Richmond Museum of History and the Richmond Main Street Initiative.
Youth and education plans were presented by residents Kapris James and Karen Garcia, who argued that local youth needed more opportunities and space in the community. Their strategies included a community center for arts and music, giving the youth a voice, and preventing dividing walls which separate one community from another in development.
"If you're a parent, if you have children in this community, you can probably sympathize with me in that you often have to look for programs outside of our community," James said.
Lateefah Simon spoke next, saying she moved to Richmond after her husband, who was born and raised in Richmond, died of cancer two years ago. Simon said she ended up bankrupt but nonetheless ran for public office and won because of support from the Richmond community. She spoke of North Richmond's unfortunate state as a transit desert and the dangers of gentrification, and outlined her appreciation for the resilience and efforts of the community.
"There is a commitment in this city not only to the historical legacy of togetherness, of black and brown pride, there is a historical commitment, a continuing commitment to racial justice, and keeping this neighborhood beautiful and black and brown." Simon said. "A diverse community does mean togetherness, but it does not mean an ethnic cleansing of six generations of struggle."
Mark DeSaulnier, currently a California State Representative and a former Contra Costa County supervisor, talked about current and past events, greeted prominent North Richmond residents, and told a story. He compared North Richmond to Anacostia, a neighborhood in Washington, D.C., and said the most amazing place to go in all of D.C. is Frederick Douglass' house, a national historic site in Anacostia, from which one can look down upon the capitol.
DeSaulnier said that Douglass, the night he died, was walking up the hill to his house after attending a suffrage meeting, and he found a young man waiting for him. The young man asked Douglass what he should do to have a full life like Douglass. He advised the boy: "Agitate, agitate, agitate."
"So, North Richmond, you're not doing your damn job if you're not agitating," DeSaulnier said.