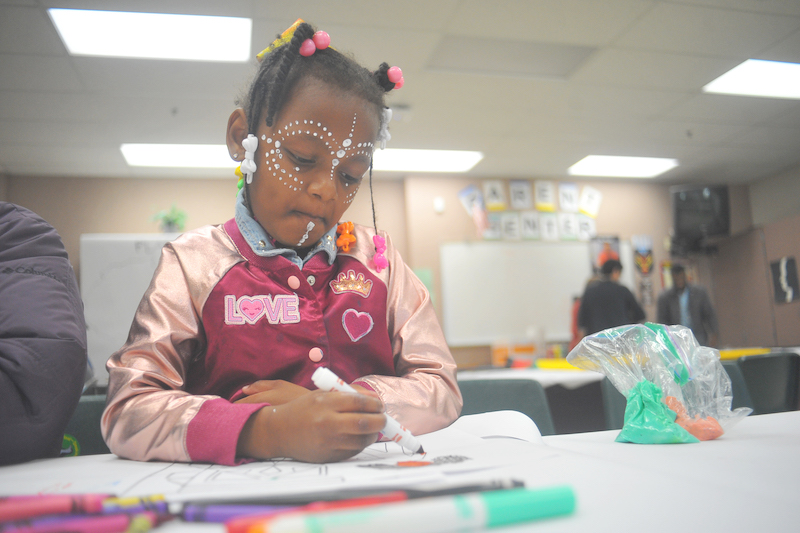 04 Apr

'Art in March' Teaches Larger Lessons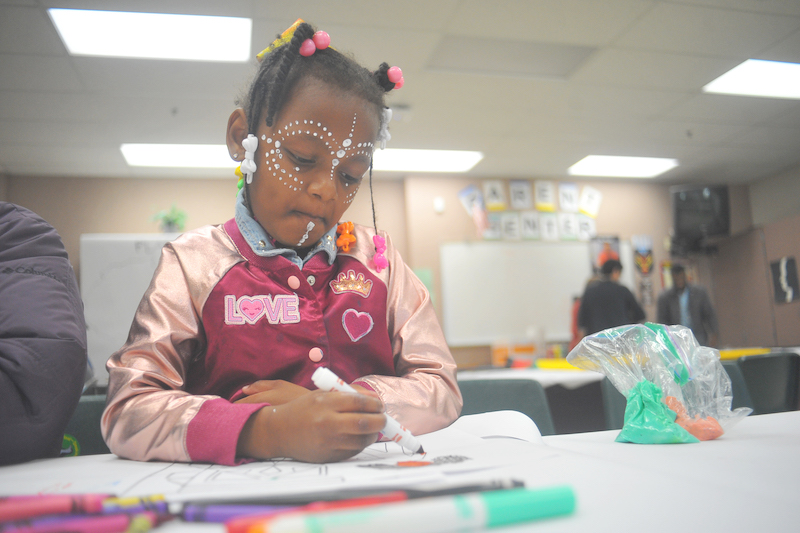 Photo Essay, Denis Perez- Bravo
Knowledge in the arts can help a child expand their mind.
The administration at Lavonya DeJean Middle School has seen this first-hand for the last two years at their annual Art in March Educational Extravaganza. The free event brings together children, parents and community members to participate in communal art appreciation.
At this year's event on March 16, the exhibits ranged from a family painting workshop by Generations Vision for the Future to a gardening booth run by a Lovonya Dejean teacher.
One of the standout events was an African American art experience room put on by Families of African American Students Team (FAAST). Kids colored, made books, and had their faces painted with Black Panther-inspired art.
"We are focusing on African American students because we want to assist them academically any way we can," William McGee, principal of Lovonya DeJean Middle School, said.
McGee says focusing on black students' engagement assists them in their academic progression. Negative discipline, such as suspensions for fighting, leads to lower grades, he says, adding that a key to success is when schools and parents work together.
"Family engagement is very important," he said.
But it's not always there, so sometimes all students have to ground them is art. There are many ways to do it, and, for East Bay Center for the Performing Arts staff member Ezra Bristow, art is "the intentional exploration of how to think outside of the box." He was teaching West-African Afro-Pop dancing.
"It's about how you take the things that you know and create something meaningful to you or to other people," Bristow said.
Practicing art, he says, helps students build confidence and retain information better.
"Giving them dates and telling them facts doesn't sink in all the way," Bristow said. "But, if they can show them dance moves that came from jazz and connect it to today, you can show them things they have never seen before."
When students are exposed to their history and legacy in the music they enjoy, it allows them to feel more empowered about the choices they will make, Bristow says, and, through art, kids can conquer their pain and express their joy.
For some children, dancing and physical movement is their form of expression. Others, however, used their words and their voice to show their joys and pains.
In her hard-hitting talk on bullying, as part of the Latina Center's workshop, Fatima Renteria, a 7th grader at Lavonya Dejean, embodied the idea of processing and overcoming that pain.
"In elementary, I was bullied for five years," she said. "I was very sad, and I felt like hurting myself."
When she told her parents, they found someone for her to talk to about it. "I told my counselor everything."
Now, Fatima says she wants to be open about her experiences so students, parents and teachers can learn from it.
"I want to help," she said. "I know what I went through, and I don't want other people to go through it."