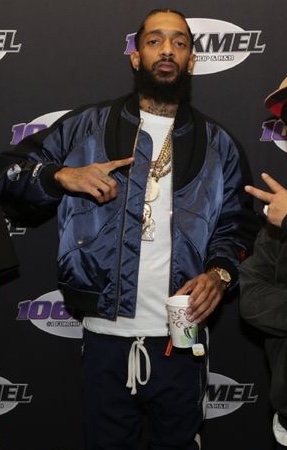 04 Apr

It's Kinda Dangerous To Be An Emcee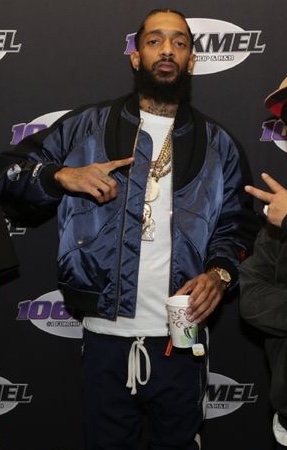 Commentary, Donny Lumpkins | Photo via 106KMEL
Hip-hop has claimed many lives on its meteoric rise to global dominance.
L.A. rapper Nispey Hussle's murder sadly proves that the list of rappers who leave us too soon is ever growing.
It's no coincidence that gun violence and substance abuse are grave societal problems that have plagued hip-hop for decades. Emcees are our street reporters, our frontline storytellers. We rely on them to communicate and comment upon our social ills. Unfortunately, that too often means falling victim to the violence and addiction they witness.
Hip-hop comes from humble beginnings, growing from the scrappy urban youth culture of New York City in the 70s into a global industry worth an estimated $10 billion. Now that hip-hop is so lucrative, why is still so dangerous to be associated with the genre?
Since the murder of Tupac on Sept. 13, 1996, 29 American hip-hop artists of note have died due to gun-related violence. They include Biggie, Big L, Jam Master Jay, Mac Dre, Proof, Solja Slim, Dolla, The Jacka, and most recently Bankroll Fresh, and XXXTENTACION.
The rap crisis doesn't stop at violent crime. A number of artists have died as a result of an overdose including, DJ Screw, Pimp C, LiL Peep and Mac Miller.
Rap can't be blamed for the larger societal issues of addiction and gun violence, but it is suffering from their impact and reacting in real time.
Drug abuse and gun violence have been major topics in the music since its inception over 40 years ago. In 1982, Grandmaster Flash and the Furious Five released "The Message," a song that documents the reality of drug abuse and violence that swept through New York City in the 80s. The track was a wakeup call for America. It stood in stark contrast to the Studio 54 pleasure party we associate with that era of indulgence.
Now, rappers have shifted their attention to 21st Century drugs: Xanax, lean, Dracos, Dead Homies and smoking ops. The substance abuse crisis of the past decade is tied to prescription drugs, all reflected in the lyrics of today's rap superstars, one of whom even named himself Lil Xan after his pill of choice. The effects of the opioid epidemic are all over modern rap music, including the overdose deaths of Lil Peep and Mac Miller, both of whom died with fentanyl in their systems.
These public health crises are a grim reality of life in 2019 and permeate every facet of American life. In 2018, there were 340 mass shootings in the United States, and 2019 is on track the surpass that. In 2017 drugs, including opioids, killed a record 72,000 Americans.
Too many of us have lost loved ones to substance abuse, suicide or gun violence. I myself have lost multiple close friends and family members to these social ills.
If we can dedicate our collective energy to the healing and recovery of our broken society, maybe then we can begin to tell new stories in hip-hop. Rap music's popularity shows no sign of stopping, even at the expense of the artists putting their lives on the line to tell us those stories