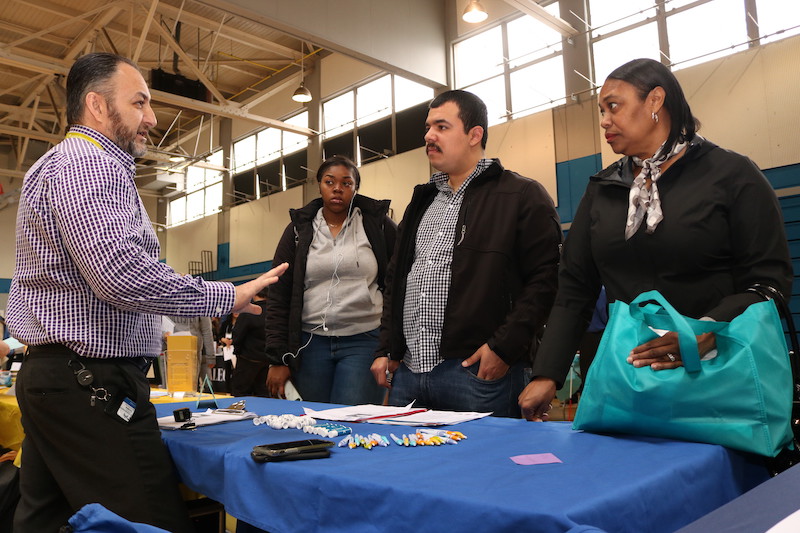 12 Apr

Career Fair Offers Chances of a New Future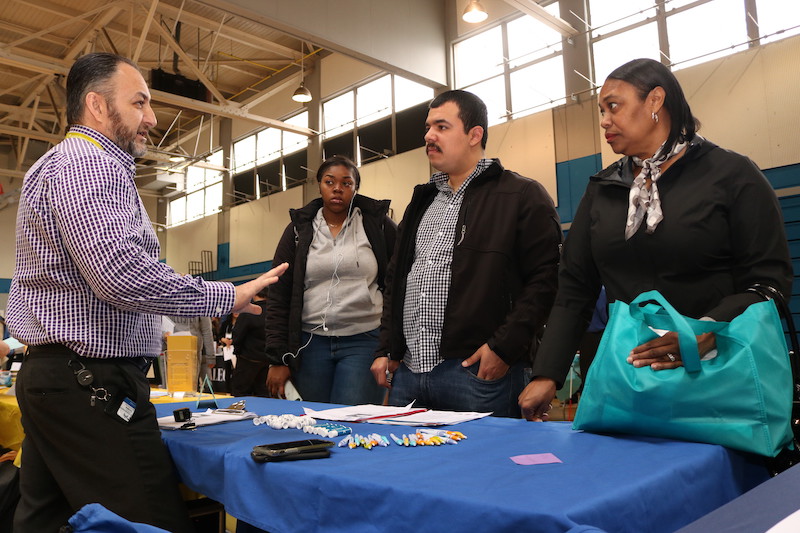 By Jessica Suico | Photo by Denis Perez
Brittany Young was looking for a job.
That's why she attended the annual West Contra Costa County Career Fair at Contra Costa College last month. That's where more than 50 high-profile employers and 20 resource tables gave people like her opportunities to network and potentially land a job with BART, AC Transit, American Bank, Chevron, Phillips 66 and more.
The 29-year-old San Pablo resident is a self-employed mother, a CCC student majoring in collision repair, and specializes in human resources and helping the people of the community. 
"My professor is really invested in us students, so she cancelled class today for students who wanted to come and attend this career fair," Young said.
Even though Young didn't get hired on the spot by the companies she checked out at the career fair, she did get a lot of useful information.
"This is a great way to network with different companies and places and get your name out there and possibly get recognized," she said.
San Pablo's mayor Rich Kinney was at the career fair. He wasn't looking for a new job, but said, as mayor, "it is my responsibility to have opportunities available of employment to the unemployed."
The main purpose of the career fair, Kinney said, is to help unemployment rates go down, providing stability in the community by giving people opportunities at jobs and careers that can help them one day be able to own a home.
 "I know there is a lot of planning involved," Kinney said. "I am not involved in the planning process. I am here to be transparent to the citizens and inform them about the resources we have in our city."
Natasha DeAlmeida, career services coordinator at CCC, said there were more than 200 registered participants for the event, which was free, "so it was a great way to motivate people to come out here and hopefully get them a job and network with employers."
Robert Posadas, senior program analyst for BART, said partnering with Workforce — the organizers of the career fair — and other organizations and colleges allows them to seek out ideal candidates.
"We are here to identify good candidates and provide education and information on what career paths and benefits BART offers," Posadas said. "We are mostly looking for youth who are passionate and willing to learn and work."
Ashley Gayoso is 23, lives in Hercules, and recently transferred to CCC.
"I am just trying to get my feet wet where jobs are concerned," she said of her reasons to attend the fair.
Even though Gayoso is up in the air about what job she was looking for, she said she is leaning toward a job in the medical field, like in-home healthcare." 
"I enjoy interacting with different types of people and being able to help someone better their health," Gayoso said.
Being that she is a nursing student at CCC she would like to get her foot in the door in a medical position. Gayoso didn't have much luck getting hired on the spot, but she did get much needed information and resources for jobs in her career field.
CCC's DeAlmeida says she's glad the college can act like a hub for the community for events like the career fair.
"It is a great way to utilize resources for the community to be apart of," she said.