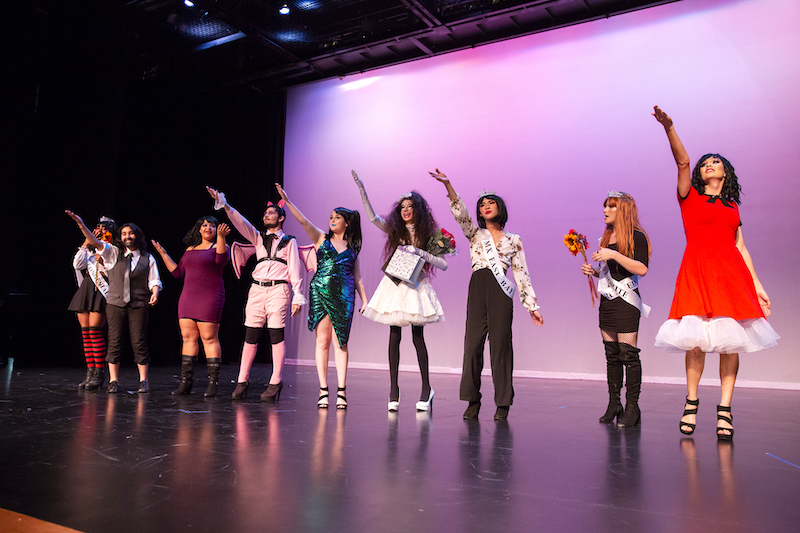 14 Apr

Mx Creates Space for Those Who Dare to Drag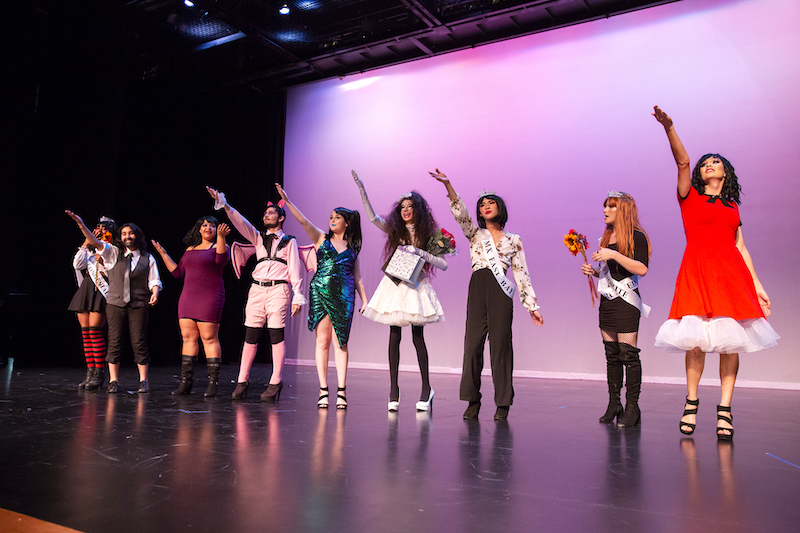 By Brittany Hosea-Small
Phoebe Hosley moved to California from Massachusetts at the start of high school. The Pinole Valley senior found community among other queer students, even bringing people together by creating the Mx East Bay Drag Race in 2018.
"Where I'm from, this would not happen." Hosley said. "I think it's just been really cool that I've been able to build this and get trust from admin and get all of this support."
The annual drag show got off to a humble start last year in a portable classroom with 30 folding chairs and a tiny modeling runway, but it grew quickly. Its second edition was held March 23 in a 300-person capacity theater and encompassed both Pinole Valley and De Anza high schools.
Seven students performed in drag for more than 140 spectators, packing the theater full of laughter and cheers.
Sponsorship from Noto Botanic, El Cerrito's Everything Under the Rainbow Thrift Store, the Rainbow Community Center and Lady Gaga's Born This Way Foundation helped provide costuming and makeup for the performers as well as prizes to be raffled off to raise money.
At the Mx East Bay Drag Race, which is entirely created, directed and run by students, gender is fluid, drag is beautiful, and everyone is welcome to be whoever they want to be.
Pinole Valley alumnus Paul Aguirre, who performs as the drag queen Pink Melancholy, helped tutor the contestants in drag culture and performance in the months leading up to the show.
"For me, this is just a huge door that's being opened because back when I was in high school in 2016, I was the only kid who did drag and was very openly and vocally gay," Aguirre said.
Seeing younger people find a passion and enthusiasm for drag is an exciting feeling for Aguirre, and in that passion and enthusiasm lies a better understanding of the true meaning of drag.
"People are actually seeing more of drag than just it being a man in a wig or someone just doing this for, like, a sexual kink," Aguirre said, "because it's way broader than what most people think."
Leslie Alba Salazar Guadalupe, a junior at De Anza, has been dressing and performing as the drag king GI Solid Snake for a couple years and was proud to perform at her own high school.
Guadalupe says that because of the persecution many queer people still face in the Latino community, she wants to use drag send a simple message: "It's OK to come out the way you are, the way … you're supposed to be, the way you view yourself."
Several of the contestants had never dressed or performed in drag before this year's drag race, so for many, this was their first time wearing makeup or walking in high heels.
Camille Rhodes — a ninth grader from Pinole Valley and the youngest contestant in the competition — signed up after a friend had to drop out. For her, performing in drag has helped with her self-confidence and encouraged her to create new friendships.
Robson Swift, a senior at De Anza, was among the first-timers. He had never walked in heels, let alone performed as a drag queen, but it didn't show when he walked across the stage as Elizabitch Gaylor.
Making it all the way to the final four during the drag race competition, Gaylor brought it hard with her lip-syncing, moves and impromptu rapping in the talent portion.
But the Pinole Valley students swept it. Rhodes won Miss Congeniality performing as Champagne Lolita. Second place and fan favorite went to Jesse Leyva, as Moan Alisa, and Tai Le won first place as Thai Tea.
For Swift, bringing the Mx East Bay Drag Race to De Anza was important in creating more space and understanding for queer students, as he says being called one slur or another is a daily occurrence at school.
"You just can't go a day without hearing it," Swift said
Before this year's show, being open about doing drag was uncommon at De Anza. Swifts says that unlike Pinole Valley, De Anza hasn't had many students that openly attended school in drag. 
Issues of homophobia are not isolated to De Anza, though. Students from Pinole Valley have encountered prejudice as well.
Dana Schurr, a judge for the show and a freshman and sophomore English teacher at Pinole Valley, has seen it affect her students who dress in drag.
"They had some blowback from some of the kids." Schurr said. "That made me feel like we hadn't come as far as I thought we had."
Schurr took the negativity as a chance to discuss gender identity and acceptance with all of her classes.
As a way to promote the show, several of the performers came to school on certain days dressed in drag. On the Wednesday prior to the drag race, Schurr walked around Pinole Valley's campus with Moan Alisa and was pleasantly surprised to see the support and encouragement her students had.
"I was really proud of the way that my kids kind of stepped up, and I feel like they were really creating a space and actively turning the tide," Schurr said.
Aguirre said that it's important for students to have more places where they can be free to act like themselves.
"No matter if they're gay, straight, bi, pan, trans, or a-gendered, they can go out there, do drag, have fun, and meet people," Aguirre said. "We can hopefully create and see a huge movement sparked throughout the whole Bay Area for this whole drag-rainbow-love-fun."