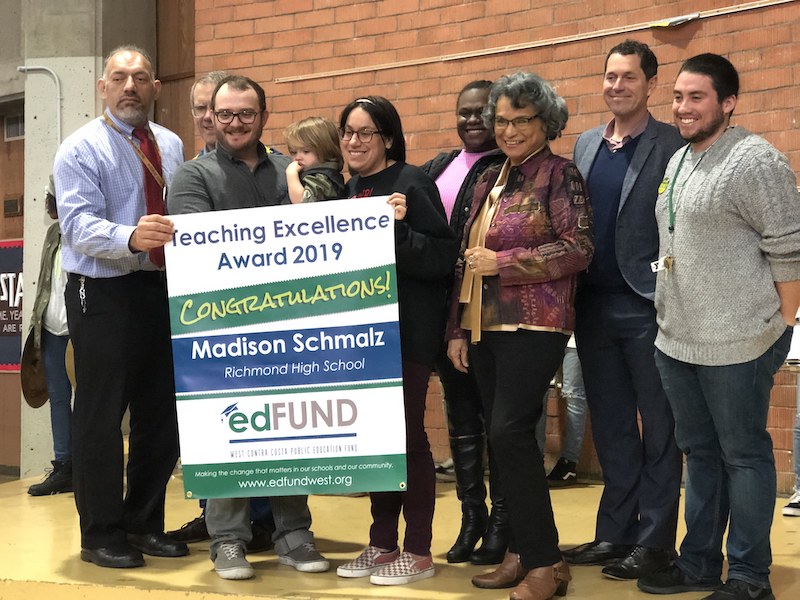 16 Apr

Richmond High's Schmalz Honored for Teaching Excellence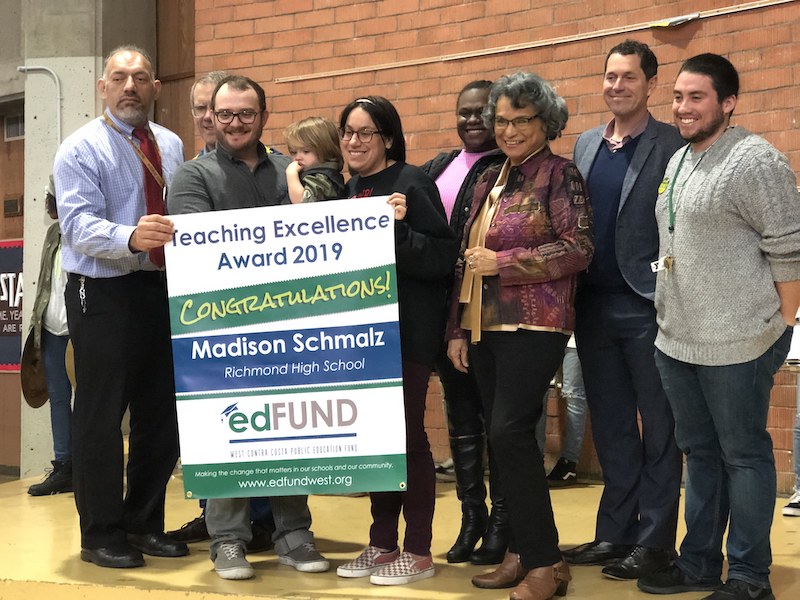 By Lee Vides
When students were giving each other candy and flowers on Valentine's Day, Richmond High students wanted to show one of their favorite teachers some deserved love.
Students from the law academy crowded into the mall area. The school band was at the ready. When Madison Schmalz entered the, room she revealed a giant smile as the band began playing "September" by Earth, Wind, and Fire.
Schmalz has been teaching at Richmond High for six years. This year, she was one of four teachers in the West Contra Costa Unified School District honored with the Teaching Excellence Award, better known as Teacher of the Year. It's given to educators who have gone above and beyond for their students.
Many Richmond High students and teachers are proud of Schmalz and appreciate all she's done for them, including Richmond High Principal José A. De León.
 
"Mrs. Schmalz works very hard to make sure students get a quality education," he said. "I think it was a very good choice."
 
Schmalz has built strong relationships with her students, and has even helped make different programs possible like yearbook and link crew, a program that allows upperclassmen to help freshman maneuver through school.
 
"She pushes all of us, and her support is something I don't receive from many teachers," Perla Zamudio, a Richmond High senior said. "From smiles to tears, she's helped me apply to college and even get a job. She's helped mold me into the person I am today."
 
Schmalz encourages students to apply to a college even if they don't think they can get in. She gives them options and lessons, so they can get the help they need to take the next steps. Many took her encouragement and were accepted to schools that they didn't think they would get into. Some decided to change their path and attend community college to get into better schools.
"Some of her students might give her a hard time, but she still pushes us to do our work," senior Salwa Alkaheli said. "She does grade checks to make sure we can bring up our grades because she cares and want us to pass."
Students are left in charge of their grades and keeping track of them, but Schmalz has one-on-one conversations with her students. She does this so students are up to date on their grades, have ways to raise them if needed, and get the motivation to do what they have to do.
Daeja Irwin, a senior, said, Schmalz always made sure she had an A in her class.
"She gave me many opportunities to maintain a high grade in her class such as doing extra pages and tasks for her," Irwin said.