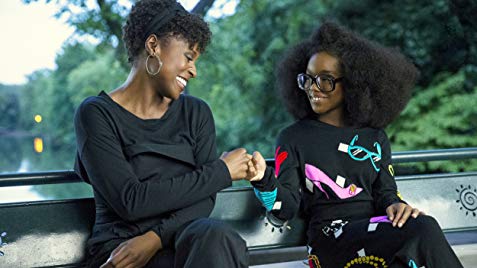 10 May

'Little' Big on Laughs and Cringe

Movie Review, Keisa Reynolds

A young professional hops out of bed startled when her boss calls. That boss expects her to be fully awake the instant the phone rings, starting a daily silent meditation before dealing with whatever unreasonable requests her boss throws at her.

Mouthing obscenities during an absurd call with a boss probably resonates with most people, including me. So, seeing it in the trailer for Little was enough for to put the movie's premiere date on my calendar.

At 14 years old, Marsai Martin (Black-ish) is now Hollywood's youngest executive producer with Little, a hit film featuring Regina Hall (Girls' Trip), and Issa Rae (Insecure), and, of course, Martin.

The film centers on the life of Jordan Sanders (Hall), an innovative tech maven who is a straight-up bully to everyone in her life. Her staff, especially her assistant April (Rae), receives the brunt of her caustic behavior. Jordan unexpectedly meets her match in a young girl who wishes the woman would return to adolescence again. The grown woman wakes up as a teenager (Martin) with the adolescent insecurities she refuses to admit in adulthood.

Many of us know the difficulty of working under bosses who undervalue their employees, and, at times, are downright abusive. "Who hurt you?" is a question I've thought many times while watching supervisors take their pain out on other people.

Little gives us the insight of a powerful boss, who is both black and a woman, and highlights her insecurities that make her predatory towards staff. It doesn't glamorize the verbal and emotional abuse she inflicts upon them. Instead, the film holds her accountable to her actions.

There were relatable moments that made me remember characteristics about my younger self that I decided to quell as I got older. There is no excuse for Jordan's behavior, but I could see how the cruelty of adolescent bullying could turn someone into a tyrant.

But that's why therapy exists.

There was no question that I had to see the film, because its trailer made me laugh at nearly every moment. Watching it in a theatre, however, didn't necessarily match my expectations.

The film was almost soured for me when it started with a joke that was not only transphobic, but also aimed at a child. Annoyed with a neighbor being noisy, Jordan teases her child by joking that they transitioned. She knew their gender even after the mother corrected her, but Jordan continued to joke about the child being trans. It was mean-spirited and offensive. Tracey Oliver, who co-wrote the script, says she did not write it.

In addition to transphobic body-shaming, there was incidents of fat-phobia. Those scenes were disappointing to witness, but unfortunately, a film helmed by black actresses does not have to be wholly unproblematic, as some of us might want.

Thinking the PG-13 film was rated for younger audiences, I didn't feel some scenes were suited for teenagers, including Martin. I understand her character was scripted to portray a 38-year-old woman in a teenage body, but it seemed unnecessary to have Martin play a sexual being with adult men. Her flirtation with her middle school teacher —Justin Hartley (This Is Us) — went from funny to inappropriate in only two scenes.

Overall, the film was enjoyable. I laughed a lot and felt immense pride seeing so many black actors, most of whom were women. The film wasn't whitewashed, as it included many culturally-specific jokes that warranted laughs from all audiences.

Don't go to see Little with high expectations — just expect a few laughs and enjoy. The film itself falls a little flat, but the cast doesn't necessarily disappoint.

Martin did a fantastic job as an executive producer and star of the film. I look forward to seeing where she goes from here. Little is only the beginning.