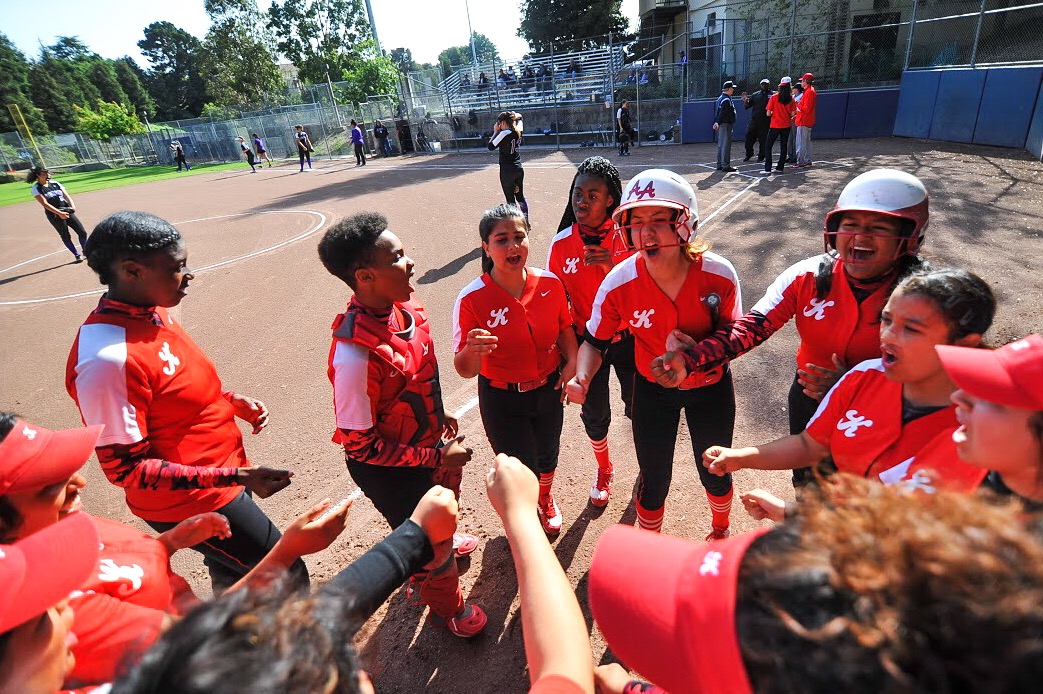 22 May

Kennedy Powers Past Piedmont Early in NCS Tournament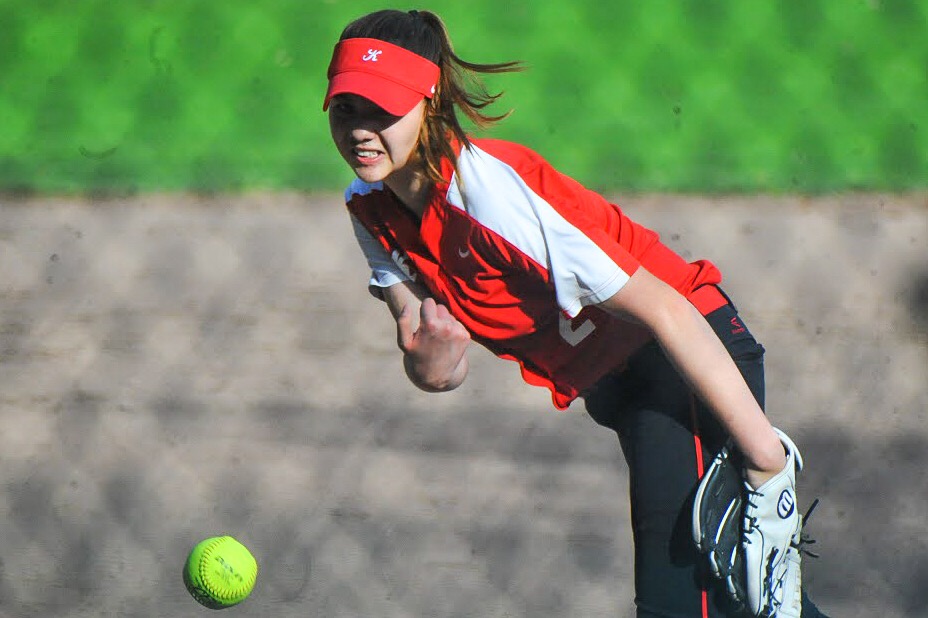 Above: Pitcher Ally Hersh threw a four-hit shutout in Kennedy High School's 6-0 victory over Piedmont.
By Denis Perez-Bravo
Ignited by spirited chants, strong pitching, and consistent hitting, a determined Kennedy High varsity softball team warded off any of Piedmont High's attempts at mounting a comeback in their May 17 win at the North Coast Section Division 4 tournament.
The Kennedy Eagles' (12-7-1) 6-0 victory against the Piedmont Highlanders (7-13) is the first NCS win recorded since Maxpreps started archiving the Eagle's softball results in 2005, Kennedy head coach Mike Hersh said.
"On paper, they were supposed to be better, but we had our energy way up," Hersh said.
Hersh's daughter and pitcher Ally Hersh threw a four-hit shutout game. From the first inning, she struck out the side in the bottom of the first and finished the game with 11 strikeouts. She's pitched all of the games this season.
"My teammates helped me stay in the game," Ally said. "I always prepare myself in the dugout, take deep breaths and visualize different scenarios beforehand."
The NCS is a four-round knock-off tournament composed of 12 teams divided into eight brackets. Piedmont was Kennedy's first round win as the number 10 team in the tournament. They'll play three of the four games away from Richmond, as higher seeds play at home.
The Kennedy Eagles, ranked 785th out of California's 1,225 softball teams, started the game against the Piedmont Highlanders, ranked 656 in the state, with a surplus of energy and runs by Ally and third baseman Ariadna Castro.
After two runs in the first inning, Kennedy's momentum continued in the fourth inning when second baseman Fatima Rodriguez and first baseman Ashanti Stricklen each scored. In the fifth, Castro scored again and centerfielder Jonteja Fowler scored another two runs to make it 6-0.
With the win, Kennedy moved on to face McKinleyville High (20-3) on the road May 22. Last year, they beat Kennedy 5-0 during the first round of NCS.
Hersh says McKinleyville mostly has players who have been playing softball for years and their team understands different defensive strategies. Essentially, the odds are against Kennedy High's Eagles.
"It will be like Piedmont where we go in with high energy and spirit and hope for the best," Hersh said. "Softball and practice often takes a backseat to family and health issues, but when the team takes the field, they make rooting for each other and having fun the priority."