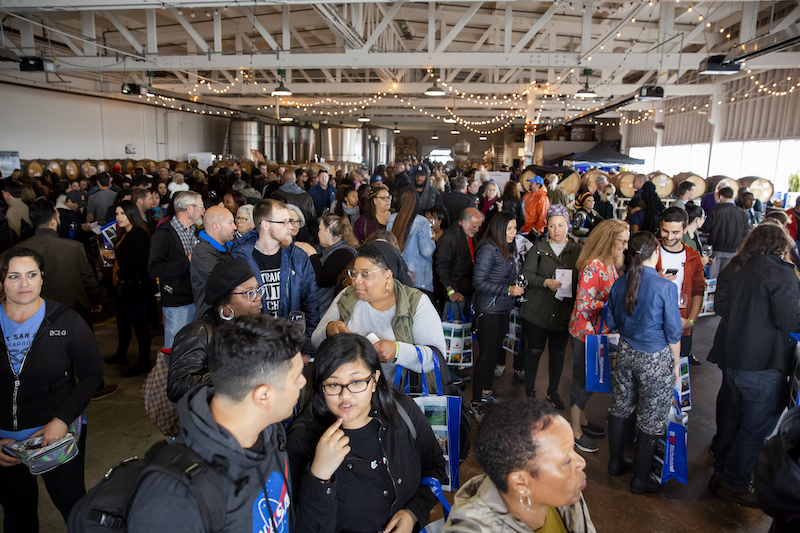 24 May

'Taste of Richmond' Provides Warmth Through Food and Community
Photo Essay, Brittany Hosea-Small
With rain soaked clouds outside, people stayed warm and dry inside Riggers Loft Wine Company during the annual Taste of Richmond food and wine event.  With all 750 tickets selling out the afternoon of Saturday, May 18th, remains a hit, now in its third year.
"I love the vibe," first-time attendee N'Dea Johnson said. "It's combining hipster-esc with old Richmond."
Mingling with other people there was Johnson's favorite part of the event. "I'm seeing a lot of people that I haven't seen in a while because I've been away at school," she said.
The main tasting room of Riggers Loft was packed full during most of the event, with lines crisscrossing the room as people waited to taste everything from Chile Relleno quiches and salmon and garlic sauce linguini to Hops apple cider and home-brewed beer.
This year's event hosted 19 different food and drink vendors from all over Richmond, including East Brother Beer, Quiche and Carry, Assemble Restaurant and Far West Cider Co.
Origin Brewer, a new vendor to this year's Taste of Richmond, brought three home-brewed beers: a Belgian Wit, Gose and an English Mild. As a production brewery located in a residential space, Origin doesn't have the storefront space like many other breweries, but Taste of Richmond gave owner Michelle Baker the opportunity to showcase her business.
"Most people are not familiar with any of [these] styles except for the Wit, so it's been really great that people are asking a lot of questions and are very interested," she said. "I couldn't ask for a simpler way of meeting the public with our product."
The event also brought many different local small businesses together in hopes of blossoming new business opportunities.
Baker says after talking with fellow vendor Marina Bay Bakery, there may now possibly be a sourdough starter yeast-based beer in their future.
"You don't have those conversations when you're not in a venue like this, talking to people that have other companies that can somehow correspond with your own," Baker said. "It creates a space for opportunity where we can even just think about new ways of producing our product and coming up with something new."
Qiana Riley, who has been the chair of the Taste of Richmond since its inception, says she continues to see growth from many of the businesses that have attended the event throughout the years.
"It's not just us connecting, it's the vendors connecting with each other and sharing things," she said.
Whether it's business-to-business connections or helping residents find their new favorite eateries, Riley says it's a matter of making sure that the community is involved and has the access they deserve, including keeping admission as low as possible.
"We keep the tickets inexpensive so we can keep the community coming," Riley said.
Judging by the crowds, it was successful. Adults of all ages, families with children and elderly couples intermingled and laughed as they met old friends and made new ones.
Cold winds and rain storms may have blown outside that day, but inside Riggers Loft, there was the warmth of a community coming together to enjoy some good food and drinks.