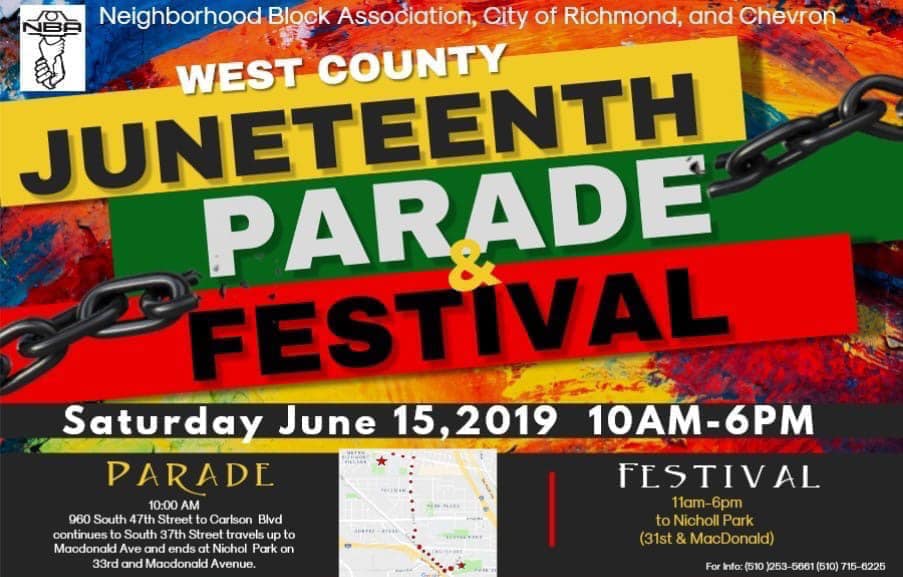 01 Jun

Local Happenings: June 2019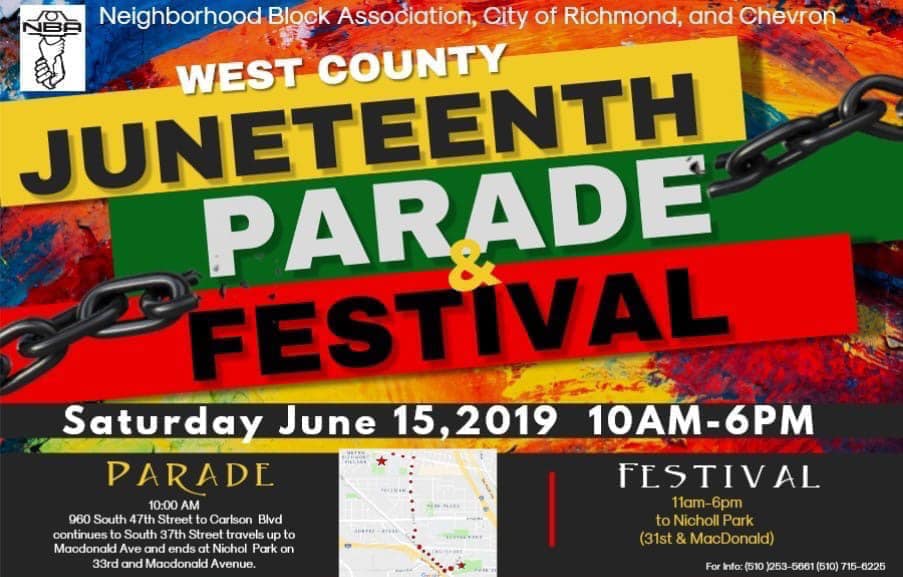 Chamber Hosts Cannabis Forum
Wednesday, June 5
The Richmond Chamber of Commerce is sponsoring a forum about cannabis businesses in Richmond beginning at 8:30 a.m., Wednesday, June 5 at Cobiz, 1503 Macdonald Ave.
The event will include State Treasurer Fiona Ma, Contra Costa County District Attorney Diana Becton and Richmond attorney Daniel Butt. Tickets can be purchased online for $20 for chamber members and $40 for non-members. Tickets at the door will be $50.
For more information, contact the Richmond Chamber of Commerce at 510-234-3512.
Final Community Budget Meeting
Tuesday, June 11
The City of Richmond invites the public to attend the second and final community budget meeting from 6 to 7:30 p.m., Tuesday, June 11, in the City Council chambers, 440 Civic Center Plaza.
The goal of the meeting is to offer information about city finances, the city's budget processes and allow the public to ask questions of city officials and staff about budget priorities.
Bay Area Prototype Modelers to Meet
Saturday, June 15­
The San Francisco Bay Area Prototype Modelers organization will hold its 16th annual meeting from 9 a.m. to 5 p.m. Saturday, June 15 at 871 Sonoma St., Richmond.
The event is open to the public and all model aficionados. Models will be on display as attendees share tips on modeling and learn new techniques.
For more information, search for "BAPM 2019" on Facebook.
Juneteenth Parade and Festival
Saturday, June 15
Richmond's "Juneteenth" celebration on Saturday, June 15 will include a parade through four Richmond neighborhoods as well as a family festival.
The parade begins at 10 a.m. and starts at 960 South 47th St. with a route along Carlson Boulevard to Macdonald Avenue, ending up at Nicholl Park at 33rd and Macdonald.
The family festival will run from 11:30 a.m. to 6 p.m. at Nichol Park and will include food booths, entertainment, a variety of contests and activities for children.
People wanting to participate as vendors, sell food or march in the parade itself are required to fill out an application on the city's website by June 8.
Free Compost Available at Republic Services
Wednesday, June 5
Republic Services is offering free compost to west Contra Costa County residents.
From 9 a.m. to 4 p.m. every first Wednesday of the month, the firm gives away up to two cubic yards of finished compost per household. The next scheduled compost giveaway will be Wednesday, June 5 at 101 Pittsburg Ave., Richmond.
The compost pickup is self-service. Residents who want the material need to bring a bag, bin or bucket to take the compost away and a shovel to load it. Identification is needed to prove residency.
For more information, call Republic Services at 510-231-4200 or visit republicservices.com/municipality/wccc-ca