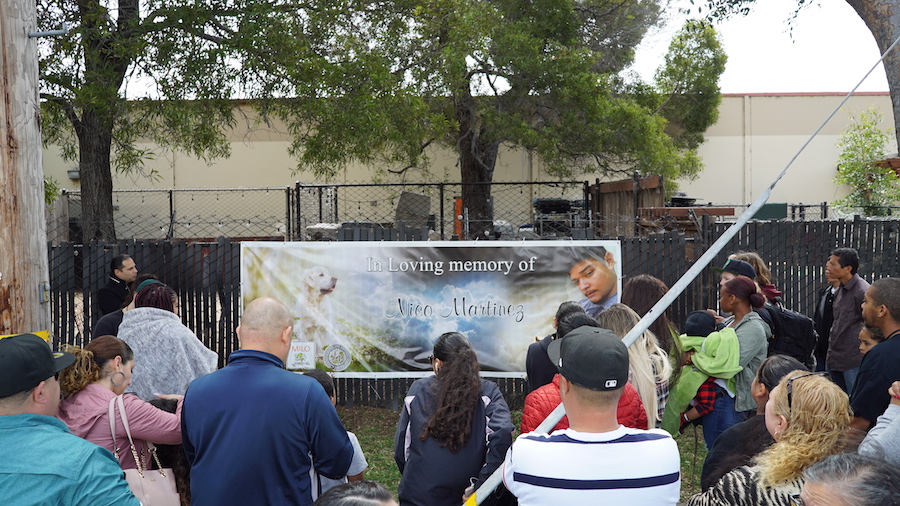 09 Jun

Slain Youth Nico Martinez Remembered at the Milo Foundation, "His Happy Place"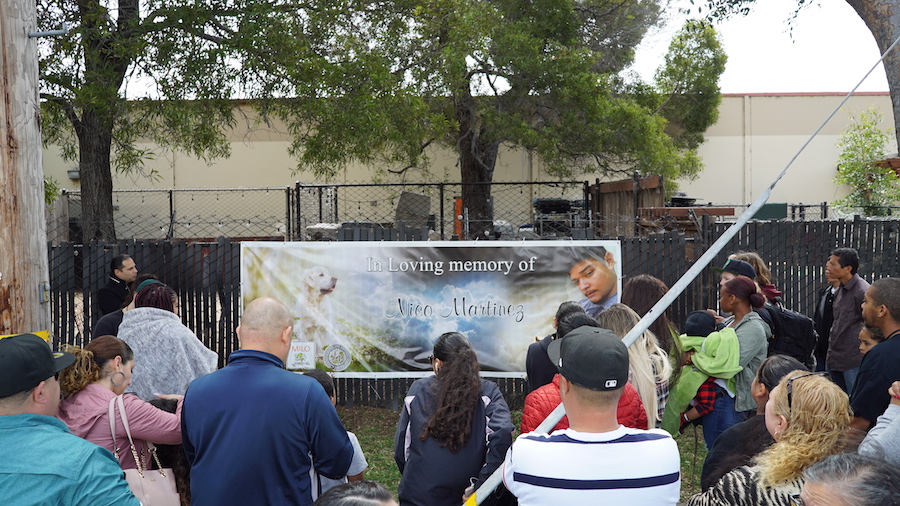 By Carlos Lemus
Family, friends and community members gathered June 2 at the Milo Foundation on 220 S. Garrard Blvd. to unveil a banner in memory of Nico Martinez on what would have been his 21st birthday.
Diego Garcia and Dave Schoenthal were the first, setting up a tarp over the banner at the gates of the animal rescue center, in preparation for the unveiling ceremony. People slowly arrived in groups, some wearing Nico Martinez apparel and commemorations, totaling to about 45 attendees.
Dogs from the Milo Foundation approached the gates where the crowd began to gather, as the sounds of boxcar trains passing by could be heard from the BNSF railroad terminal across the street. Friends and family greeted each other with smiles, some of which hadn't seen each other in a while.
On Sept. 19, 2016, Otilio "Nico" Martinez, a Contra Costa College student was shot more than forty times near his home in South Richmond, as he was on the way back from his job in the San Francisco wharf. Since the summer of 2017, multiple young men have been charged with the murder, along with a wide range of violent crimes and murders that spread across the Bay Area, as part of an investigation by multiple agencies pursuing the North Richmond "Swerve Team" gang. The family continues to fight for justice and collective healing to this day.
Garcia shared why the ceremony remembering Martinez was important to him.
"Nico," as those who knew him well called him, "was one of my students at Cesar Chavez [Elementary] a long time ago. I saw his glow and how special he was," Garcia said. "Today, we want to remember all those little kids who lost their lives in our community, because they were also special."
Garcia owns Leftside Printing, which created and donated the banner with additional funding from the Point Richmond Business Association.
When the banner was unveiled, the crowd saw a teenage Nico Martinez holding his dog, Spike. The innocence of Nico holding Spike pierced through the crowd, and a moment of silence was held as people took pictures.
Josie Martinez, Nico's mother, said her daughter reminded her that when Nico was alive, he always brought people together "and he continues to do so even after."
She expressed immense gratitude for the community that came to the unveiling and those who continue to keep Nico's memory alive.
"He just had a genuine love for life and for all animals, dogs especially," she said. "Milo was his happy place, and he loved to volunteer here as much as his schedule allowed."
After hearing about Nico's murder in 2016 — and how he loved to volunteer at Milo — the Point Richmond Business Association created a grant to the foundation in Nico's name, Schoenthal, former president of the PRBA, said at the banner unveiling.  
"I was personally touched by his story and his monumental loss to his friends and family," he said. "Each year, we had done the same grant in his name."
Schoenthal also announced he'll pay for one animal adoption per year in Nico's name.
The ceremony ended with 21 white doves passed around to be released, just as the cloudy morning turned sunny.
Friends and family members broke into laughter as they struggled to hold their birds before releasing them. They hovered over the crowd for a few minutes before flying away. The Martinez family invited and encouraged others to join them at Nico's burial site after the banner unveiling.