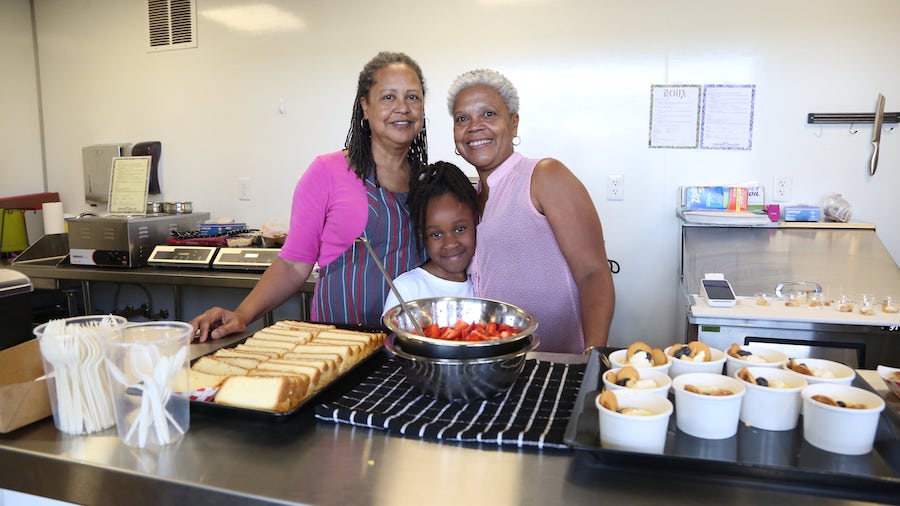 19 Jun

Juneteenth Showcases Local Food Vendors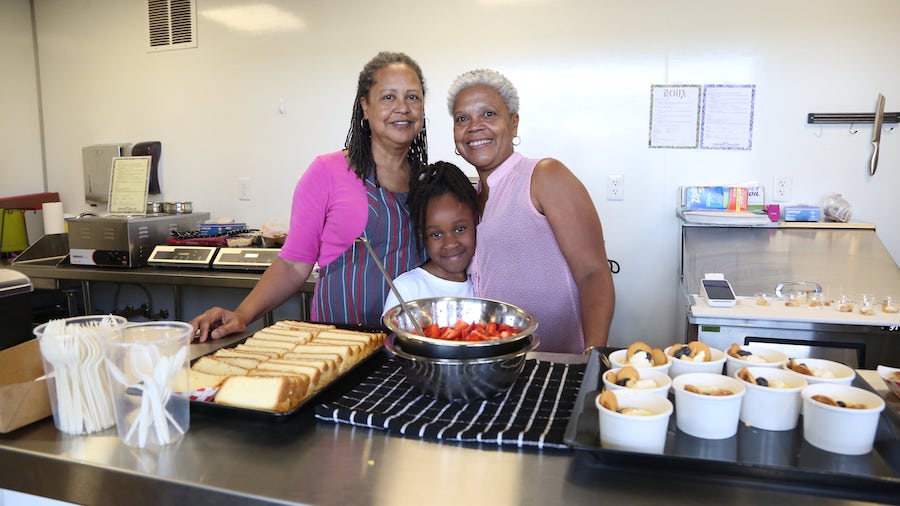 Photo Essay, Ann Bassette
The floor-to-ceiling windows provided natural light into the new Richmond Food Hall as chefs and food artisans served up soul food, Mexican cuisine, vegan and vegetarian dishes, deserts and more for the first Juneteenth Food Showcase on June 15.
The event celebrated Juneteenth, the oldest national commemoration of the end of slavery in the United States, and brought together local artisans to share their creations.
Food hall site manager Christen Thomas said the event is the first of many "themed events encompassing different cultural celebrations where we highlight the similarities between all ethnic traditions in food."
A steady flow of hungry customers flowed through the food hall, conveniently located next to Richmond BART, as smooth and soulful music played throughout the venue.
Food hall regulars, Red Bay Coffee and Roux, along with Lupita's Organics, Veggi Patch, Sparkles Creations, Tiffany's Juice Bar, and health coach Yvonne Medina, all served up something different.
Lydia Walker, owner of Roux, made pound cake with strawberries, banana pudding, peach cobbler and her "very special" lemon icebox cake.
"Baking is really how I show my love, and cooking a good meal is how I show my love for people," she said.
Philip Mitchel of Veggi Patch said he was excited to be a part of the revitalization of downtown Richmond and wants to bring options for vegans and vegetarians to the area.
"We want to make sure that we are feeding people healthy," he said. "It's important to offer healthy options. As downtown grows we want to make sure that everyone is included because we all know that vegans and vegetarians are left out."
Veggi Patch chef Rebecca Orengo McFarlane prepared her "Richmond Rolls," made of garbanzo beans, jack cheese, tomato and kale with a spicy chipotle ranch or creamy avocado sauce. They also offered vegan carrot cake.
Another big hit at the showcase was Lupita's Organics, with their chicken and vegetarian tostadas and vegan pozole.
"We're basically about creating this Chicano style, Mexican-American cuisine," Richard Sandoval of Lupita's said. 
They offered three different types of pico de gallo: cabbage, cauliflower and cactus, which is something Sandoval took from his recent trip to Michoacan, Mexico. "It's a little more hearty and more filling," Sandoval said. "Perfect for a veggie tostada."
Rounding out the hall were Sparkle's Creations, a family-run catering company selling fried chicken and macaroni and cheese, and Tiffany's Juices, who sold cold-pressed juices.
Health and lifestyle coach Yvonne Medina, who teaches people how to "tune in to their bodies" and pay attention to how food is affecting them, was also on hand to talk with attendees. She and her colleague, Jan Olmeda, prepared dishes like a quinoa tabbouleh salad with cucumber, lime juice and olive oil, and a barbecue jackfruit sandwich with pickles and onions.
For Walker — who previously owned and operated Bay Leaf in Oakland's Dimond District — bringing her food and her business to Richmond has started off great.
"I love the people here in Richmond," she said. "I feel so supported and I feel so wanted here."
Thomas says the food hall is working on making the showcase a monthly event with rotating vendors so everyone gets a chance at showcasing their business.
"We hope to provide a space where the Richmond community can thrive," she said.