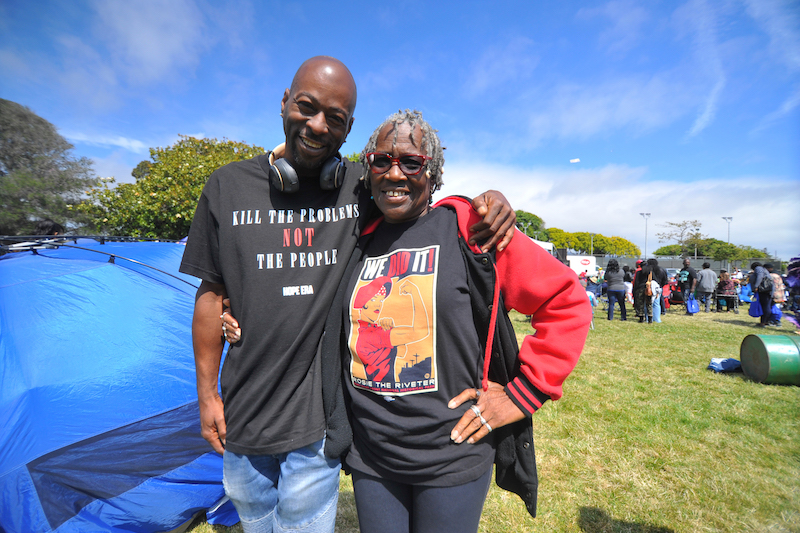 02 Jul

Juneteenth Celebrates Freedom, Community and the Future
Photo Essay, Denis Perez-Bravo
Richmond resident Valerie Dade says her grandchild inspired her to learn more about the history of Juneteenth, the recognition of when slavery finally ended in Texas — two years after President Abraham Lincoln's Emancipation Proclamation.
Because of that history and her granddaughter, she attended this year's celebration in Richmond to network and visit the different booths to better understand her community.
"I am glad I am able to witness unity," Dade said.
In Richmond, this year's annual parade — which included dancers, cars and music — on June 15 ended at Nichol Park and kicked off a festival full of music, food, services, art, kid's activities and a joyful atmosphere promoting community.
"It is like a Richmond family reunion," Andre White said.
The 49-year-old says he's been coming to Juneteenth celebrations in Richmond since he was 12 and understanding the history behind the Juneteenth holiday made him realize how much there is to celebrate. He said since gaining their freedom, black people have continued to be oppressed by racism in the U.S, and while that might make things obviously harder, White said black people still need to enjoy their lives.
"You got to keep believing in this celebration of moving forward," he said.
That is why White's favorite thing about Juneteenth is seeing his community celebrate themselves.
NAACP Richmond Chapter president Willie J. Robinson said that is the essence of Juneteenth, as an important part of self-care is spending time in your community.
"People come to depressurize," he said.
Robinson said the whole day has evolved beyond just the history of Juneteenth.
"This event celebrates all the progress of blackness in our community," Robinson said, "and allows for community services, start-up businesses, products and programs to be able to be on display."
Robinson said in order for the black community to progress, it is paramount that it supports each other's efforts, both economically and mentally.
But, another reason Juneteenth is special is because it keeps the community grounded in its history, as older people in the community extend their decades of knowledge to the younger community, he said.
Robinson said younger people should also take on the call to spread that knowledge between their people, which can only be done through fellowship between youth, adults and elders.
"There should be pressure on youth to understand the message of Juneteenth," he said.