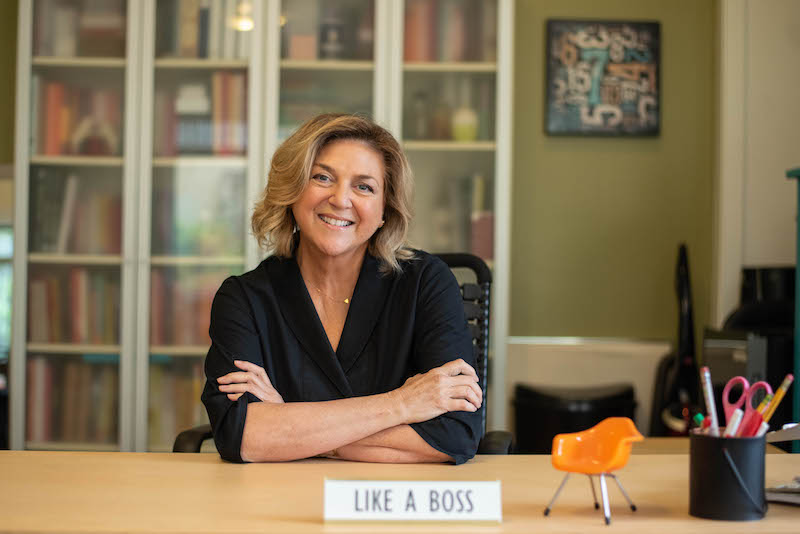 08 Jul

PR for Pot in the Point: Andrea Burnett Public Relations
By Michael J. Fitzgerald | Photo By David Meza
The spacious and stylishly decorated Point Richmond office of Andrea Burnett is tucked in the back of the same building that holds the high-profile Body Wisdom Studio on Washington Avenue.
But from the space where she started Andrea Burnett Public Relations in 2009, she has parlayed her knowledge of people and public relations to build a business primarily focused on book publishing and lifestyle matters.
At least until cannabis became legal in California, generating a public relations wave that Burnett wants to ride for a living.
Before opening her own firm, Burnett worked for 25 years publicizing books, eventually becoming the Director of PR for Chronicle Books.
But with the birth of her twin girls — Ava and Sophia, now 12 — Burnett quickly tired of commuting into San Francisco and not seeing her children. She opted to open in the Point, a short hop from her Richmond Hills home.
"I love it here," she said. "My favorite part is not commuting. I have a 10-minute casual drive down Barrett or McDonald."
The bulk of Andrea Burnett PR's work has historically been in book promotions, but then she heard a radio program in 2016 about the upcoming legalization in California broadcast from the biggest cannabis trade show at the time, MJ Bizcon.
She saw a business opportunity, prompting her to start formulating a plan to apply her years of lifestyle public relations acumen to cannabis, viewing it, essentially, like the wine industry.
"It's going to be ultimately federally legal," she said, "so why not?"
That mindset translated into spending the following eight months learning everything she could about cannabis and the industry. She attended seminars and conferences on every conceivable aspect of the soon-to-be legal business.
Out of that research, she launched "The 4twenty Group: A Cannabis Lifestyle PR Firm" in 2017, which specializes in women-centered and cannabis and CBD-infused culinary products, similar to Burnett's non-cannabis work.
"There's a lot of crossover," she said.
She quickly began building relationships with cannabis publications, a project that proved daunting because of their explosive growth, as she jokingly describes as "a new cannabis media outlet being born every day".
"When I launched The 4twenty Group there were probably five [publications]," she said. "Now there are these really upscale publications, like the Bon Appetite or SAVEUR of the cannabis world."
The 4twenty Group is a virtual public relations agency, with people contracting from New York and around the country, depending on what Burnett might need for a particular client or contract. That can include social media specialists, freelance writers and project managers.
"Whatever I can't do, I hire virtually. We have a team for each business," she said. "I work with many people who specialize outside of the cannabis world who apply their own expertise to the cannabis side."
But legal restrictions limit her work to California, as crossing state lines is a matter of the federal government, which continues to classify cannabis as a Schedule I Controlled substance.
While Burnett believes that will change quickly as big corporations take over much of the cannabis business, she keeps her focus on what she calls "artisanal makers." Currently, her projects include promoting chefs who have taken their skills into the edibles market.
Burnett maintains a robust book publicity practice, but she is looking to eventually transition fully into cannabis industry-related work. It's a process she's wary of because her short time in the business has felt like a roller coaster.
Earlier this year in just a few months, her client list shrunk dramatically almost overnight. New regulations, licensing restrictions and finding space to make the product cut her out of many budgets.
But Burnett likes keeping a relatively low-key balance.
"I'm not interested in taking over the world here," she said. "I really love the quiet of my business and my life. I'm not interested in building a giant agency. My clients are a perfect reflection of who I am as a business."
For more information, visit andreaburnett.com.